Real Estate Daily Recap
Our Real Estate Daily Recap discusses the notable news and events in the real estate sector over the last trading day and highlights sector-by-sector performance. Sign-up for our email list to keep up with the latest developments in the commercial and residential real estate sectors. Follow our real-time commentary on Twitter and LinkedIn and subscribe to The REIT Forum for full access to our premium analysis, exclusive tools and trackers, and The REIT Forum's exclusive ratings and model portfolios.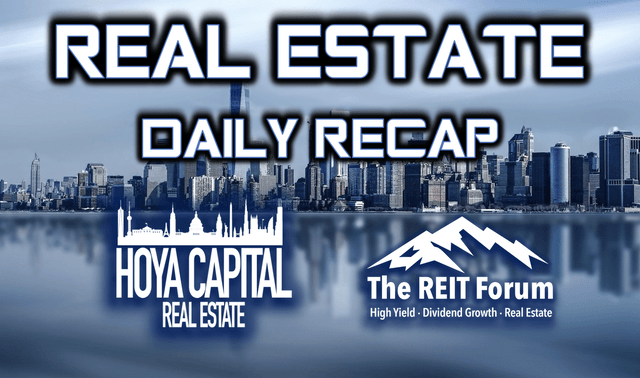 U.S. equity markets were broadly higher Thursday on data showing that initial jobless claims fell to the lowest levels since March 2020 ahead of a closely-watched nonfarm payrolls report tomorrow morning. Now higher by 0.5% this week and closing at fresh record-highs yet again, the S&P 500 advanced 0.3% today while the Mid-Cap 400 gained 0.5% and the Small-Cap 600 climbed 0.6%. Real estate equities continued their strong week with the Equity REIT Index gaining another 0.5% on the day with 18 of 19 property sectors in positive territory while Mortgage REITs slipped 0.4%.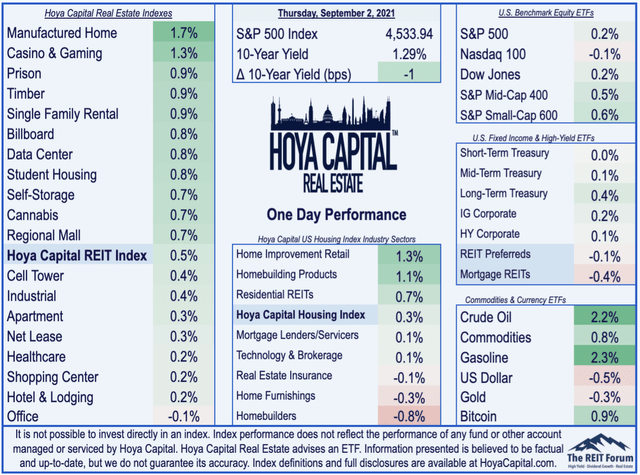 Trading volumes and newsflow was light today amid disruptions along the East Coast caused by Hurricane Ida, which produced major flooding events across New York City, Philadelphia, and Boston last night. Eight of the eleven GICS equity sectors finished higher on the day, led to the upside by the Energy (XLE), Healthcare (XLV), and Industrials (XLI) sectors. Home improvement retailers led the Hoya Capital Housing Index to fresh record-highs as households access damages from historic levels of flooding which were estimated to have caused nearly $100B in damages.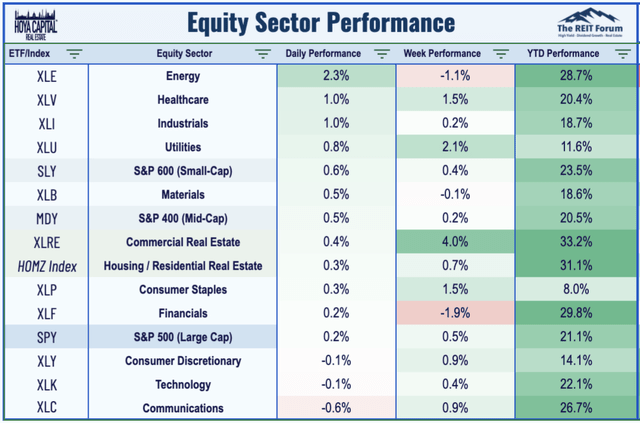 Equity REITs
Industrial: PS Business Parks (PSB) traded flat after it closed on its previously announced purchase of an industrial park located in Dallas, Texas - Port America - for $123M. The park incorporates 15 buildings with an average customer size of 8,000 square feet and ~96% occupancy on closing.  The acquisition - which represents roughly 3% of PSB's enterprise value - was funded in part with $72M from dispositions of Park East and Monroe business parks in Northern Virginia and the remaining from cash balance. Despite its strong balance sheet,  PSB has been an underperformer within the industrial REIT sector over the past decade.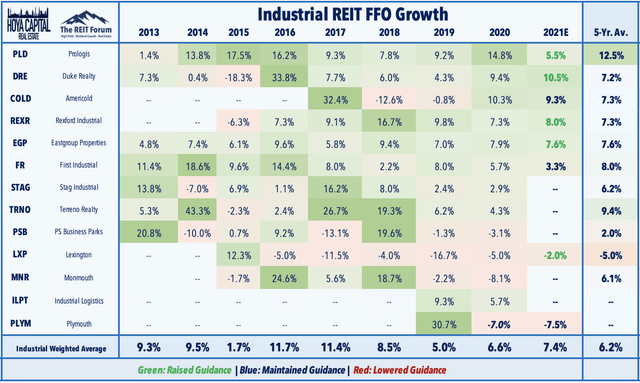 Timber: CatchMark (CTT) gained 0.6% today after its joint venture - "Triple T" - closed on its previously announced sale of 300,000 acres of Texas timberlands for $497 million in cash - roughly $1,656 per acre - to Hancock Natural Resource Group (HNRG), a company of Manulife Investment Management. Hancock will manage the timberlands on behalf of AP3, an investment fund within the Swedish state pension system. CTT owns a 22% interest in Triple T and the 300k acres represented roughly  a quarter of Triple T's timberland assets. Despite reporting the fastest revenue growth of any REIT sector in early 2021, timber REITs have been one of the weaker-performing sectors this year as lumber prices pulled-back from all-time highs.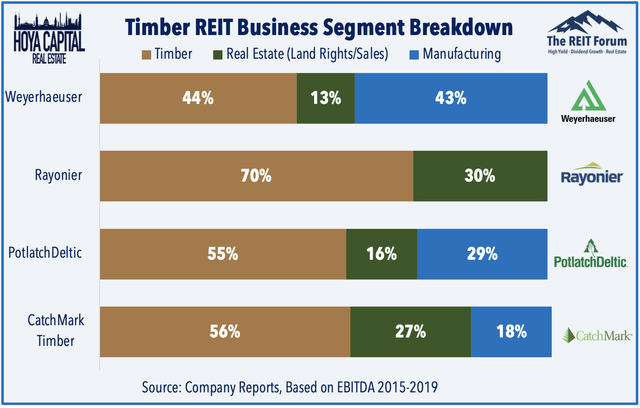 Office: Boston Properties (BPX) closed on the acquisition of Safeco Plaza - a Class A office property in Seattle, Washington - through a newly formed JV with two institutional partners for total gross purchase price of ~$465M. Each partner owns roughly one-third of the joint venture, and BXP will serve as its managing member and provide customary property management, leasing and other services. The purchase price was funded with cash and proceeds from a new mortgage loan secured by the property. Second quarter earnings reports confirmed that leasing demand remains depressed with no clear inflection yet, particularly in the dense transit-heavy office markets like New York and San Francisco, which are expected to struggle in the "new normal."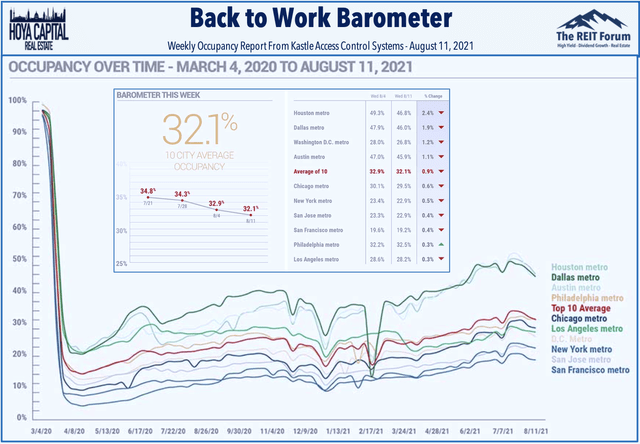 Data Center: Yesterday, Blackstone (BXMT) completed its acquisition of QTS Realty Trust (QTS). QTS' common stock, Series A preferred stock and Series B preferred stock will no longer be listed on any public market. As predicted early this year, we've seen a boom in data center M&A and IPO activity. While Blackstone will take QTS Realty private, several new REIT players have recently emerged. Cyxtera (CYXT) completed its SPAC listing last month, while Switch (SWCH) now appears poised to convert to a REIT. Meanwhile, Colony Capital completed its "digital transformation" and rebranded as DigitalBridge (DBRG).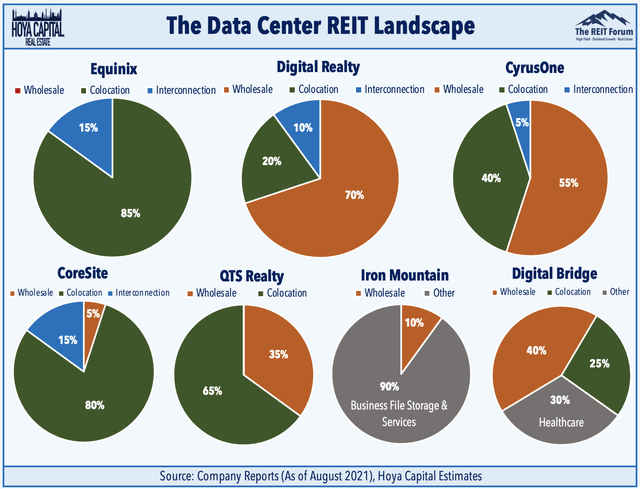 Mortgage REITs
Per our Mortgage REIT Tracker available to The REIT Forum subscribers, residential mREITs finished lower by 0.1% today but are roughly flat on the week. Commercial mREITs gained 0.2% today to push its week-to-date gains to 0.8%. This morning, Ready Capital (RC) was flat today after announcing the closing of a $652.5 million commercial mortgage collateralized loan obligation which consists of 52 RC-originated floating rate loans secured by 55 properties across the United States. Elsewhere, Arbor Realty (ABR) closed a private placement of $270M of 4.50% senior unsecured notes due Sept. 1, 2026. The average residential mREIT pays a dividend yield of 8.9% while the average commercial mREIT pays a dividend yield of 6.7%.

REIT Preferreds & Capital Raising
Per the REIT Preferreds & Bond Tracker available to The REIT Forum subscribers, REIT Preferred stocks finished higher by 0.09% today, on average, and outperformed their respective common stock issues by an average of 0.19%. So far in 2021, REIT Preferred stocks are higher by 11.16% on a price return basis. The average REIT preferred pays a current yield of 5.87% and trades at a slight premium to par value.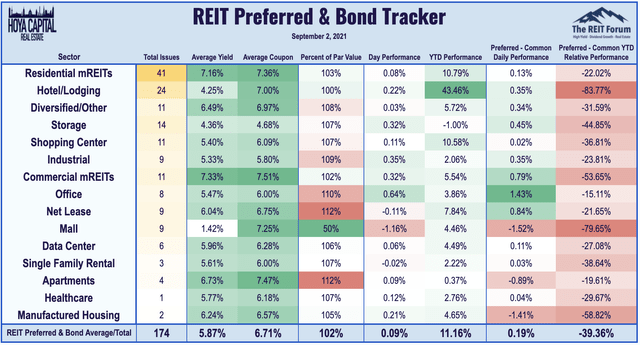 Economic Data This Week
The busy week of economic data concludes tomorrow with the BLS Nonfarm Payrolls report. Economists are looking for job growth of 728k in August, a slowdown from the 943k rate of job growth in July while the unemployment rate is expected to tick down to 5.2%. We'll publish a full analysis and commentary of this week's developments in the real estate industry, as well as an analysis of the busy week of economic data in our Real Estate Weekly Outlook report on Saturday morning.
Join The REIT Forum For Our Full Research Library
Hoya Capital is excited to announce that we've teamed up with The REIT Forum to bring the premier research service on Seeking Alpha to the next level. Exclusive articles contain 2-3x more research content including access to The REIT Forum's exclusive ratings and live trackers and valuation tools. Sign up for the 2-week free trial today! The REIT Forum offers unmatched coverage and top-quality model portfolios for Equity and Mortgage REITs, Real Estate ETFs and CEFs, High-Yield BDCs, and REIT Preferred Stocks & Bonds.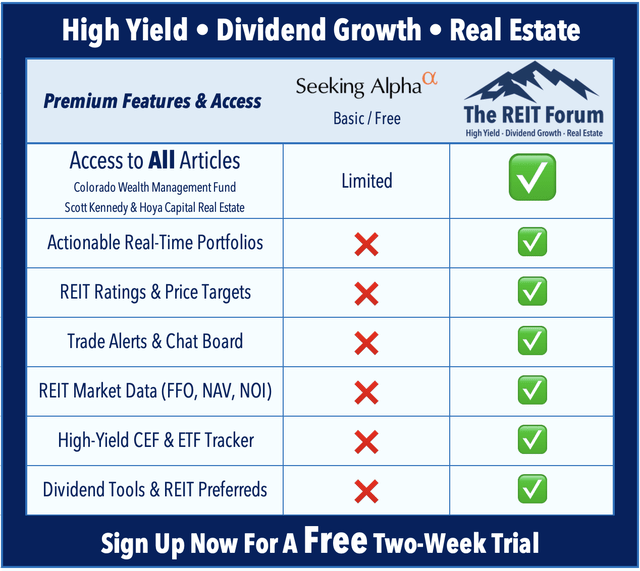 Join our Mailing List on our Website
The REIT Forum is the exclusive home to Hoya Capital premium research. Visit our website and join our email list for quick access to our real estate research library: HoyaCapital.com where we have links to all of our real estate sector reports and daily recaps. You can also follow our real-time commentary on Twitter, LinkedIn, and Facebook.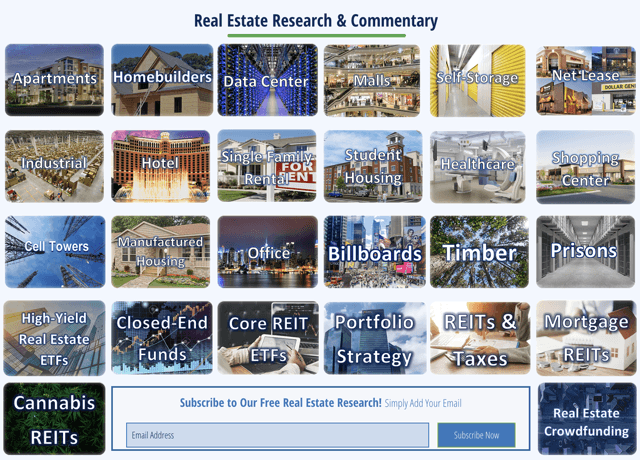 Disclosure: A complete list of holdings and Real Estate and Housing Index definitions and holdings are available at HoyaCapital.com. Hoya Capital Real Estate advises an Exchange Traded Fund listed on the NYSE. Hoya Capital is long all components in the Hoya Capital Housing 100 Index.