Real Estate Daily Recap
Our Real Estate Daily Recap discusses the notable news and events in the real estate sector over the last trading day and highlights sector-by-sector performance. Sign-up for our email list to keep up with the latest developments in the commercial and residential real estate sectors. Follow our real-time commentary on Twitter and LinkedIn and subscribe to The REIT Forum for full access to our premium analysis, exclusive tools and trackers, and The REIT Forum's exclusive ratings and model portfolios.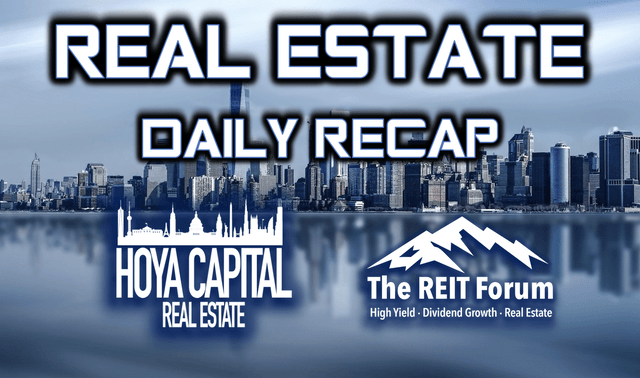 U.S. equity markets declined Thursday in another choppy trading session as solid jobless claims data was offset by mounting worries that global economic growth has hit a soft patch resulting from the delta variant. Declining for the fourth-straight session, the S&P 500 finished lower by another 0.4% today while both the Mid-Cap 400 and Small-Cap 600 slipped 0.2%. After leading the way yesterday, real estate equities were among the weaker-performers today as the Equity REIT Index slipped 2.0% today with all 19 property sectors in negative territory while Mortgage REITs gained 0.3%.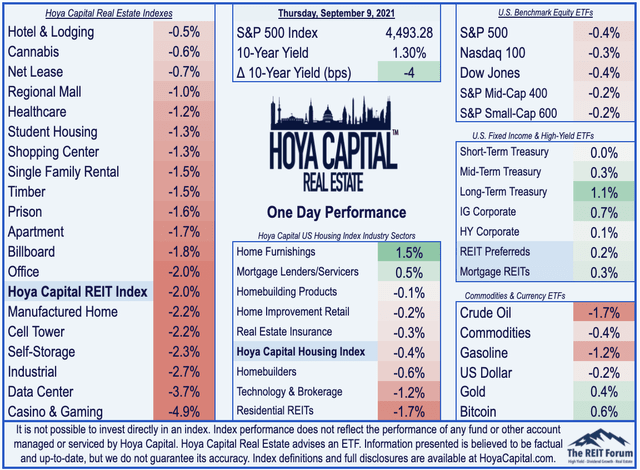 Stronger-than-expected employment data this morning - which showed that initial claims declined to pandemic lows - comes as the U.S. government announced a new round of sweeping vaccine mandates which would affect more than two-thirds of the U.S. workforce. Eight of the eleven GICS equity sectors finished lower today, dragged on the downside by the Real Estate (XLRE), Healthcare (XLV), and Consumer Staples (XLP) sectors. Cautious corporate commentary - today from U.S. airlines, which warned of demand softness amid the COVID acceleration - put downward pressure on the 10-Year Treasury Yield and the broader Commodity (DJP) complex.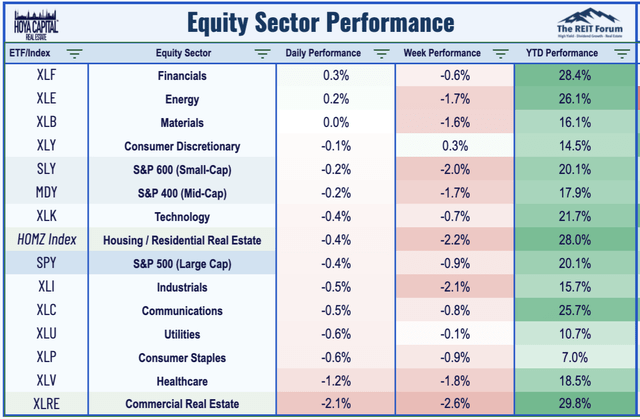 Equity REITs
Single-Family Rentals: Today, we published Wall Street Bets On Single-Family Rentals. SFR REITs are one of the great success stories of the Modern REIT Era, becoming a "core" institutional asset class and quieting the critics that questioned their ability to operate efficiently. The combination of historically low housing supply and strong demographic-driven demand - with added pandemic-driven tailwinds - has sent single-family rents soaring at the fastest rate on record. Riding this rental boom, SFR REITs are the single-best performing property sector since the end of 2019, gaining another 40% this year following stellar earnings results and recent updates. The growth trajectory remains promising for SFR REITs as the "institutionalization" of the single-family housing market remains in the early innings.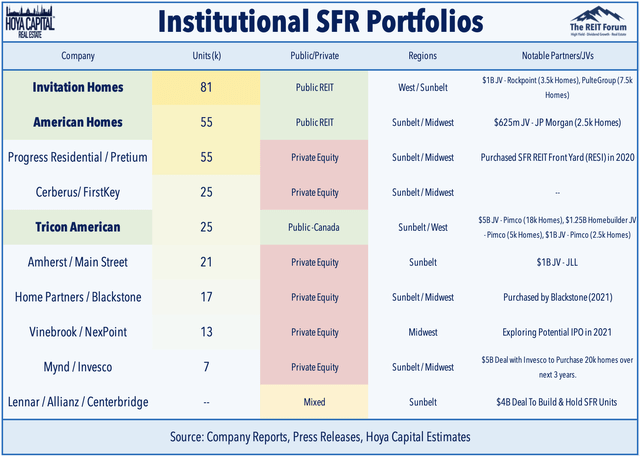 Apartments: Sticking in the residential sector, Essex Property Trust (ESS) finished lower by about 1% despite providing an interim update that showed a continued acceleration in apartment rents across its West Coast markets. ESS - which reaffirmed its full-year guidance - reported that its same-store revenues rose 2.6% quarter-to-date, a solid acceleration from its reported Q2 growth of -3.0%. As discussed last month in Apartment REITs: Rents Are Soaring, while Sunbelt markets continue to see the strongest rent growth, coastal markets have caught fire as well recently - albeit from a lower starting-point - as even the hardest-hit markets in coastal "shutdown cities" are seeing rental rates well above their pre-pandemic levels.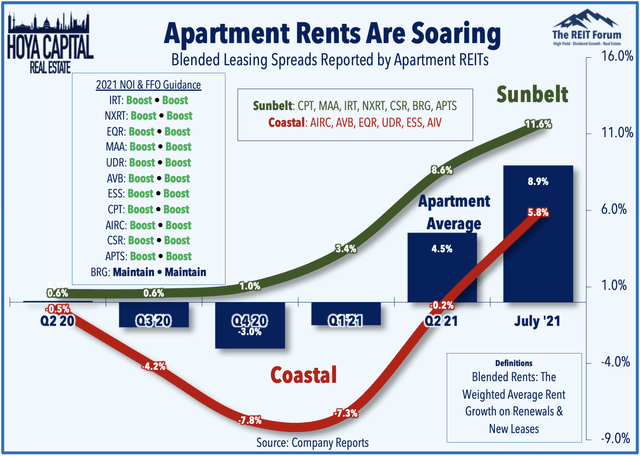 Shopping Centers: Urstadt Biddle Properties (UBA) finished higher by roughly 0.5% after reporting its Q3 earnings results for its fiscal quarter ending July 31st. UBA noted that its same-store NOI climbed 14.7% - an acceleration from the prior quarter's growth of 13.3% - driven by an improvement in its rent collection to 94%. Last week, we published Big Box Boom where we analyzed recent trends in the shopping center REIT sector. While enclosed regional malls face a long and uncertain road to recovery, the outlook for open-air Shopping Center REITs has brightened considerably this year. Valuations again appear attractive as the share price rally has cooled while fundamentals have heated up.
Mortgage REITs
Per our Mortgage REIT Tracker available to The REIT Forum subscribers, residential mREITs finished higher by 0.2% today but remain lower by 2.0% this week. Commercial mREITs slipped 0.2% today and are now lower by 1.9% this week. KKR Real Estate Finance Trust (KREF) traded lower by 0.5% today despite boosting its dividend by 7.1%, declaring a $0.4604/share quarterly dividend, representing a forward yield of roughly 8.6%. The average residential mortgage REIT now pays a dividend yield of 9.0% while the average commercial mortgage REIT pays a dividend yield of 6.8%.

REIT Preferreds & Capital Raising
Per the REIT Preferreds & Bond Tracker available to The REIT Forum subscribers, REIT Preferred stocks finished lower by 0.03% today, on average, but outperformed their respective common stock issues by an average of 0.69%. It was an active 24 hours of REIT capital raising activity. Digital Realty (DLR) dipped 5.0% after pricing a secondary offering of 6.25M shares of common stock at $160.50/share. VICI Properties (VICI) dipped 5.9% after pricing 100M shares. VICI Properties (VICI) trades 1.8% down after hours on commencing an underwritten public offeringg of 100M shares associated with its purchase of the Venetian. Agree Realty (ADC) slipped 2.5% after pricing 7M depositary shares at $25/depositary share, with expected gross proceeds of ~$175M. Each depositary share represents 1/1,000th of a share of 4.250% Series A Cumulative Redeemable Preferred Stock.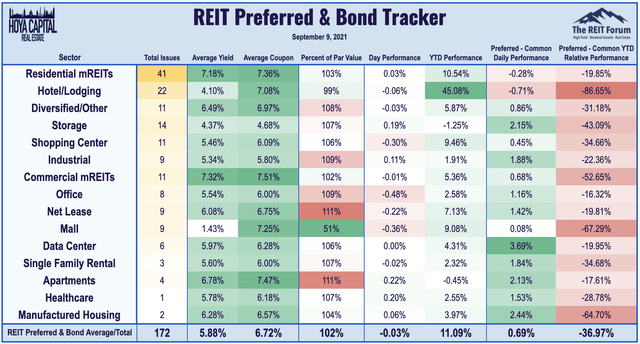 Economic Calendar This Week
The economic calendar continues on Friday when we'll see some inflation data with the Producer Price Index for August, which is expected to show an 8.3% year-over-year rise as cost pressures continue to accelerate further from the record-highs set in the prior month. We'll publish a full analysis and commentary of this week's developments in the real estate industry, as well as an analysis of the busy week of economic data in our Real Estate Weekly Outlook report on Saturday morning.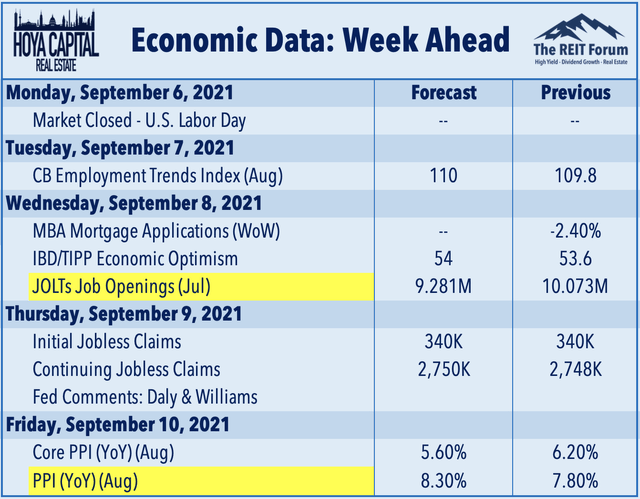 Join The REIT Forum For Our Full Research Library
Hoya Capital is excited to announce that we've teamed up with The REIT Forum to bring the premier research service on Seeking Alpha to the next level. Exclusive articles contain 2-3x more research content including access to The REIT Forum's exclusive ratings and live trackers and valuation tools. Sign up for the 2-week free trial today! The REIT Forum offers unmatched coverage and top-quality model portfolios for Equity and Mortgage REITs, Real Estate ETFs and CEFs, High-Yield BDCs, and REIT Preferred Stocks & Bonds.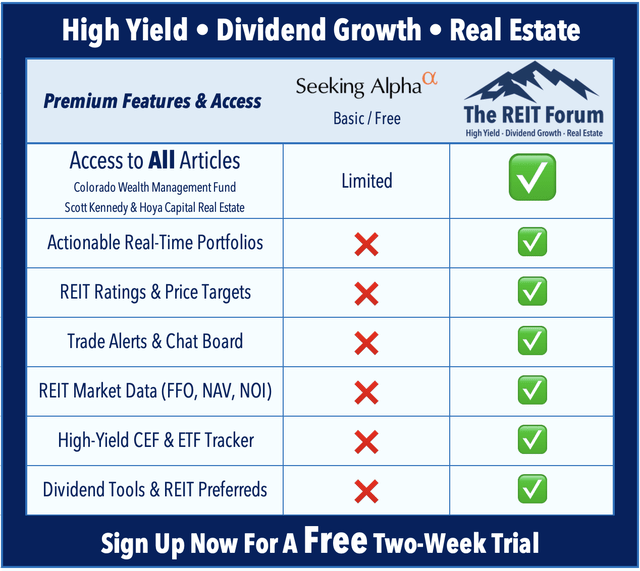 Join our Mailing List on our Website
The REIT Forum is the exclusive home to Hoya Capital premium research. Visit our website and join our email list for quick access to our real estate research library: HoyaCapital.com where we have links to all of our real estate sector reports and daily recaps. You can also follow our real-time commentary on Twitter, LinkedIn, and Facebook.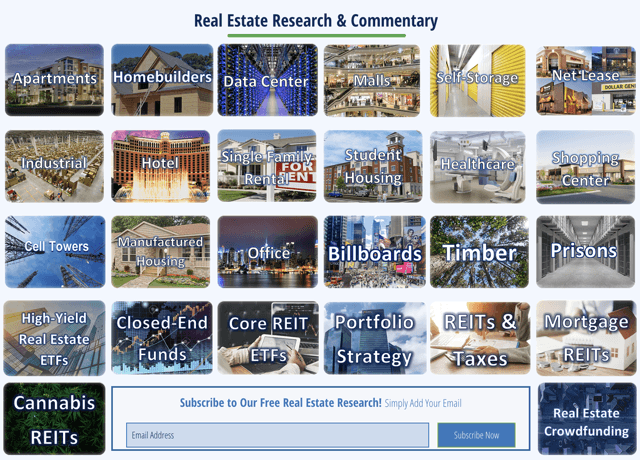 Disclosure: A complete list of holdings and Real Estate and Housing Index definitions and holdings are available at HoyaCapital.com. Hoya Capital Real Estate advises an Exchange Traded Fund listed on the NYSE. Hoya Capital is long all components in the Hoya Capital Housing 100 Index.