Real Estate Daily Recap
Our Real Estate Daily Recap discusses the notable news and events in the real estate sector over the last trading day and highlights sector-by-sector performance. Sign-up for our email list to keep up with the latest developments in the commercial and residential real estate sectors. Follow our real-time commentary on Twitter and LinkedIn and subscribe to The REIT Forum for full access to our premium analysis, exclusive tools and trackers, and The REIT Forum's exclusive ratings and model portfolios.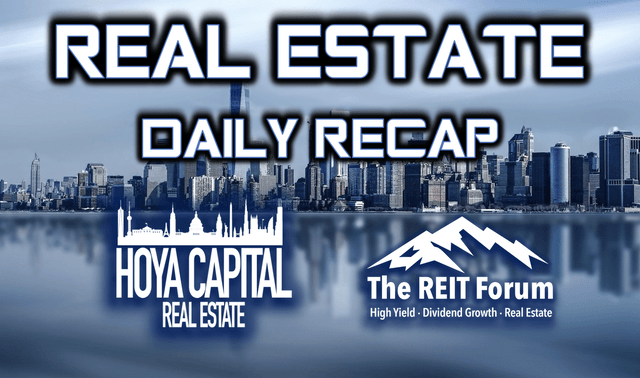 U.S. equity markets rebounded Wednesday as solid housing and industrial production data in the U.S. were partially offset by weak Chinese economic data while oil prices jumped to three-month highs. Gaining for just the second time in the past eight sessions, the S&P 500 gained 0.8% today while the Mid-Cap 400 advanced 1.1% and Small-Cap 600 rallied 1.4%. Real estate equities were modestly higher today following a flurry of dividend increase as the Equity REIT Index gained 0.2% with 15-of-19 property sectors in positive territory while Mortgage REITs advanced 0.6%.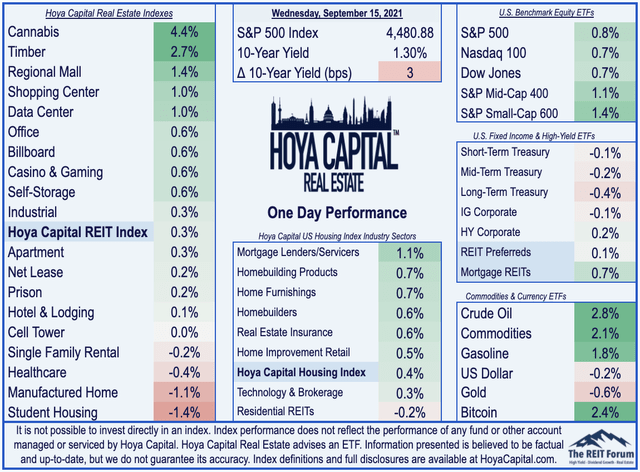 Ten of the eleven GICS equity sectors were higher today, led on the upside by the Energy (XLE) sector as oil prices climbed to the highest level since July. The 10-Year Treasury Yield was little changed, however, as weaker-than-expected economic data from China offset the slate of solid economic data stateside. Homebuilders and the broader Hoya Capital Housing Index bounced back today on data showing that mortgage demand jumped to the highest level since April last week as the historic surge in rents appears to be pulling households back into the ownership markets following a modest summer cool down.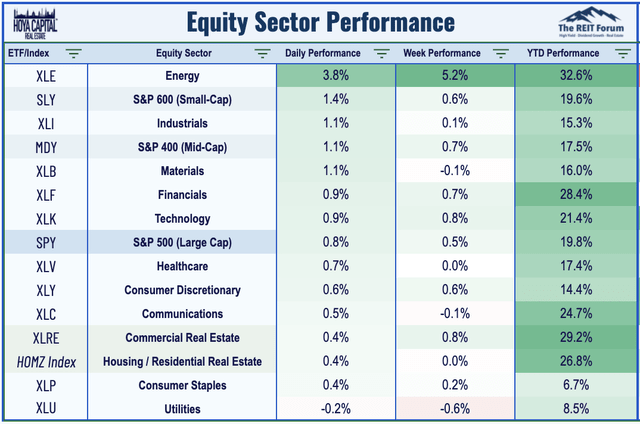 Equity REITs
The wave of REIT dividend increases continued over the last 24 hours. Cannabis REIT AFC Gamma (AFCG) - which went public earlier this year - boosted its quarterly dividend by 13.2% to 0.43/share, representing a forward yield of roughly 8.3%. Fellow cannabis REIT Innovative Industrial (IIPR) increased its dividend for the third time this year, declaring a $1.50/share quarterly dividend, a 7.1% increase from its prior dividend. Elsewhere, Realty Income (O) slightly bumped its dividend, declaring a $0.236/share monthly dividend, a 0.2% increase from its prior dividend. MGM Growth Properties (MGP) - which will be acquired by VICI Properties (VICI) - increased its dividend for the second time this year as well.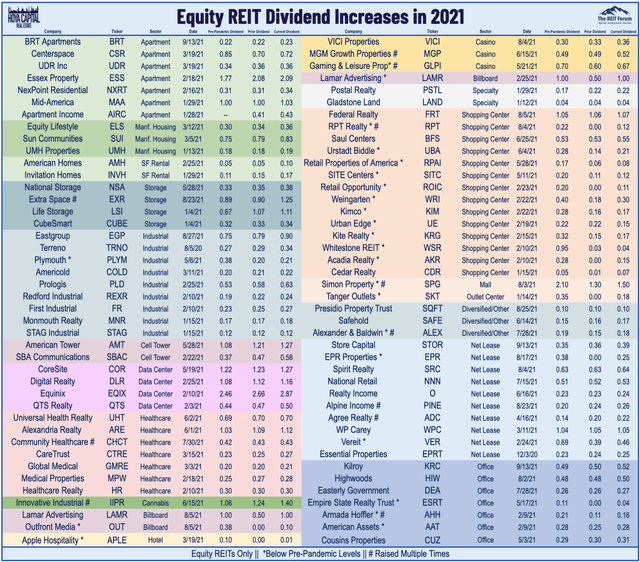 Net Lease: Yesterday, we published Net Lease REITs: High Yield Is Back which analyzed second-quarter earnings season and recent developments in the net lease sector. Riding the wave of dividend hikes across the real estate sector this year, net lease REITs are once again an attractive source of relatively stable high-yield income. Strong earnings results confirmed that net lease REITs are again on the offensive as it's back to business-as-usual for these REITs with acquisition-fueled growth kicking back into gear while rent collection fully normalized. The recent pullback appears to be a buying opportunity for many mid-size and smaller high-yielding REITs, which are trading at wider-than-warranted discounts to their large-cap and growth-focused peers.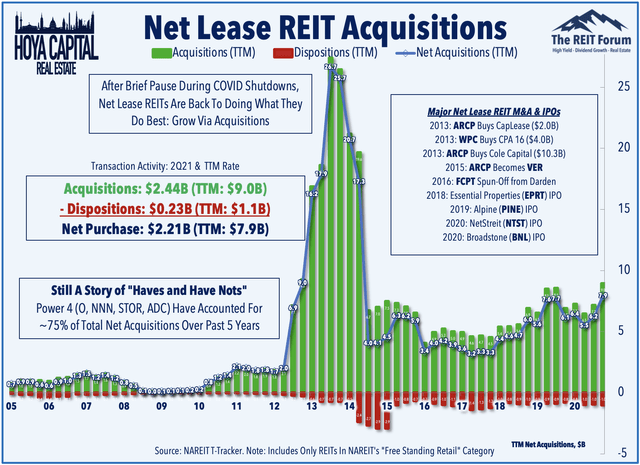 Mortgage REITs
Per our Mortgage REIT Tracker available to The REIT Forum subscribers, residential mREITs finished higher by 0.3% today to push their week-to-date gains to 1.0%. Commercial mREITs gained 0.5% today and are now higher by 1.3% this week. TPG RE Finance Trust (TRTX) jumped more than 4% after it boosted its dividend by 20% to $0.24/share, representing a forward yield of roughly 7.8%. Elsewhere, MFA Financial (MFA), Ladder Capital (LADR), Broadmark Realty (BRMK), Ellington Residential (EARN), and Apollo Commercial (ARI) each held their dividends steady with the prior rate. The average residential mortgage REIT now pays a dividend yield of 9.0% while the average commercial mortgage REIT pays a dividend yield of 6.9%.

REIT Preferreds & Capital Raising
Per the REIT Preferreds & Bond Tracker available to The REIT Forum subscribers, REIT Preferred stocks finished higher 0.26% today, on average, but underperformed their respective common stock issues by an average of 0.37%. So far in 2021, REIT Preferred stocks are higher by 10.93% on a price return basis. Mortgage REIT New Residential Investment (NRZ) launched an offering of a new 7.00% Series D Fixed-Rate Reset Cumulative Redeemable Preferred Stock for gross proceeds of roughly $425M which will begin trading later this month on the NYSE under ticker symbol NRZ PR D.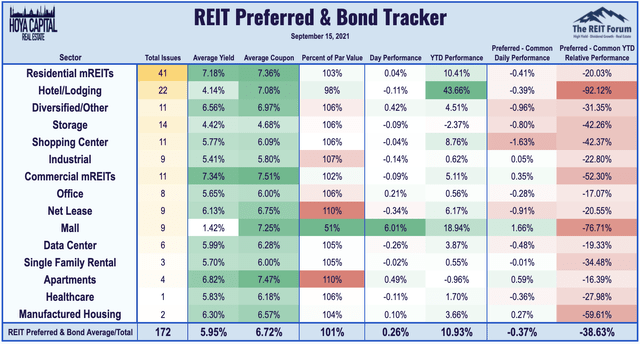 Economic Data This Week
The economic calendar continues tomorrow when we'll see Retail Sales data for August, which is expected to decline for the second straight month and continue a moderation from recent stimulus-driven record-highs in April. We'll also be watching Consumer Sentiment data on Friday after posting one of the largest declines on record last month, driven by concerns over inflation and the reacceleration in COVID cases in the U.S.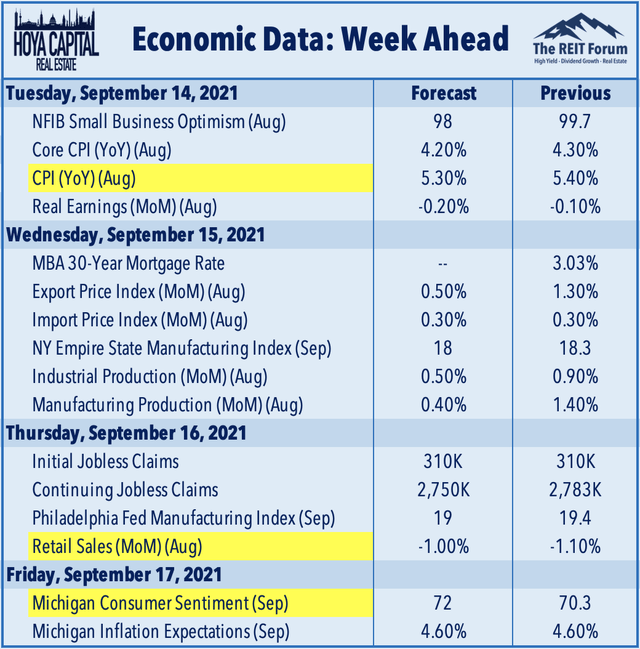 Join The REIT Forum For Our Full Research Library
Hoya Capital is excited to announce that we've teamed up with The REIT Forum to bring the premier research service on Seeking Alpha to the next level. Exclusive articles contain 2-3x more research content including access to The REIT Forum's exclusive ratings and live trackers and valuation tools. Sign up for the 2-week free trial today! The REIT Forum offers unmatched coverage and top-quality model portfolios for Equity and Mortgage REITs, Real Estate ETFs and CEFs, High-Yield BDCs, and REIT Preferred Stocks & Bonds.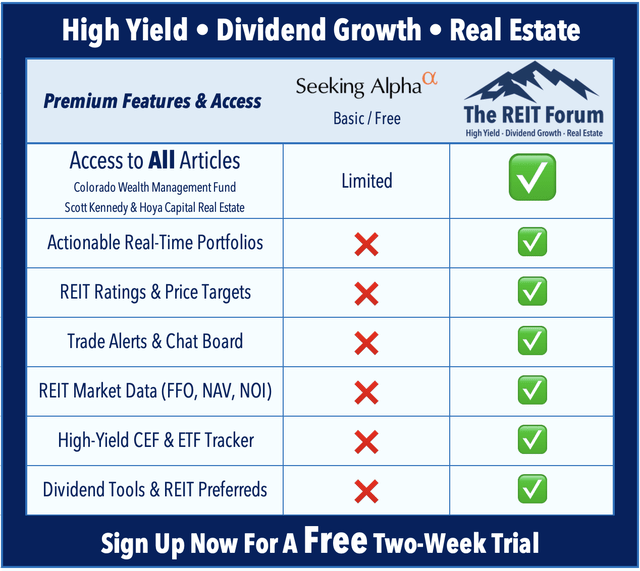 Join our Mailing List on our Website
The REIT Forum is the exclusive home to Hoya Capital premium research. Visit our website and join our email list for quick access to our real estate research library: HoyaCapital.com where we have links to all of our real estate sector reports and daily recaps. You can also follow our real-time commentary on Twitter, LinkedIn, and Facebook.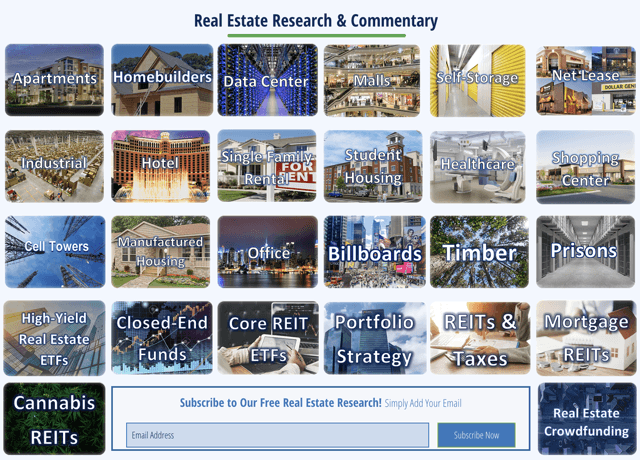 Disclosure: A complete list of holdings and Real Estate and Housing Index definitions and holdings are available at HoyaCapital.com. Hoya Capital Real Estate advises an Exchange Traded Fund listed on the NYSE. Hoya Capital is long all components in the Hoya Capital Housing 100 Index.