Real Estate Daily Recap
Our Real Estate Daily Recap discusses the notable news and events in the real estate sector over the last trading day and highlights sector-by-sector performance. Subscribe to The REIT Forum for full access to our premium analysis, exclusive tools and trackers, and The REIT Forum's exclusive ratings and model portfolios.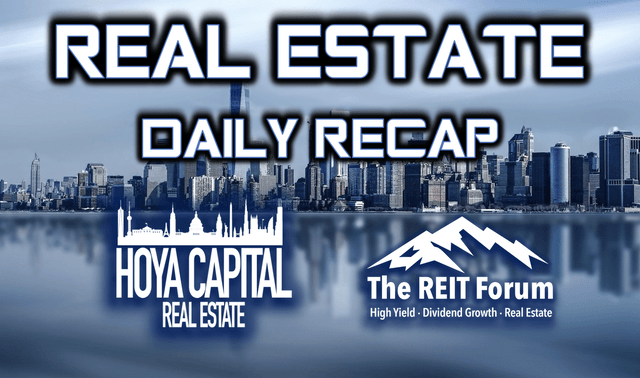 U.S. equity markets were sharply lower Tuesday while Treasury yields jumped to their highest levels since June as soaring commodities prices and ongoing supply chain issues have revived concerns about inflation. Posting its worst single-day decline since May, the S&P 500 dipped 2.0% while the Mid-Cap 400 and the Small-Cap 600 each declined 1.5%. The tech-heavy Nasdaq 100 declined nearly 3%. Led by strong performance from residential REITs, real estate equities were relative outperformers today as the Equity REIT Index finished lower by 0.7% with 15-of-19 property sectors in negative territory while Mortgage REITs slipped 1.3%.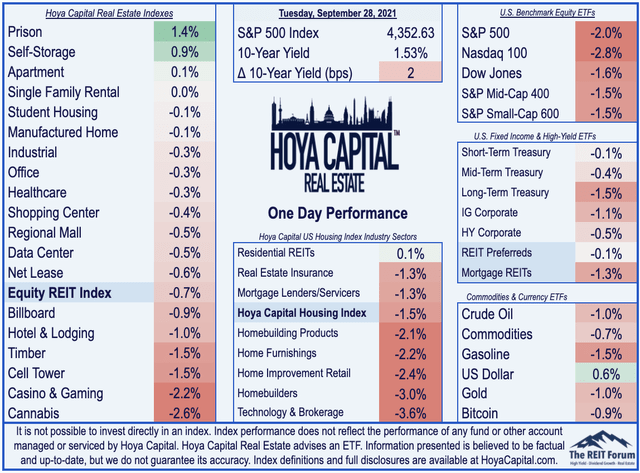 Concerns over potential stagflation have emanated this week from a global "energy crunch" as rebounding demand and supply chain disruptions have sent prices of oil and natural gas to multi-year highs. The 10-Year Treasury Yield climbed another couple basis points to close at 1.53% today - the highest since June - while the U.S. dollar climbed to five-week highs. On the economic data front today, the Conference Board reported that consumer confidence fell in September for the third straight month. Homebuilders and the broader Hoya Capital Housing Index were lower today despite data showing that home values rose by the most on record in July as strong housing demand continues to clash with historically low housing inventory levels.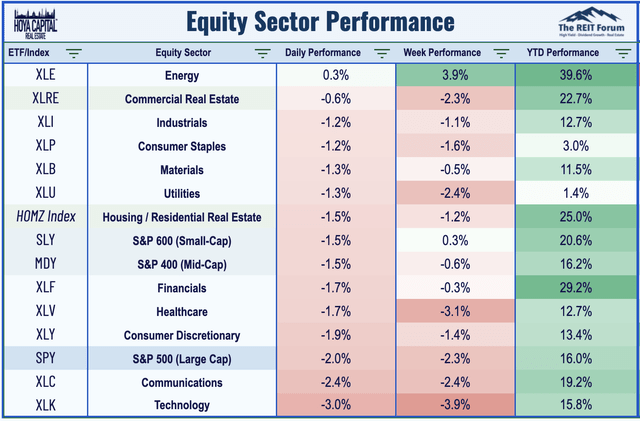 Equity REITs
Data Center: CyrusOne (CONE) jumped nearly 7% today following a report that it's exploring strategic alternatives including a potential sale and is working with investment bank Morgan Stanley (MS.N) to review its options. We've discussed throughout the year - including in our recent report Go Big or Go Home - that we suspect the M&A boom is just getting started and we've cited consolidation as a potential catalyst for the data center REIT sector as Digital Realty (DLR) and Equinix (EQIX) have been fairly quiet on the acquisition-front despite their ample access to capital. Earlier this year, fellow data center REIT QTS Realty Trust was acquired by Blackstone (BX) in a $10B deal.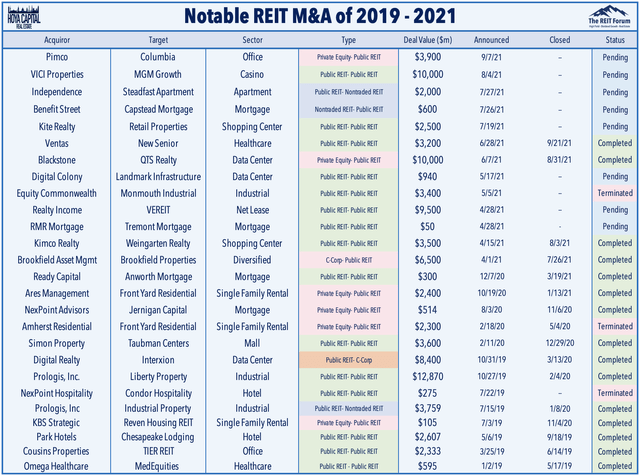 Office: Today, we published The New Normal which analyzed recent trends in the office sector. The future of work is here, and nearly everyone besides office landlords are quite content. For office REITs, the "new normal" of hybrid work environments brings both new challenges and opportunities. A "new normal" on several levels, office REITs - which historically traded at persistent premiums - have become relative "value plays" in the post-pandemic period, while dividend yields have swelled. While WFH headwinds will persist, the office REIT outlook has brightened in recent months - particularly for REITs focused on more business-friendly Sunbelt regions - following solid earnings results and favorable private-market pricing.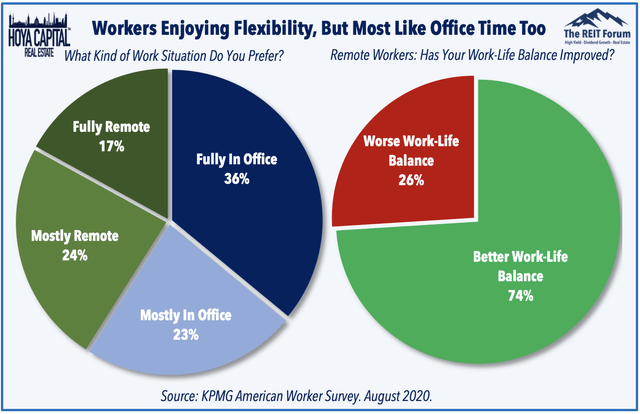 Cannabis: Innovative Industrial (IIPR) announced that it closed a roughly $60M sale-leaseback deal with cannabis cultivator Goodness Growth. IIPR acquired roughly 90 acres of land adjacent to Goodness Growth's existing cultivation facility in Johnstown, New York for $1.2M, and the deal includes an agreement to provide tenant improvement reimbursement to Goodness Growth of $55M for the construction of a new 324K sq. foot cannabis cultivation facility. The initial annualized base rent will be 10.5% of the tenant improvement budget plus the purchase price, for a term of 20 years once the project is completed next Spring. Cannabis REITs are riding a seemingly never-ending 'high' since bursting onto the scene in the late 2010s, thriving in the murky and often contradictory regulatory framework of legalized marijuana.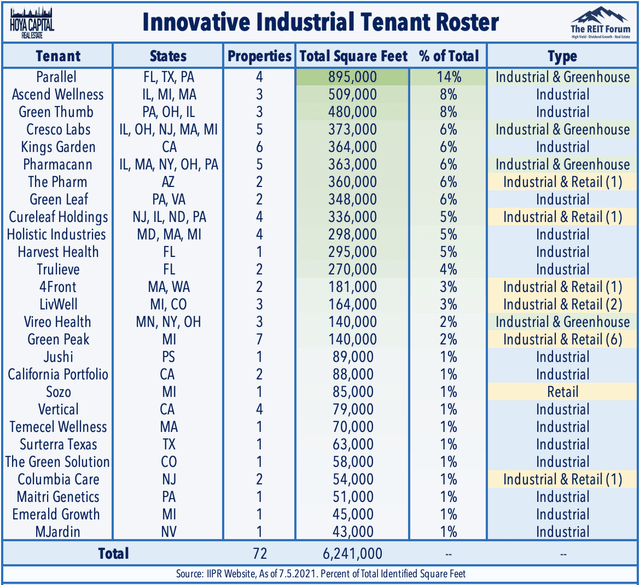 Mortgage REITs
Per our Mortgage REIT Tracker, mREITs were mostly lower today as residential mREITs declined by 0.9% and are now lower by 0.2% this week. Commercial mREITs declined by 1.3% today and are now off by 0.8% for the week. On a slow day of newsflow, AG Mortgage (MITT) led to the upside while Hannon Armstrong (HASI) was a laggard. New reporting today in the WSJ shed light on some of the behind-the-scenes logistics within the mREIT sector during the height of the pandemic-related volatility last year, and discussed the strong rebound in lending activity thus far in 2021. 

REIT Preferreds & Capital Raising
Per the REIT Preferreds & Bond Tracker available to The REIT Forum subscribers, REIT Preferred stocks finished lower 0.40% today, on average, but outperformed their respective common stock issues by an average of 0.59%. So far in 2021, REIT Preferred stocks are higher by 10.57% on a price return basis and total returns of roughly 15%. Over in the bond markets today, small-cap net lease REIT American Finance (AFIN) announced it plans to issue $400M of senior unsecured notes due 2028 and intends to use the proceeds to repay amounts borrowed under the revolving credit facility and to fund future property acquisitions. Technology REIT Uniti Group (UNIT) plans to issue $700M of senior unsecured notes due 2030 and intends to use the net proceeds to fund the redemption of 7.125% senior notes due 2024.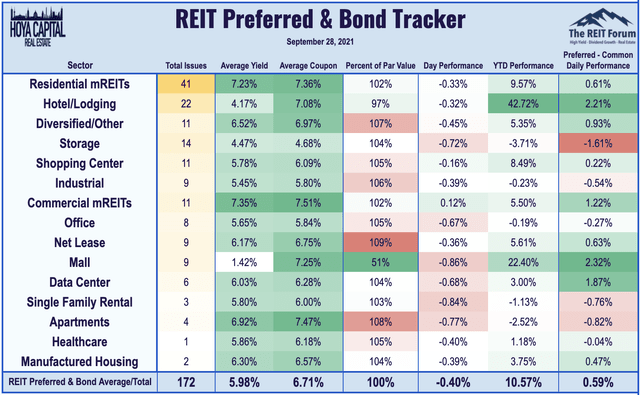 Economic Data This Week
On that point, the busy week of data continues on Wednesday when we'll see Pending Home Sales data for August, which is expected to show a modest increase in purchasing activity. We'll see inflation data on Friday with the PCE Price Index - the Fed's "preferred" measure of consumer inflation - which is expected to show another month of above-4% annual inflation in August.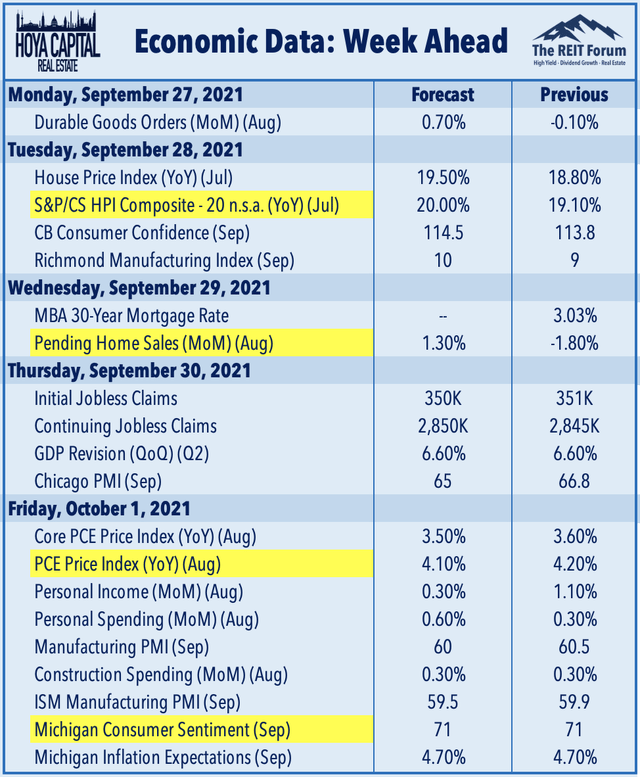 Join The REIT Forum For Our Full Research Library
Hoya Capital is excited to announce that we've teamed up with The REIT Forum to bring the premier research service on Seeking Alpha to the next level. Exclusive articles contain 2-3x more research content including access to The REIT Forum's exclusive ratings and live trackers and valuation tools. Sign up for the 2-week free trial today! The REIT Forum offers unmatched coverage and top-quality model portfolios for Equity and Mortgage REITs, Real Estate ETFs and CEFs, High-Yield BDCs, and REIT Preferred Stocks & Bonds.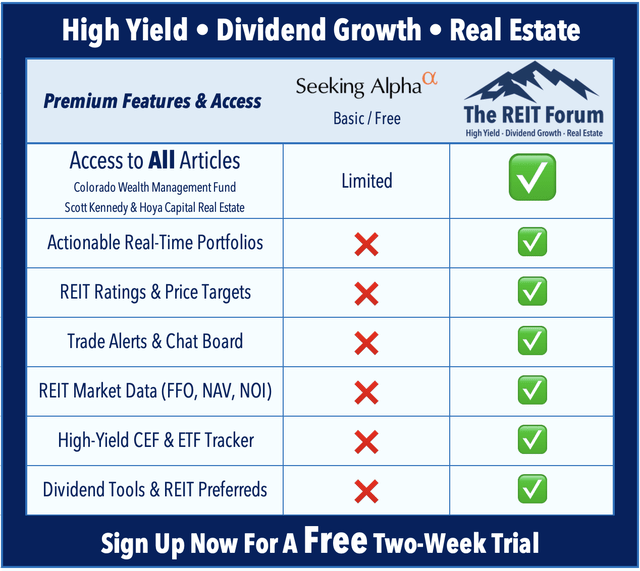 Join our Mailing List on our Website
The REIT Forum is the exclusive home to Hoya Capital premium research. Visit our website and join our email list for quick access to our real estate research library: HoyaCapital.com where we have links to all of our real estate sector reports and daily recaps. You can also follow our real-time commentary on Twitter, LinkedIn, and Facebook.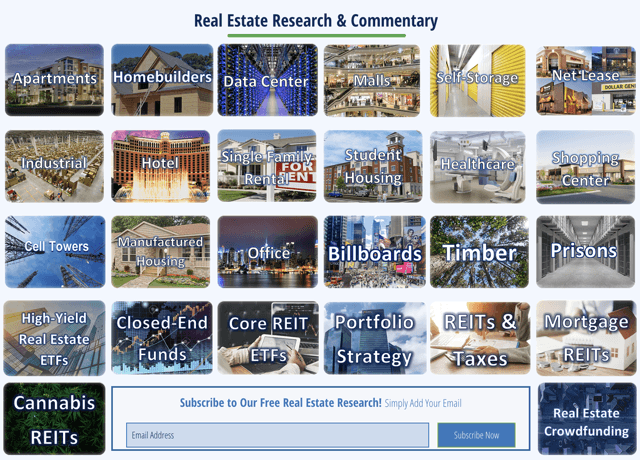 Disclosure: Hoya Capital Real Estate advises two Exchange-Traded Funds listed on the NYSE. In addition to any long positions listed, Hoya Capital is long all components in the Hoya Capital Housing Index and in the Hoya Capital High Dividend Yield Index. Index definitions and a complete list of holdings are available on our website.