The markets this week did well up to Friday. SPX had 2 days of new highs, the DJIA set a new record mid-week, while NDX came within a couple of points of its previous record. RUT popped above its 50MA. However, by Friday afternoon they all turned back down to close below their highs of the week. The culprit was the combination of an increase in the MoM core CPI (0.3%), although the YoY remains stable (1.8%), and Yellen's speech indicating that an interest rate increase was likely this year. This despite the divination from the latest FOMC meeting minutes all but ensuring that a June hike was out. Otherwise the week's economic news was reasonably positive: housing starts and permits increased, as did mortgage applications; initial unemployment claims came in on par; real earrings improved, and the CB leading indicators for Apr. improved. One fly in the economic ointment appears to the lackluster pace of improvement in the manufacturing sector. Manufacturing PMI decreased for May. A slew of regional manufacturing indicators (Richmond, Chicago, Philladelphia, Kansas City) all concurred for regional activity. Services PMI appears stable. Of more direct relevance to the market, earnings growth ex-energy for the SPX was ~8% in 1Q15: respectable enough. Forward earnings projections for FY2016 are improving, and are looking for a similar number.
The June S&P500 Future, ESM15 has held its break above resistance, and the 2118 level now appears to be support. The price is slowly crawling upwards. At the high of the week ESM15 was oversold, but this now appears to be alleviated. Momentum is still positive, while volume trended down all week. This suggests buyers are lacking conviction to push the price up quickly, while sellers are not in sufficient numbers to do the opposite. All this comes down to a neutral, wait and see attitude from investors. Not sure what we are all waiting to see though.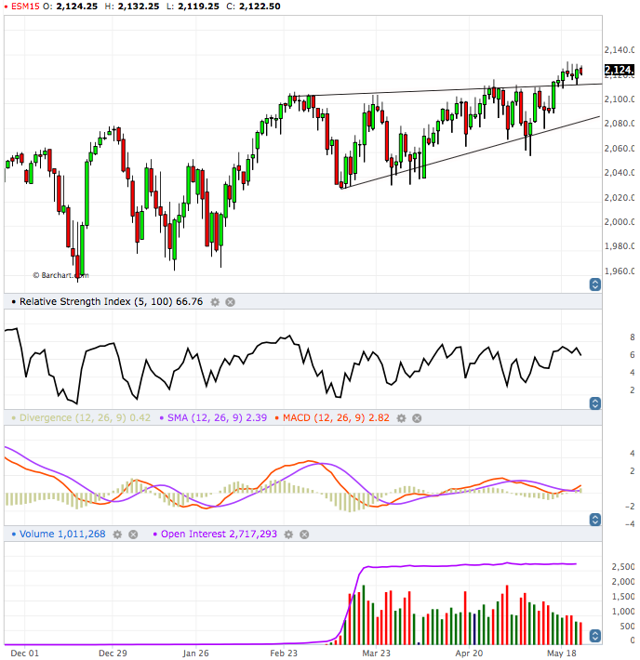 RUT (NYSEARCA:IWM) pushed past the 50MA this week, but it could not hold onto upward trajectory, and by the end of the week it had fallen back to the 50 MA. RSI is clearly moving down, suggesting a lack of short-term momentum. On the other hand MACD continues to move up perhaps indicating longer term the potential to continue the upward move toward the all time high. This will require a concerted move up by the other indices though, so over the next week I am anticipating a further downward move to channel support in the vicinity of 1230.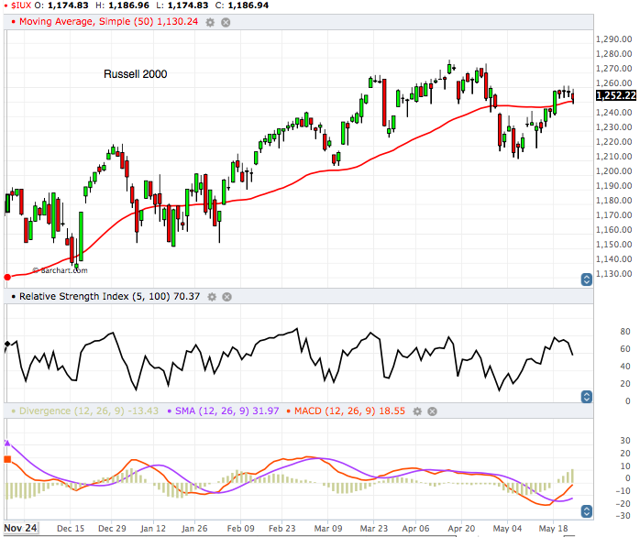 AAPL moved up nicely last week above the channel center. Volume increased with the move. Both short-term and longer term momentum indicators are pointing up, indicating that it may still have legs to reach the top of the channel and a new all time high. I didn't notice any particularly striking news this week to explain this move. There is a lot of AAPL noise out there related to iPhone sales looking better than analysts projections for the upcoming quarter, and this may explain the renewed enthusiasm. Support now appears to be above 125, which is a good spot to park short strikes while the dust clears.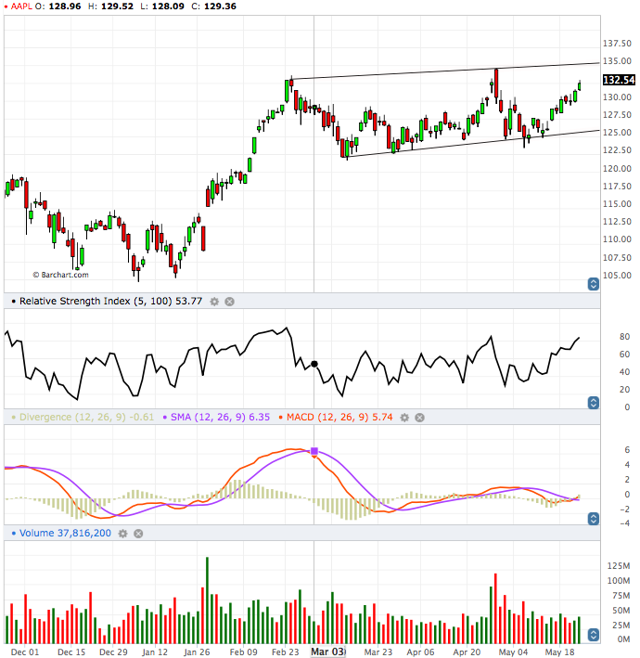 My long-time fav. biotech, GILD also continues to push higher. This despite news this week that J&J (NYSE:JNJ) is getting together with Achillion (NYSE:ACH) to push an HCV treatment that will be a competitor for GILD. In the past few months, this type of news would have pushed GILD down, and the resilience to the news suggests investors are much more confident of GILD's ability to keep its HCV market in the face of competition. Good for us. It also managed to stay positive on Friday while the market was moving down. Momentum indicators are supporting an upward trajectory. Volume is neutral, unfortunately. I'm inclined to wait and see how GILD develops over the week, but support at 105 may provide a decent short strike to watch the action from. Getting a decent premium may be non-trivial given the current low volatility bent to the market.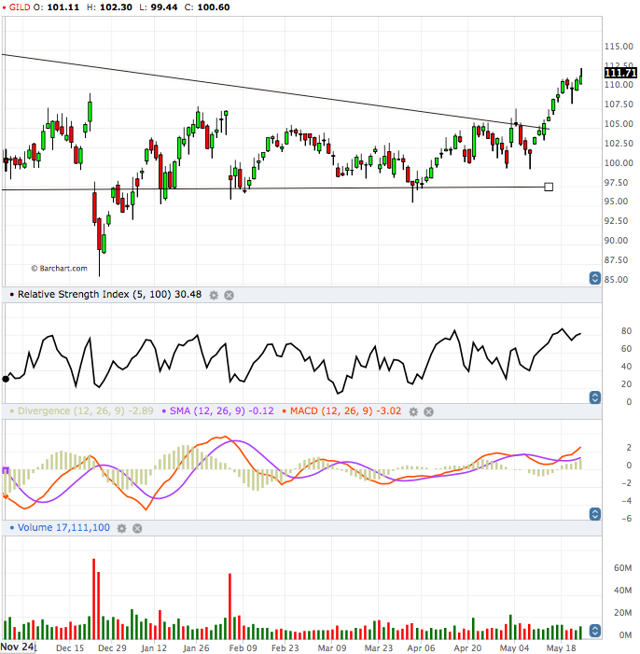 SWKS is marching upward on the momentum from its blowout earnings report. It too managed a positive close on Friday. Momentum is positive and it is definitely overbought, and will probably remain so for a while longer yet. The difficulty is now in choosing a short strike while allowing for the possibility that we transition from a low volatility to high volatility market over the next couple of weeks. The stock did find support at 103 last week, but this is probably weak at this point in time. Channel support is below 100, and premiums are not going to be wonderful that far below the current price.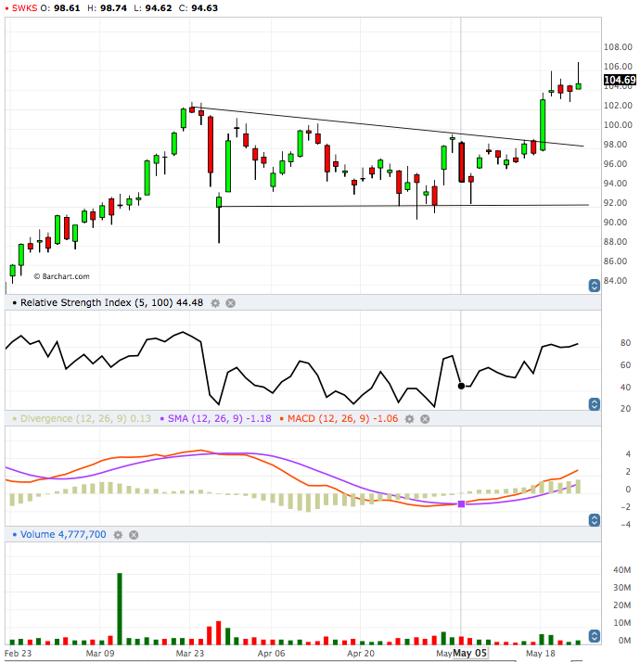 I have been watching Celgene (NASDAQ:CELG) all week in the hope that it would join the rest of the market in moving up. Unfortunately, it did not really manage to convincingly move beyond the 50MA, and fell back below it at the end of the week. RSI is moving down indicating a loss of short-term momentum. Despite MACD still looking healthy, absent a push past the high of this week, its a reasonable suggestion that CELG is in a downtrend, and I'm going to pass on it until it is beyond 119 and convincingly demonstrates the downtrend is bust.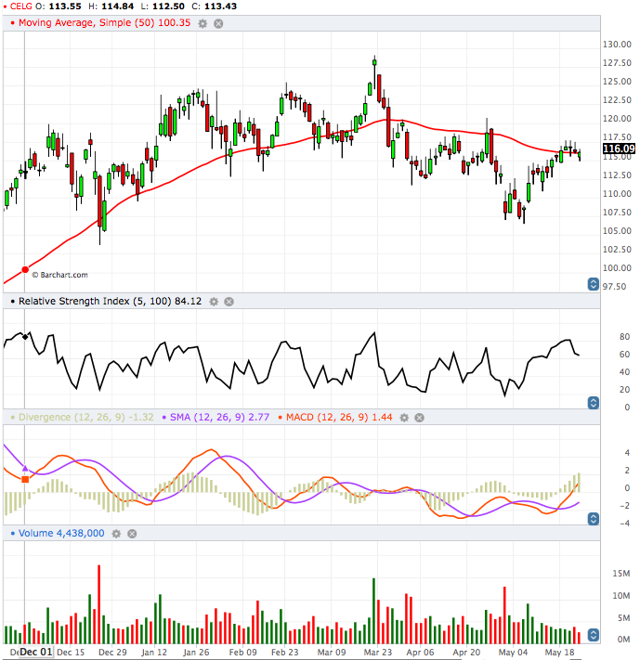 I've been looking around for more candidates for put credit spread selling to use instead of those I've been using thus far change price characteristics with time. I have settled on 2 candidates - GOOGL and LNKD. The former appears to be well set up for credit spread selling, while the latter appears to have characteristics that only a loony would seriously consider. There is a method in my madness though.
GOOGL has been moving up since its earnings announcement, and last week it moved past the 50MA. Earnings were lackluster, but were better than analysts were expecting. It now appears to be moving in a range between 535 and 580. Pretty much perfect for put credit spreads. Short-term (RSI) momentum and longer term MACD are both rising, but last week ended with a harami cross, so some weakness may be expected for the upcoming week. I'll be shooting for short strikes at 530 and below until there are clear signs for continued upward movement.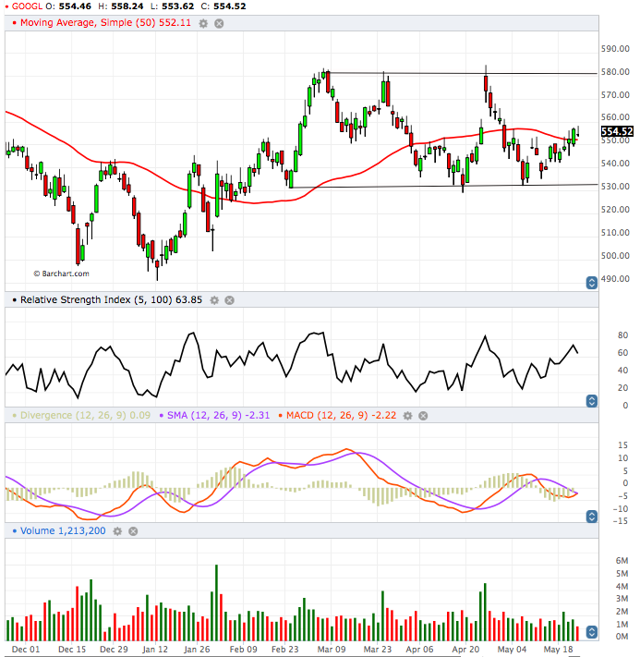 I could not really have chosen a more volatile stock than LNKD for put credit spread selling. This means premiums are good, but the downside is obvious. Selling spreads on this stock is only for those with an iron stomach. In terms of business, LNKD is performing well and continuing to grow both earnings and revenues. The last earning report was a bit of a shocker in that the company guidance for 2015 was revised downwards significantly. This is a leveraged stock, and of course, the reaction to the negative guidance was swift and severe - 20% lopped off the top in the bat of an eye. Analysts, however, remain positive on the stock, with almost no change in the number of buy recommendations following earnings. Technically, the stock appears to have regained momentum, having bottomed last week at ~192. Looking at the chart for the past year or so it is clear that LNKD can easily move $10 with no apparent cause, so I am cautious in the choice of short strikes. I will be paying close attention to these positions, and will move down/out if the price gets to within a dollar or so of the short strike. This will be a fun ride.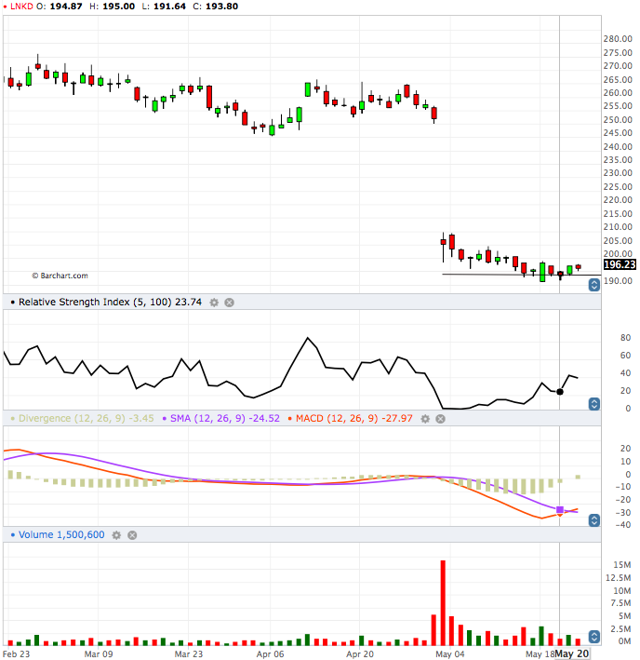 The spreads for 5/22 expiration, shown below, all closed OTM. I opened new spreads for LNKD, AAPL, GILD and GOOGL for 5/29 expiration, but I could not manage an ESM15 (NYSE:EW) spread as the price moved up and premiums for the 2020 strike dropped. I did not want to push above this until it was clear that the price breakout was holding. I did open an EW1 (6/05 expiration) put spread with 2040 short strike on Friday, which is not listed below. So, coming up to the end of the month profit is 10%, and should be safe provided we don't have a significant downturn in the market in the upcoming week.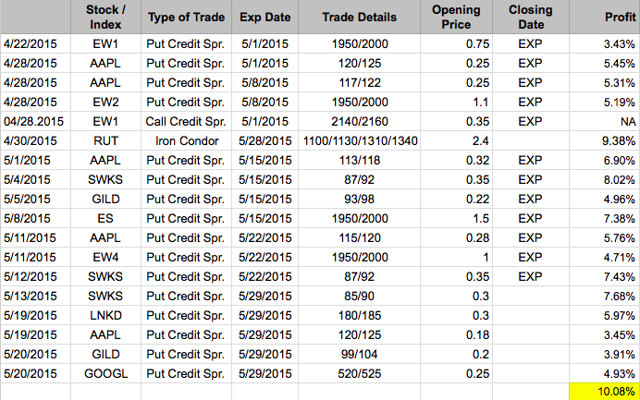 No reading list this week. On holiday in beautiful Thailand, and what between laying in the sun, smoking cigars and eating outstanding Thai food, I haven't had the time :-)
Additional disclosure: I have open positions as described in the article and I will most definitely be opening more in the next 72 hours.