As expected, Greece dominated the market action at the beginning of the week. News of the referendum, and associated uncertainty around the Euro and EU, caused the SPX to take a ~2% dive on Monday. The damage was short-lived, but large enough to break through the 150MA, which had held most of this year. However, the 200MA at 2052 was not threatened. Now we wait for the result of the referendum. If there is a "no" vote, I expect the markets to not take it too kindly, and we'll see another sell-off on Monday. A "yes" vote should see a rally. The outcome may also be a tie, and the continued uncertainty with such an outcome would not be positive for the market. Hopefully, this issue gets wrapped up in terms of market reaction this week.
New economic news in the US was predominantly positive. The economy continues to grow, albeit more slowly than everyone wants. Earnings are growing slowly, while industrial production is going through a rough patch (strong $). No recession in sight. Japan, the EU and Oz are also reporting growth, suggesting a more positive environment for global stock markets as the year goes on. Eventually, the focus in the US will return to the issue of interest rates; current speculation puts the chance of a lift-off by Dec. as 50-50. This is the issue that will drive US markets this year.
So, looking at the US markets for the upcoming week, it's clear that the Greece referendum decision will dominate the start to the week. A review of the charts should help us figure out where the opportunities lie for the week, and where caution is warranted. One thing I can say: it's a good time to be selling credit spreads. The VIX has jumped, so option premiums are very good. Moreover, its clear the volatility is being driven by geo-politics and not by concerns with the US economy or corporate profits. At times like this I tend to max out my capital because profit potential is just outstanding.
The ESU15 future stabilized at ~2052 last week, comfortably above the 200MA at 2036. The week ended with another doji inside candle, symbolic of investor indecision. It won't take much of a sell-off to get the future to oversold, and that may limit potential damage. From its current level of 2069, a 2% sell-off will take it to the 200 MA, which should also provide support. My short strikes are all below this for the next couple of weeks. No reason to take unnecessary risks. With the increase in the VIX this week, option premiums have been excellent, even for well OTM strikes, so my profits haven't suffered, and I've been able open spreads with quite conservative short strikes.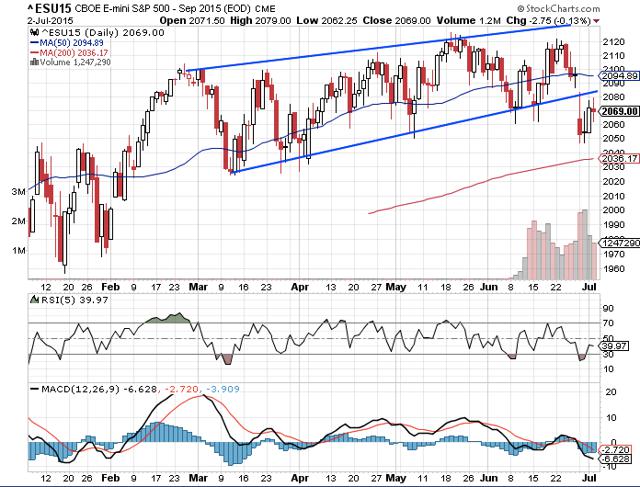 RUT did not suffer as badly at the beginning of last week, losing 1.5% and closing at 1247 on Monday. However it ended the week on a stronger down note than SPX, close to the low of the week. It is still clinging to the 50MA, and is in an area of reasonably strong support. Momentum is definitely negative, but it is also oversold. It will sell-off with any market reaction, but I expect it to hold up relatively well, nonetheless. Lower support is at 1220, and then at 1200, which is the 200MA. I would be surprised if it got that far. On the upside, we would have to wait and see if the lower channel level presented resistance at 1280, and then the top of the channel is at 1300. It's likely to get stuck at one, or both of these levels. I will be looking to open RUT spreads next week, particularly if we have a market sell-off, and my capital holds up. RUT volatility (RVX) is at 20, and this has pushed up premiums nicely. RUT offers reasonably safe (in my opinion) profit opportunities for the next week or two.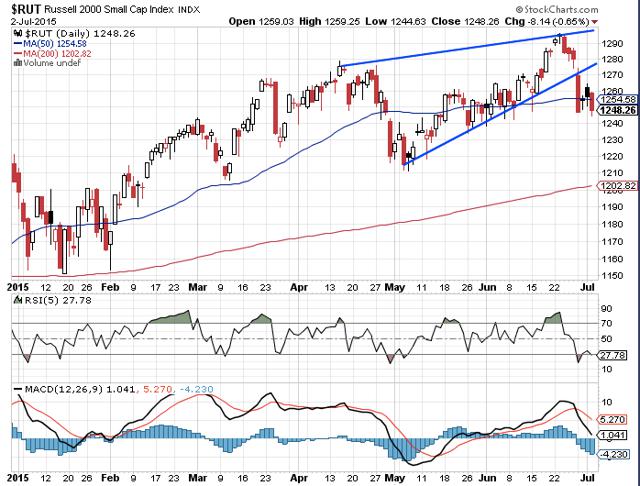 AAPL handled last week's volatility well, dropping briefly below channel support, but staying above 125. It finished the week hugging channel support. It's still suffering from a lack of momentum, but I continue to think it will prove to be a relatively safe stock to ride out the current bout of volatility. As we are now approaching earnings, implied volatility has increased and credit spread premiums are excellent. This also provides confidence that recovery of spreads will be straightforward, should it be needed next week. Support at 122 is the safest bet for short strikes under the present conditions.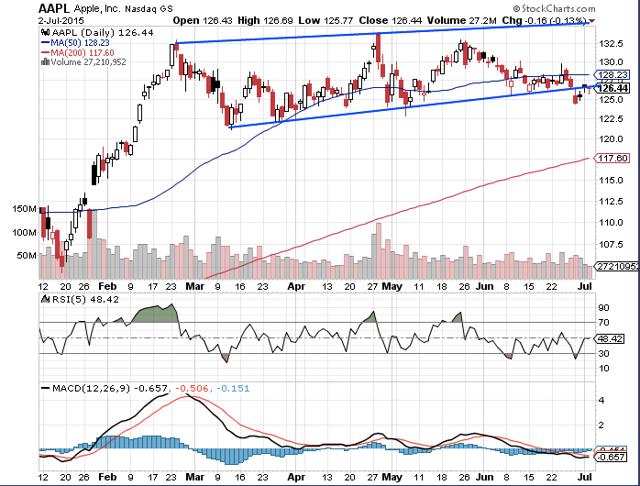 GILD had a bad week, dropping more less all week to close at 115. On top of the general market reaction, there was news last week that ABBV's HCV solution is showing higher than expected cure rates for several HCV genotypes. This pressured GILD in the middle of the week. However, over the weekend GILD announced that Solvaldi/Harvoni was been approved for use in Japan, which is a big and important new market. This may lift the stock next week. It is currently sitting at 114-115 support, with the next lower support being 110. If I open a new GILD spread this week, it will be at the 110 short strike. Premiums are very good due to earnings driven implied volatility increase.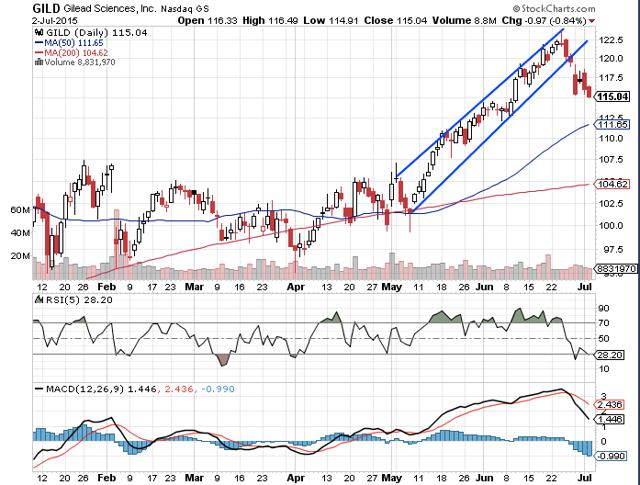 SWKS also sold-off with the market last week. It climbed into the close of the week, but not enough to get back to the uptrend channel. The 50MA continues to provide solid support at 102. Momentum is negative and it is well above over-sold. It will sell-off in a market downturn, and I suspect the 50MA will not hold with a stronger move. Support is probably at 100 (round number) and then at 98. There will be no problem rolling SWKS spreads to recover over the next couple of weeks should theneed arise.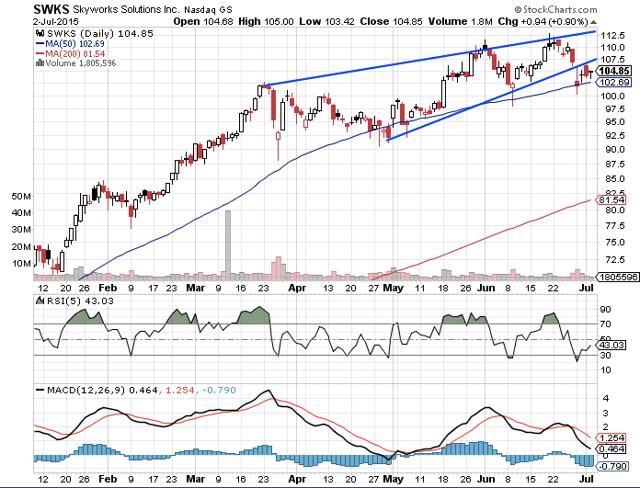 GOOGL held the market drop well last week, holding support at 540 and finishing the week on a strong up note. Unclear to me if the 540 level will continue to hold in the face of weakness, but 530 is also strong support and may contain a further drop. GOOGL reports earnings on 5/16, early in the season, so there is not much room to open a spread before earnings. As a rule, I don't hold open spreads over earnings because of the inherent uncertainty, despite the juicy premiums that are on offer.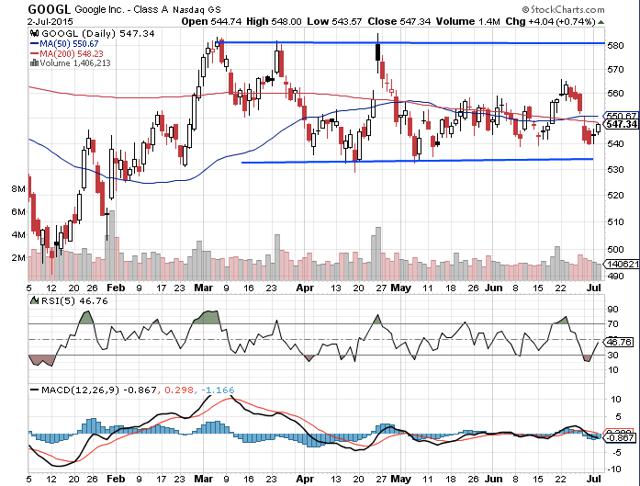 Finally, LNKD sold off this week, but it appears this was driven as much by their announcement that Lynda employees were being allowed to sell-off stock as by the market drop. It picked up as the week went on finding support at 205. I'm interested in opening aspread on LNKD in the next few days as premiums are now outstanding, offering the potential for decent profit as well as relative safety. No matter how the markets react next week, I think LNKD will hold 195, and premiums are now respectable even that far OTM.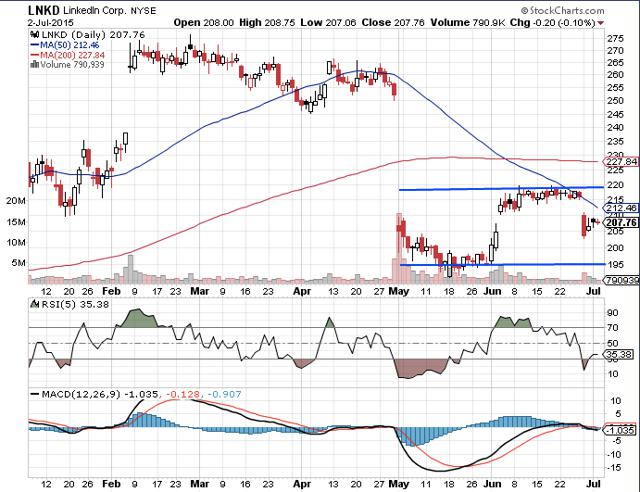 Well, this week was busy since I had to move several spreads down/out to ensure profitability. The EW1 1970/2020 spread expired OTM, and I closed the AAPL 117/122 spread early to get my capital out and into new trades. The remaining 3 spreads - SWKS, GOOGL and EW1 @ 2040 I moved down and out on Tuesday following Monday's drop. As it turns out none of this was necessary since they would all have expired OTM, but I had no way of knowing that on Tuesday. You can only trade with what is in front of you; acting on guesses and wishes tends to lead to losses in my experience. I thought I would spend a little time explaining each of these rolls since this is the first time this year I have had to do this.
SWKS: I decided to roll SWKS because it dropped to a low of 100 on Monday, and although it had recovered some by the open on Tuesday, it was still ITM. I rolled the spread out to 07/17 expiration, and down to a short strike of 100. This expiration is before the earnings report, as is my preference. A short strike of 100 is below the 50MA support level, and close enough to 98 support should I need to roll that it will not pose a problem. I did increase the amount of capital in the trade by widening the spread by a dollar. The whole roll cost is accounted for in the potential spread profit, and if it comes off, it will be a nice trade (~5%) for a couple of weeks wait.
GOOGL: The need to roll this spread arose because GOOGL hit the 540 short strike on Monday, and drifted down toward it again on Tuesday. Because GOOGL is reporting earnings on 5/16, I only had the 5/10 expiration available to write recovery spreads, and the premium available was not sufficient to keep the roll profitable at a conservative short strike of 530. So, I decided to roll out much further to 08/21 and drop the short strike to 525 to ensure I could ride out any market or earnings volatility. I added an extra 50% capital to this trade to get to a potential profit of 7.5%.
EW1: The future took a 2% hit on Monday, dropping several times below 2050 before recovering. I tend to be more conservative with futures options trades compared to equity options because the broker margin requirements can interfere with capital available for trades. Whereas for equity option spreads the broker requires close to full margin coverage, but the requirements for futures options are much lower (~30%). This is good provided the put spread stays well OTM, but as the price drops the margin requirements increase quickly and hit full coverage well before the short strike. Capital available to trade drops quickly and dramatically. I find it best to roll early to get the margin requirement back down and free up capital. So, I rolled this spread down to a short strike of 1960, which is just outstanding in terms of protection of the trade. Since the VIX had spiked call spread premiums had gone up in line with the put spreads, and I was able to open a 2170/2200 call spread to set up a 7/31 expiration iron condor. The potential premium is 9% for a month investment, with what appears a relatively conservative setup. Excellent for a recovery strategy.
I now have open spreads for 07/10 and 07/17 expiration, concentrating on ESU15 and AAPL. I have a GILD 07/10 spread with 115 short strike that will have to be moved next week unless GILD moves decisively up on Monday. The futures options spreads max out at 2020. I will monitor this strike closely and move it out/down if the future drops below the 200MA. Should be an easy roll since by then the VIX will be screaming higher. All the added volatility means much lower short strikes are available with decent premiums. Despite the recovery gymnastics this week, profit potential for the open spreads is strong. It's difficult to beat a 2 week ES credit spread with >20% potential profit and >100 point margin to the short strike.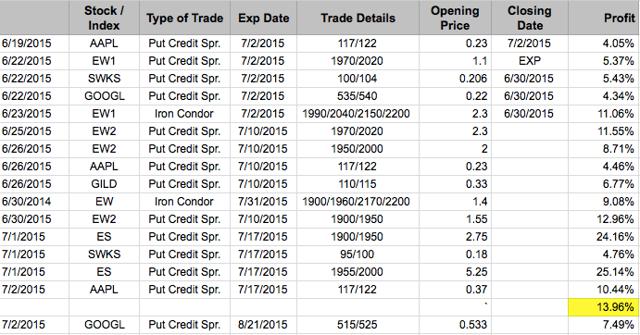 Reading List
Additional disclosure: I have open spreads as listed in the article, and I will definitely be opening more this week.