Another roller coaster week for the markets. Greece dominated the headlines, with China joining in to increase the turbulence. The negative reaction to the "no" vote in the Greek referendum was delayed from Monday to Tuesday and Wed. (go figure), while skittishness about the impact of the China market nosedive picked up Wed. When the Greek government caved on Thursday/Friday and regurgitated more or less the same package of actions that had been voted down the previous week, we had a strong rally to close out the week. And the drama has not yet ended. We can now enjoy the spectacle of the EU member leaders figuring how to handle a slippery Greek government. As I write this the EU finance boffins are in the process of presenting a divided front as to the appropriate response to Greece's request for a new bailout. Trust seems to be the big issue. Really? So, it's clear the show will go on, perhaps most of this week by the time it gets done. Icing on the cake this week was the the Chinese government making up rules as it goes along to prevent a complete melt down. Strangely enough the hodge podge of restrictions thrown together to plug the breach seem to have worked to halt the downward torrent. For now. Absent a finalized agreement for Greece I expect the markets to be volatile next week, for a change.
Economic news from the US was once again reasonably positive. The services PMI and ISM non-manufacturing PMI were positive. Markit composite PMI was unchanged and the JOLTS numbers showed a healthy increase in the number of job openings. Initial claims came in higher than the previous month, but not so much as to cause worry. Fed. chair Yellen also spoke on Friday and was clear about wanting to increase interest rates by the end of the year. The labor market and inflation are the key data points to keep an eye on, with a Sept increase being a possibility if the next couple of monthly read outs meet spec. Corporate profits are continuing to increase, which will help the market keep ahead (hopefully) of the upcoming speed bumps. Q2 earnings season is now underway with most of the 20-odd companies reporting so far coming in above expectations on sales and earnings. An additional factor that may support the markets in the short-term is a large flow of money into US equities; ETFs last week saw an in-flow of over US$10B. Investors seem to be regaining confidence in the US markets.
The Sept S&P500 Future, ESU15, mirrored the volatility of SPX last week, but interestingly, it found support all week at the 200MA at ~2035. In contrast SPX broke below the 200MA at 2055, closing below 2050 on Wed before recovering later in the week. Currently ESU15 is at 2070, about 2% above the 200MA, and was showing positive momentum at the end of the week. The 200MA should provide good support with a market downturn, but I am prepared for a trip to 2000 should we get a blow-up in Europe. ESU15 needs to get back above 2090 to ensure the past couple of weeks weakness is ended. Fingers crossed.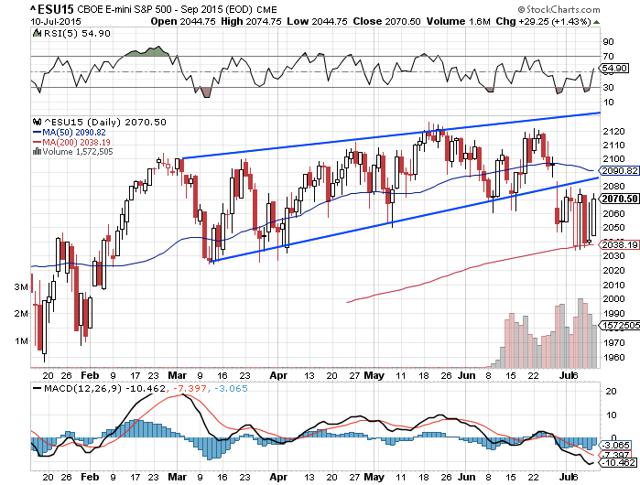 As has been the pattern for past couple of months, RUT fared relatively better with the bout of volatility than SPX. While it fell out of its upward channel on Monday, it only fell to ~1228 at its lowest on Wed. By Friday it has recovered to close above channel support at 1252. This is encouraging strength in the index as it managed to stay above 1220. It's still a fair way off the 200MA at 1205. I continue to expect RUT to be a relatively safe bet for credit spreads over the next few weeks, but I would not look at short spreads above 1200. I have kept my put spreads well below this, aided by increased RVX, which has pumped up premiums nicely.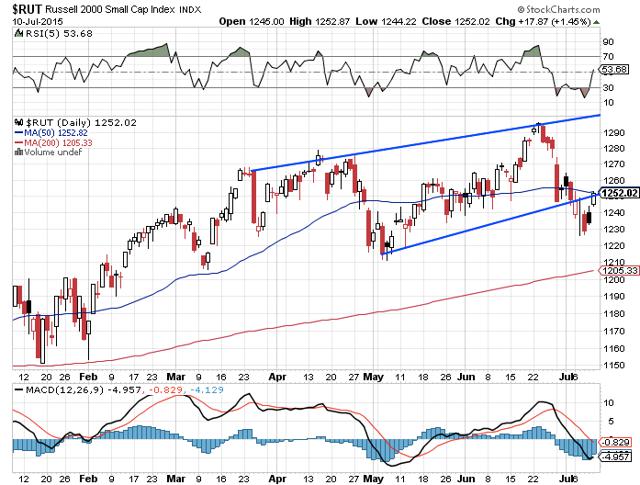 I was surprised by AAPL this week. It had managed to handle the recent bout of volatility, until this week that is. My thought last week was that 125 support was quite solid, and that proved correct until Wed. when it dropped to 122.5. Thursday was worse as it sank down to 120, and even looked like it might go find the 200MA (118), which it has not been anywhere near for a year. I have had confidence in AAPL all year, and with the my short strike set at 122, I thought I was going to be taken to the cleaners. It had not occurred to me to link AAPL with the China market turmoil, but it appears that plenty of analysts had made a link and were recommending investors get out. I still can't figure that as a rational call since the indications are that AAPL is perhaps heading for another great quarter; they appear to have wiped the floor with Samsung in China and everywhere else, and reports are initial production orders for the next generation phone are quite eye popping at > 80M. Moreover, AAPL's revenue exposure to China appears to be only ~16% or so. Another case of analysts spooking investors unnecessarily by going off half-cocked. Still, I am now nervice from the service, and my next set of spreads will be as far below 122 as I can manage until AAPL gets the earnings message out and the macro picture stabilizes.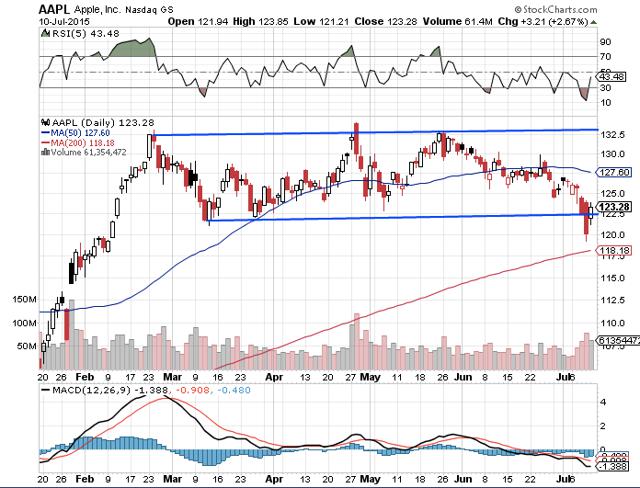 Moving on to SWKS, which also put the frighteners on me, and I suspect a lot of other people, last week. The story appears to be similar to AAPL and the China turmoil. SWKS held the 50MA support all last week, but Tuesday it did a 5% round trip, getting below 95 before closing above 100. I can't remember a stock doing a 5% round trip in a day before, but I'm sure there are other examples out there. Gut wrenching to watch: I wish hadn't been in front of the computer to see it. Wed. and Thurs. were also nasty: another 5% drop (no round trip today!) on Wed. and a 2% range on Thurs. Eeeeeewwwww. While I was digging around to figure what on earth was causing this churn I came across an article which listed the top 10 US companies with exposure to the China economy. SWKS tops the list with 67% of sales being derived from China. The list reads like a who's who of the US semiconductor sector. A surprise to me, but reasonable now I think about it. Finally SWKS picked back up on Friday to close the week above 100 - a 6% day. Amazing. So, we now find out that support for SWKS is probably at 94, rather than 98, as I had assumed last week. I'm not sure I will open any new spreads for SWKS until they do earnings, and if I do I will be looking at 92.5 or below. I don't have the stomach for another performance like last week's. I'm still sitting on an open spread with 100 short strike for 07/17 expiration. I plan on moving this down and out, perhaps into August.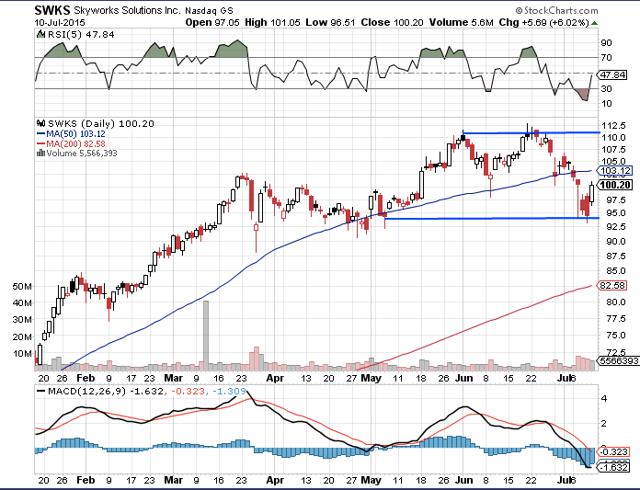 Next is GILD, which suffered, but less so than AAPL and SWKS, last week. GILD held 115 support until Wednesday, where it dipped to 112.5 before climbing back to 113.74 to close the week. It found support at the 50MA, as it had back in May, but it did not experience the exuberance evident in Friday's market action. I assume the concern here is still with the sustainability of earnings over the next couple of quarters given the competition in the HCV market. It appears that 112.5 is now providing support, but stronger support is likely down at 110. Earnings are up on 7/27 so still a couple of weekly expirations to take advantage of the increased volatility. Short strikes at 110 are my choice.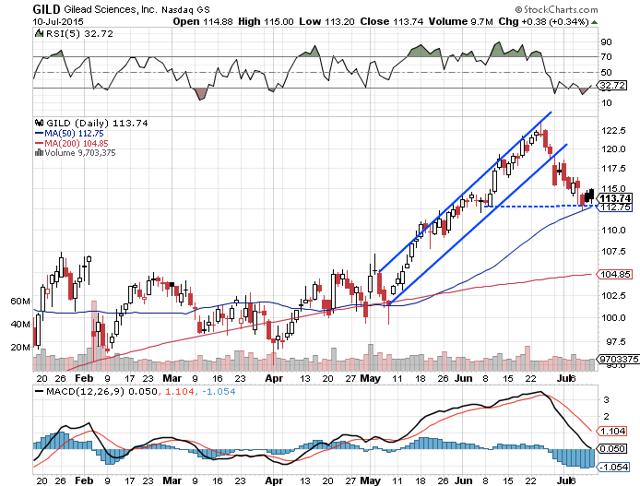 Now onto a couple of stocks that did well last week. First GOOGL, which more or less managed to ignore the market shenanigans. Support at 540 held all week, and it shot back up to 556 to close the week. GOOGL reports earnings on 7/16, so nothing to do now but watch. I'd rather not have an open spread over earnings so I will wait until next Friday and shoot for the 7/31 expiration, unless I can catch the 7/24 expiration with a decent premium at the market open on Friday morning.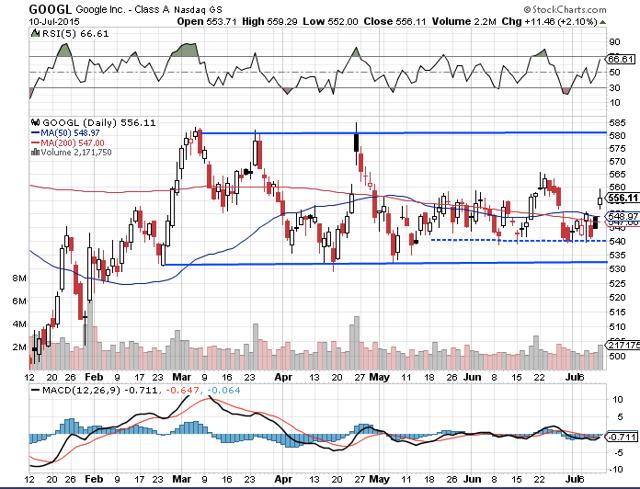 And then there was LNKD. I consider this an extremely volatile stock, with concomitant risks for writing spreads. Well, last week it was rock solid, basically dipping to just 205 during the ugliness on Wed. and closing Friday almost at 210. I have confidence that LNKD will ride out the current situation more or less unscathed; investors seem to really want to support this stock at the moment. Earnings are due 7/30 so that are 2 more weekly expirations to jump in on, and premiums are excellent. Enjoy.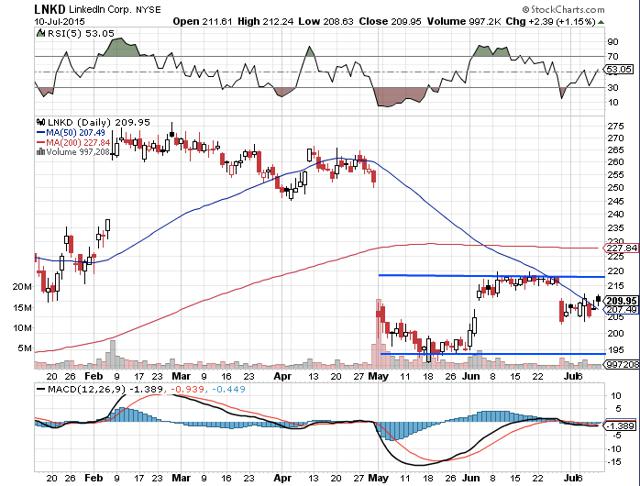 This week required a lot of acrobatics to avoid the 07/10 expiry spreads ending the week ITM. Here are the details:
I closed the EW2 1900/1950 and 1950/2000 spreads (actually 1900/2000 since the 1950s cancelled each other) early and rolled down to 1920/1970. My concern here was not necessarily the potential for an ITM close, but that margin requirements had jumped to full coverage, leaving me with very little capital available to handle the remaining open spreads, which were clearly going to need help.
I closed the EW2 1970/2020 spread early in the week as ESU15 started to flirt with the 200MA. I rolled it to 7/24 and 1960 put short strike and opened a call credit spread at 1230 to generate an iron condor. It's a nice roll provided ESU15 doesn't shoot back up in the next 2 weeks.
I closed the GILD 110/115 spread just as it went ITM, and as yet I have not opened another spread to compensate. I have not listed it in the table as a loss, since I have no intention of losing money on it: I will roll down and out on Monday as it becomes clear what is happening in Europe. It may need some extra capital.
I also rolled the 07/10 117/122 AAPL spread to 7/31 with 115 short strike on Friday as it came back to ATM. This means I will be holding on AAPL open spread over earnings, which I am loathe to do. However, at 115 short strike I think it is sufficiently conservative to be safe even if AAPL earnings disappoint. No extra capital required; in fact, something strange happened with the broker margin on this roll: it required only ~20% of the margin I typically see for AAPL trades. I triple checked in case my eyes had gone wonky, but it's accurate. As a consequence the profit for that trade will be > 20%. Awesome, but I still don't understand why.
SWKS 5/17 with 100 short strike is still open, but I expect to have to roll down/out on Monday. SWKS reports earnings on 7/23 so no time set up a recovery spread before earnings. I will plan on moving out to mid-August with a roll down to 92.5, if possible. While I expect SWKS to have a good earnings report, I will not take a chance during this volatile period.
The open AAPL spread for 7/17 concerns me given last week's experience. I will move it down and out, probably into August, if we have a repeat of the drop below 122. I have a multitude of ESU spreads open for 7/17, 7/24 and 7/31; the highest short strike is 2000, and I'm comfortable with that. I opened a RUT 7/31 Iron condor early in the week, which is just a beautiful trade when volatility (RVX) spikes. Short strikes are 1150 and 1320, which should hold until the end of the month. Finally, I opened a LNKD put spread for 7/17 at the 195 short strike. I will be opening an additional LNKD spread for 7/24 on Monday, going as high as 200 depending on what the markets are doing.
If you look at the potential profit of all these trades for the month, it's clear that the futures options and RUT trades have way better potential than the equity trades. Also, in my opinion, quite a bit more margin of safety. This suggests a strategy where I should trade only ES and RUT when volatility spikes, and forget about the equities. Live and learn. Still despite the mess in the markets this week, profitability for the month is wonderful. It seems counter-intuitive, but I believe these results show that credit spreads offer superb profit potential in down / volatile markets, provided you can recover failing trades - which are inevitable, and humbling.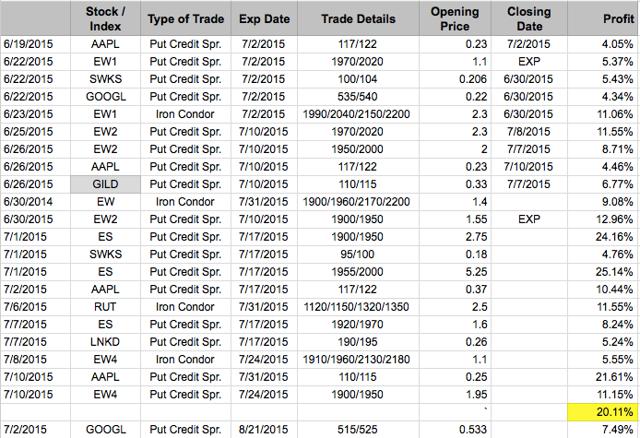 Reading list