No sooner had the markets celebrated the "end" of the Greek drama, and put China market weakness to rest than new worries surfaced, driving the markets down Tuesday through Friday. This time the concerns are global growth, commodity price collapse, and less than stellar earnings reports.
On the economic front, indicators this week were mostly positive: existing home sales reached a 5 year high in June; initial unemployment claims were at a 40 year low (or an all time low on a population adjusted basis), and the CB leading economic index increased MoM. Sales of new homes, however, fell. The US manufacturing sector is still struggling, driven by the strong US$, and low oil prices. On a similar note, China's manufacturing sector is also still suffering, with the HSBC PMI posting another decline, making 3 in a row; the PMI has spent most of this year < 50, indicating a decline in manufacturing activity. We can expect the Chinese government to continue to concoct new policies to improve the health of the manufacturing sector. Germany and France also posted surprise declines in PMIs or both services and manufacturing, while the EU-wide PMIs similar declined. Not sure if this is driven by the Greece situation. These down numbers have put a few cats amongst the pigeons. On a more positive note the Japan composite PMI improved.
A lot of attention is currently being paid to the "collapse" of commodity prices. While this is obviously a negative for the exporting countries, it may be a positive for the US and Europe. The price decreases are across all major commodities, and this is being touted as evidence of a significant slowdown in global economic activity. Just the sort of thing to spook investors. Of course, the strong US$ is one of the reasons demand is declining since commodities are usually priced in US$. Moreover, commodity producers (e.g. iron ore, oil) have aggressively expanded capacity recently, causing oversupply. However, I will point you to a nice article by Scott Grannis, who has put the current situation in a historical perspective. He shows current prices are still well above recent lows, so not so much of a "collapse" as a correction, which has occurred frequently for commodities. One other interesting finding I came across: over at Philisophical Economics, there is a nice article looking at components of profit margins in the stock market, and to our point here, containing a plot of commodity prices dating back to 1871. That plots shows commodity prices do not produce real (adjusted for inflation) returns i.e. commodity prices are strongly mean reverting. Could we be witnessing mean-reversion given the large increases in real prices between 2002 and 2011? I am not convinced the global pictures is as bleak as painted in the media.
The other main driver of market action this week has been US earnings. Industrials (CAT, UTX, MMM) disappointed, blaming China, emerging markets, the strong US$ and low oil prices. Chip stocks also didn't do well thanks for poor reports from LLTC and TXN. The Biotech sector suffered at the end of the week following some nastiness in BIIB's report. AMZN blew their own socks off by actually reporting a profit, which helped to limit damage to COMPQ to some extent. Overall, at roughly the mid-point of the season, Factset is reporting that earnings are coming in generally better than predicted: -2.2% vs. -4.5% at Q1 end for the SPX. However, they also point out that ex-energy earnings are expected to be 4.1% for the SPX. Quite a difference, and a points to a much healthier picture altogether. Large exporting companies are also acting as an earnings drag because of the strong US$; ex-these companies earnings growth is projected to the 8%. The proportion of earnings beats are generally running above historical average. However, revenues continue to be the weak spot, with the proportion of revenue beats below average. Predicted revenue for the SPX is -2.1%, but +1.8% ex-energy, and +3.5% ex-large exporters. The slower rate of revenue growth is expected to last until 1Q16, and is definitely a concern for the health of the market this year. This all plays into the global growth concern, and is acting as a significant drag and stock prices. Ending on a positive note, earnings projections for the remainder of the year are continuing to increase.
Looking at the longer term market situation, the economic picture points to continued growth, despite concerns about the global situation. No recession in sight, for now. The credit markets are not signaling excessive risk concern, or worse, risk-aversion. These are supportive of further rmarket increases. In the intermediate term, the market internals are looking rough. Despite COMPQ hitting a new high, and SPX being not far off, breadth is continuing to deteriorate for both indices. The lack of breadth is driven by weakness in the energy, materials and industrial sectors, and is not yet fully systemic. I don't expect the market to do much until these sectors improve. The danger is that an external trigger will drive up risk-aversion, and then we'll correct the lack of breadth in short order over the summer with a correction and recovery. This doesn't panic me since there is just an enormous amount of cash on the sidelines looking for a better entry point, so any nastiness is likely to be short-lived, and relatively mild in the grand scheme of things. It's worthwhile being prepared for this to happen.
For option credit spreads, it is the near-term that is of primary import. Looking at the ESU15, we can see the price decreases during the week gathered steam, as evidenced by the increasing volume, and larger intra-day price ranges. On Friday price touched the 2070 support level, but recovered to finish the week at 2078. Momentum is firmly negative. All this points to further downside to start the new week. It is likely that the 2070 level will be quickly tested, and if that gives up the ghost, a trip down to the 200MA is to be expected at 2046. The latter has contained recent weakness, and is strong support. On the other hand, last week's candle formation (3 black crows) suggest weakness may be running its course. ESU15 is also now oversold on RSI(5), which has acted as s reliable signal of a short-term bottom this year. I think it is prudent to plan for price to reach the 200 MA, and so I will be moving the open spreads I have at 2030 and 2040 short strikes lower and out. I will wait for ESU15 to get close to 2050 before I do that to take as much advantage as possible of the increase in VIX driving up option premiums.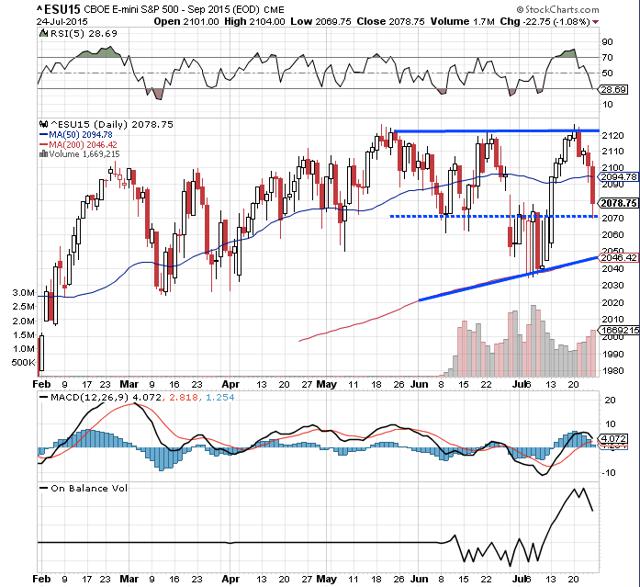 RUT took a harder hit this past week as a lot of money left the index. It finished the week at the 1225 support level. Momentum is also negative, but it is now well oversold. This might provide a bounce at the beginning of the week; otherwise the 200MA at 1213 can be expected to provide strong support. RUT has not been near the 200MA since the beginning of the year. The weekly 50MA, now at 1202 has provided strong support for RUT for the past 2 years (Oct. 14 aside), and this level will probably contain any weakness associated with the earnings season.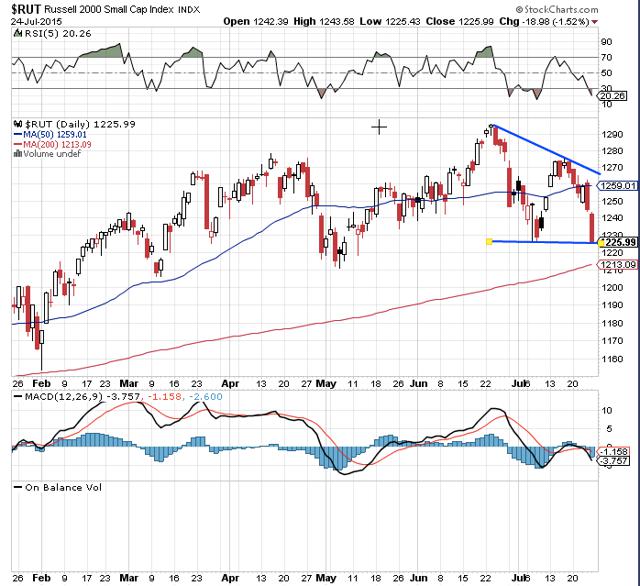 AAPL's report on Tuesday afternoon went down like a lead balloon with the investment community, despite handily beating expectations for both earnings and revenues. Forward guidance was not as frothy and many had expected, but still points to strength in the iPhone business. The selling was brutal pre-market and on Wednsday. Nevertheless, 122 support held on Wednesday despite the enormous selling pressure. It recovered by end of the week to finish at 124.55. It's clear there is a lot of support for AAPL, and it will take a substantial market drop to push AAPL below 122. I am using 120 as the short strike to provide some margin in the current environment.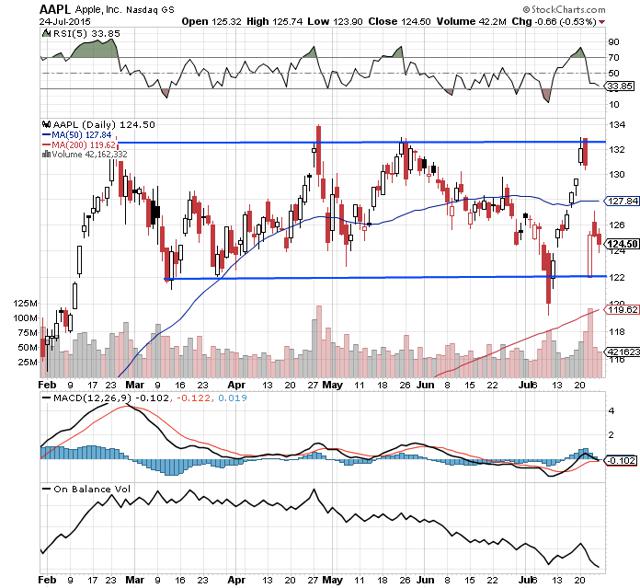 GILD managed the week well, by and large brushing off the market weakness. However, on Friday Biogen (NASDAQ:BIIB) turned up with a substantial decrease in revenue (and an expectations miss) and a beat on earnings. The market took it badly in a spectacular way: BIIB ended up the day 22% down. ABBV also reported a milder miss on revenues, and an earnings beat. The whole bio-tech sector suffered a sell-off, dragging GILD down to 112.83, and within a cat's twitch of 112.5 support. Pretty nasty stuff. This has lowered the positive momentum and dropped GILD into oversold. This is likely to a temporary blip, and I don't expect GILD to drop substantially from here. Earnings are due on 7/27, and I expect positioning for this event to dominate.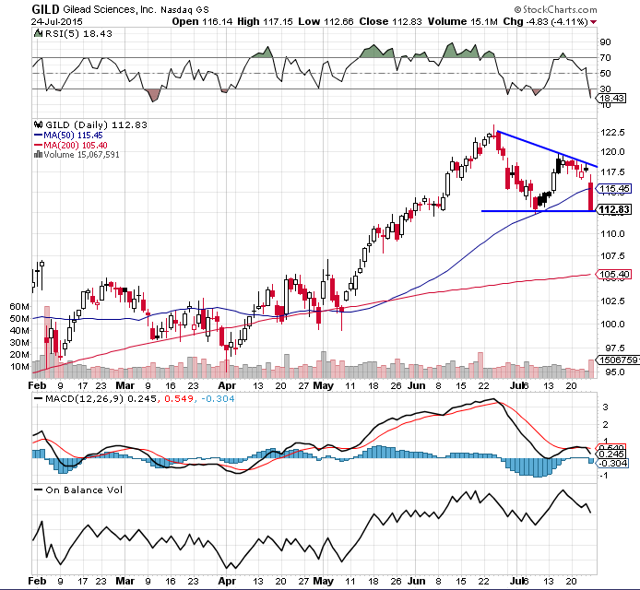 Following last week's 27% jump GOOGL started the week well by ignoring the market, but was unable to fend off the negativity by the end of the week. It lost 7% in the drop from 700 to ~650 on high volume. At present it is below over-bought, and I am not really sure where support is since the price is still so far in the stratosphere. This is a wait and see.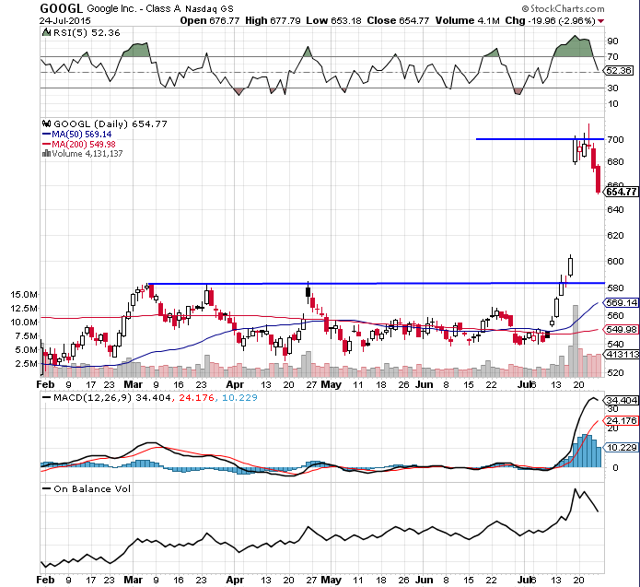 Finally, LNKD is still a contrarian's dream. It largely ignored the market once again, even finishing Friday with a gain. What a champ! On balance volume is clearly showing support for LNKD going into earnings. I'm out and waiting to see what happens. No way am I going to have an open LNKD credit spread over earnings. Brave-hearts can try a straddle.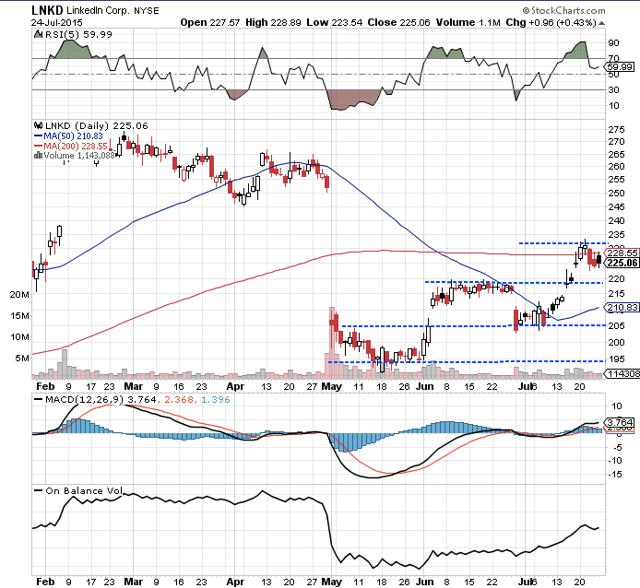 Trade Summary
A busy month, gradually drawing to a end. I closed all the 7/24 EW4 put spreads early to get my capital back and into new trades. I prioritized this as volatility was dropping, pushing down premiums. The EW4 iron condor was a concern at the end of last week, as the 2130 call short strike was under pressure. This went away during the week, and I let this, along with all other open spreads expire. To end the month I have a RUT iron condor still open and a EW iron condor. I'm not concerned that these will end up ITM, but I'll try and close them early to get the capital out. If we get more weakness I will need capital to ensure I don't get a margin call. This is the downside of pushing the number of open positions beyond my usual bevy. The EW spread with 2030 short strike will also have to monitored for a move down and out. Should all go to plan the return for the month with be ~17%.
I've also opened several 08/07 expiration spreads, just to push my capital beyonds it limits :-). I have 3 EW1 spreads with short strikes up to 2040. This latter short strike is, for me, aggressive, and I will have no hesitation to push it down and out if ESU15 gets close to 2050. At that point I should be easily able to move well below 2000 in August. I opened an AAPL spread at 120, which I think will be fine. Since GOOGL had jumped by such a large amount I closed the open GOOGL 8/21, 515/525 spread for a few pennies, and moved it up to 635/640. This dropped my capital involved by a half. I just hope GOOGL can find support at 650, otherwise I will have to move it down and out, which would be a bummer. My last trade for 8/7 expiration is a RUT put spread (acutally 8/6) at 1210 short strike. This is below the 200MA, but with a strong move down it is likely to fail. Should RUT get below 1220, I will move this down below 1200 and out, hopefully still within August.
Reading List
Additional disclosure: I have open positions as listed in the article, and I will definitely be opening more in the upcoming week.