A recovery week for the markets, taking the averages back up into their trading ranges, but well short of the recent highs. SPX, COMPQ both finished the week above their 50MA, while RUT is still below this, and INDU closed the week below the 200MA. Weakness in industrials, energy and materials are weighing on INDU (oil, strong dollar, global growth concerns).
The major economic news this week was the initial Q2 GDP estimate at 2.3%, and a revised Q1 estimate of 0.6% (rather than -0.2% from the initial estimate). The US economy is still moving forward. This week there was finally some good news from the manufacturing sector. Durables goods orders ticked up; the manufacturing PMI increased slightly; and the Richmond manufacturing index increased. The Credit Managers Index also noted a broad improvement in the manufacturing sector in it latest monthly survey. The Markit Services PMI also improved in July; this improvement was also echoed in the Credit Managers Index. Consumer confidence took a significant dip in the latest CB report.
Facset now estimates Q2 earnings for the SPX will be -1.3% compared to the -4.6% estimate at the end of Q1. Nine sectors now have higher projected growth rates. Energy and Utilities are showing lower projections, and Energy is dragging the whole index lower. Overall earnings beats are doing better than historical, while revenue beats are lower, similar to last week. 12 month earnings projections, which are highly correlated to market performance, continue to increase.
ESU15 moved up from a low of 2064 to finish the week at 2099. Momentum is positive, and volume has been supportive of the move up. However, Friday's close hinted at some weakness, and RSI(5) may now be turning over. The upcoming week could see it move either way. There is a nice analysis by Urban Carmel indicating that SPX may have reached a ~1 month bottom this week. Also an interesting analysis showing that while SPX has been stuck in a trading range this year, the majority of that time has been spent in the upper half of the range, suggesting hidden strength. Given that the range is still clearly in play, I am staying below the 200 MA for short strikes.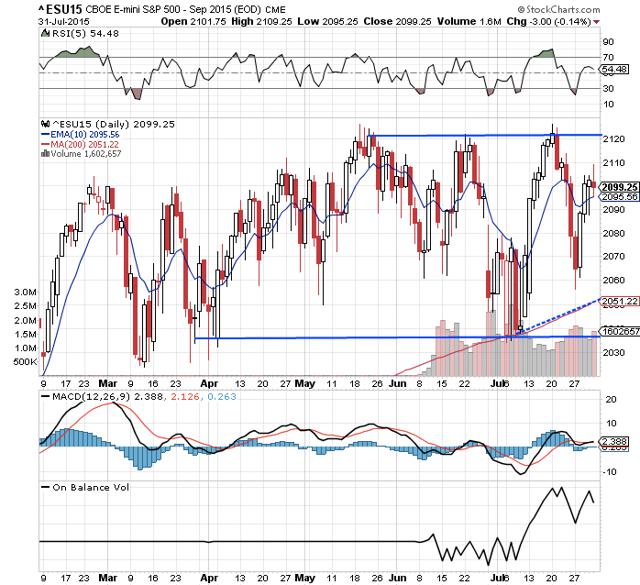 RUT is suffering from particular weakness. Last week it touched the 200 MA, the first time since January. It took a dip down to 1205 on Tuesday before moving back up to close the week on a positive note, but not by enough to erase the loss from Last Friday. The 200MA is in an area of strong support, and the dip down to 1205 was quite a shocker. By the end of the week momentum had returned to positive, and MACD is starting to point back up, so we might expect RUT to continue to move higher, all else being equal. However, it is obviously in a downtrend, and must get past the 50MA at 1256 and then upper channel resistance at 1260. I'm inclined to push short strikes down to 1200 in the next couple of weeks; the weekly 50MA support is at 1205, which is where RUT stopped on Tuesday.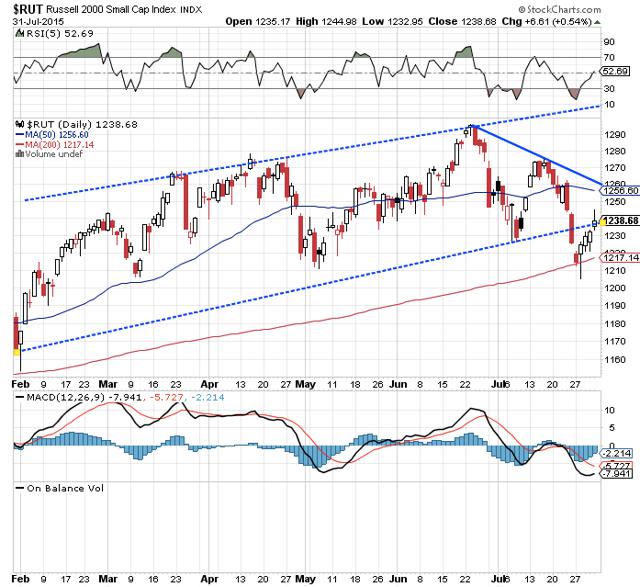 AAPL does not seem to be getting any love since its earnings report. It has been drifting down, and it flirted with the 122 support level all last week before finally dropping below it on Friday to close at 121.3. Momentum us negative, but it is now oversold on RSI(5). There doesn't seem to be any news to explain this weakness, aside from post-earnings blues. I don't expect the weakness to last much longer, especially if it can regain 122 early next week. Just in case I have moved my short strikes down to 118 to stay out of the way.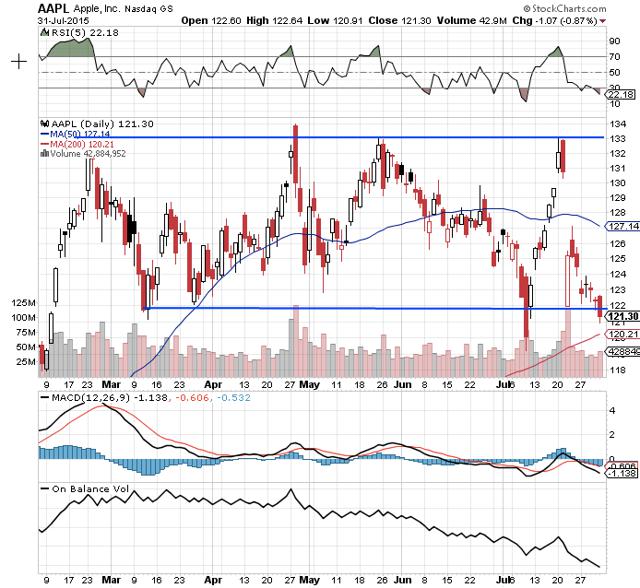 The last bout of weakness hit GILD pretty hard, sending it down to almost close at 110 on Monday. However, on Tuesday GILD came through with another stellar earnings report, and raised guidance for the year on the back of strength in the HCV franchise. It closed above the 50MA, and also above the short-term down channel upper resistance. While momentum is solidly positive, last week's close was weak. I expect the 50MA to provide support now that earnings are out, but I will look at short strikes at 110 and below until GILD moves above 118-120.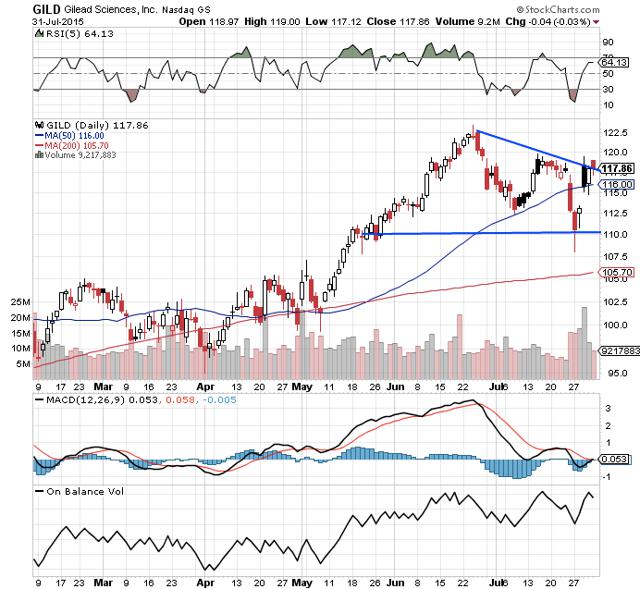 GOOGL had a quiet week and avoided the market gymnastics. It has found solid support at 650. Momentum is neutral and RSI(5) has moved down as a consequence, while volume is clearly showing the support that the stock currently enjoys.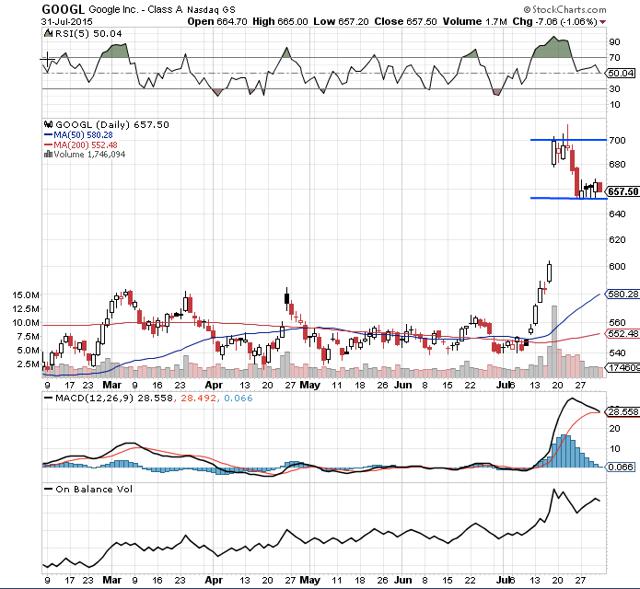 So LNKD, which had been doing so well lately in the face of market weakness, issued their earnings report on Thursday evening and suffered a beating on Friday, losing ~10%. The report itself appears to have been solid, with an earnings and revenue beat, but guidance was more tepid than the market was expecting. No mercy for these mo-mo stocks under this circumstance. LNKD stopped at 203 on Friday, which is where previous support has held. We'll have to wait until next week to see if it receives more punishment.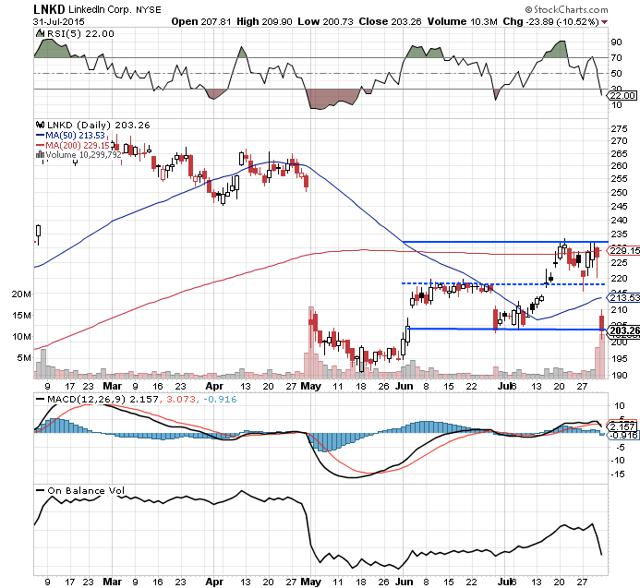 Trading Summary
July is now done. Lots of trades. The remaining EW and RUT spreads / iron condors either all expired OTM, or I closed a couple of days early to get the capital out and into something else. The June results are now up on the 2015 results page. All is going swimmingly.
For August I am concentrating on ESU15 and AAPL. I have an open GOOGL spread as a leftover from last month. I will open a GILD spread if the premium and strike combination is sufficiently attractive. August, particularly early in the month, has a habit of being volatile, so I'm in no rush to open a lot of spreads. ESU15, in particular, is easier to manage through periods of volatility. I have 3 EW1 put spreads open with strikes up to 2040. I don't anticipate a problem with these before Friday expiration. I also have an EW1 call spread with 2130 short strike. Depending on market action this week, I may need to move this, probably by converting to a put spread and rolling down/out. I will keep an eye on AAPL, and I will move the 115/120 spread down and out if price continues to erode towards 120. The new EW2 spreads are at more conservative put strikes - only up to 2020. I've also got an open AAPL spread for 8/14 expiration with a short strike of 118 - not taking any chances. Overall the August spreads are nicely profitable: currently we are looking at ~9% if all goes to plan.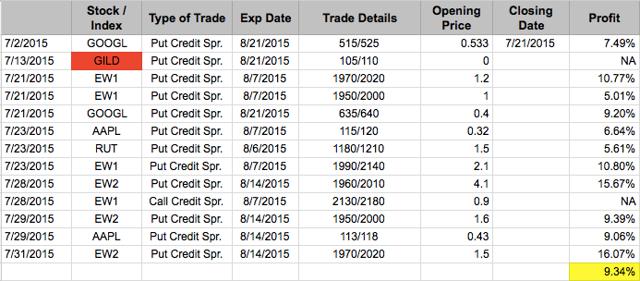 Reading list
Additional disclosure: I have open spreads as listed in the article, and you can bet your bottom dollar I will be opening more next week