The markets had a tough time last week. All the major averages are now below their 50MA (COMPQ, SPX, NYA, RUT, INDU) except the NDX. The major driver for the downward moves appeared to be the increasing volume of commentary (Fed Lockhart joined the party this week), and supporting indicators, suggesting an interest rate increase sooner rather than later this year. Personally, I think this is a massive storm in a teacup; the historical evidence shows small increases in interest rates from a low base are actually a positive for markets. However, after a 10 year hiatus on increases and close to zero rates, it appears a large number of market participants have their hair on fire with concerns this will impact the economy, earnings etc.. Truly a wall of worries. For some reason, the biotech sector also came under increased scrutiny last week. Meanwhile, market breadth, or the lack thereof, seems to have become the issue de jour pointing to an imminent market collapse. There are lots of opinions about the impact of the lack of breadth: as pointed out by Urban Carmel last week, this may turn out to be another red-herring that is quickly resolved in a sideways trending market; on the other hand Cam Hui suggests the lack of breadth may be contagious and is, therefore, of concern to market health in the intermediate term. This will only be resolved with time; keep these arguments in mind when planning credit spread positions. Finally, earnings season is now coming to an end, and the results appear reasonable. According to Factset, ex-energy and ex-AAPL earnings are up ~7%; revenues continue to be relatively weaker, although >50% of companies beat revenue estimates. The Energy sector continues to be the worst under-performer. There is still an earnings decline overall for SPX, but now it is only 1% compared to the -4.6% predicted at the end of Q1. The forward 12 month earnings estimate is unchanged from last week.
Last week SPX spent more or less the whole week heading down, but it closed the week above the 200 MA at 2073. None of the technical indicators are clearly over-sold yet, and downward momentum, although currently low, is increasing: this suggests the potential for more selling next week. Off-setting this is the fact that volume on the down moves was not particularly strong, and the failure to close below 2073 suggests selling exhaustion is setting in. Moreover, Friday finished with a bullish hanging man candle. I'm of the opinion that left to itself the SPX will bounce at the beginning of the upcoming week. However, early August does not appear to be a good time for bullish moves, so my planning is to leave lots of downside room. If there is a large down move next week it is likely to test the 2050 support level.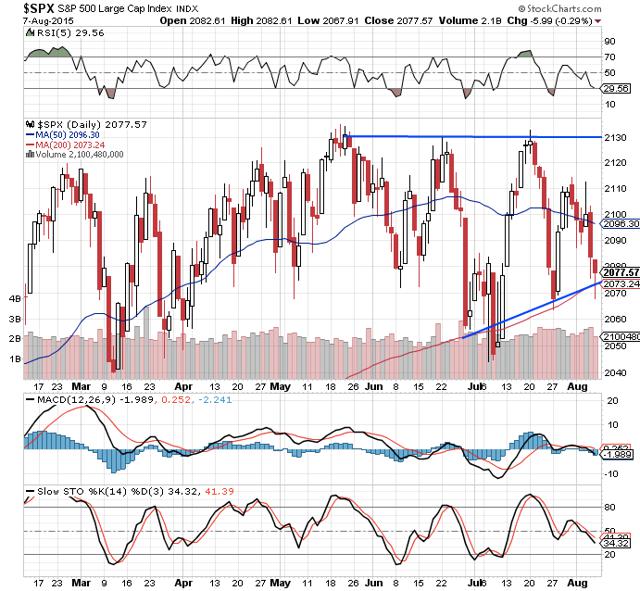 ESU15, while mirroring the behavior of SPX, managed to keep well clear of the 200 MA, even on an intraday basis, which SPX did NOT manage to do. Futures traders appear to be a little more optimistic about the S&P500 than equity traders. Not sure if it is wise to assume Futures traders have more market foresight than equity traders, but they are probably better attuned to short-term trends.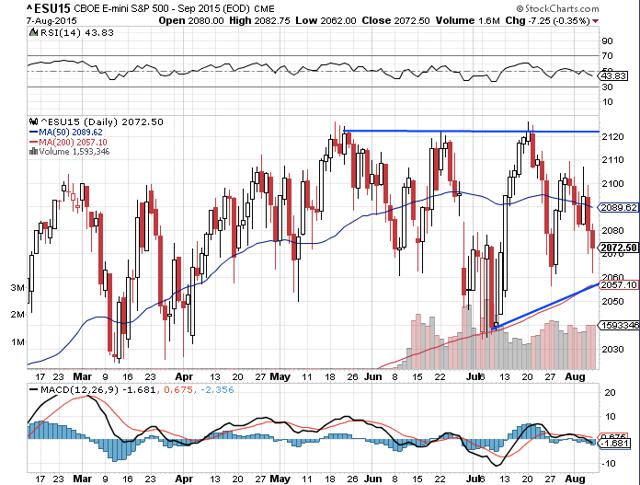 The other index I prefer for credit spread selling, RUT fared poorly last week as small cap stocks fell out of favor. For the second time in a week it tested the 200MA, and this time it failed, and RUT headed down close to 1200. This is a significant break of support and suggests more difficulty ahead for small caps. However, it did not close below 1205, which is the weekly 50MA that has held support for RUT for a couple of years (Oct 2014 aside). RUT is now oversold, which may help keep the price above 1205. The week also ended on a bullish spinning top candle, suggesting the possibility of a bounce at the beginning of the new week. However, negative momentum is still increasing on the chart. I am hoping for a bounce, but planning for more weakness. There is no strong support close to the current level; there is weak support at 1190, but I doubt that will do anything but slow down a move by a day or so. That means the potential for RUT to fall to 1150. This would be a ~150 point drop from the recent all time high of 1296 i.e. a ~12% drop. That seems like too strong a move to expect, but clearly the markets are exhibiting nervousness, and may be more inclined to sell-off and ask questions later.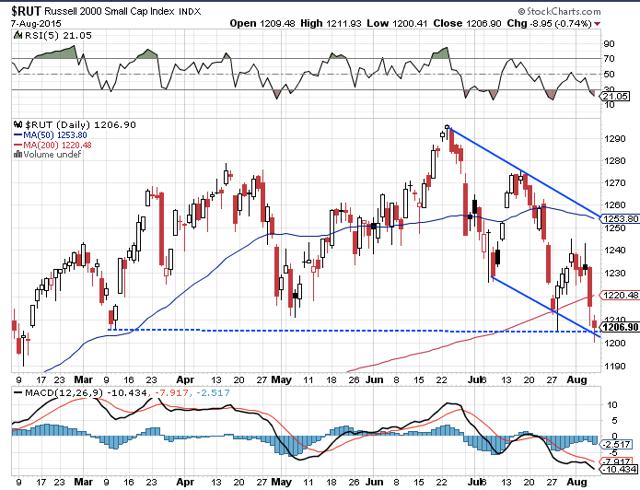 This week AAPL got battered. A report surfaced on Monday indicating that AAPL lost the 1st place in China market share during Q2, dropping to 3rd place behind Xiaomi and Huawei. Never mind that AAPL's growth in the China market last quarter was > 100% YoY. Irrational pessimism led to a sell-off that took the stock down from 120 to ~112 on Wednesday, before it stabilized by the end of the week at 115. AAPL has received some downgrades this week, which has not helped. So the stock has now blown past the 200 MA, but it is well and truly oversold. For those interested in owning AAPL, this might be a good opportunity, but in terms of credit spreads it was pretty much a disaster. More on that later. From here on out it seems reasonable to expect the stock to stabilize and recover from 115. Besides being oversold, momentum has now turned positive and there is clear upside in the near-term. Short strikes at 112, or even 110 are good to consider, leaving some room for more downside if the markets fancy going that way.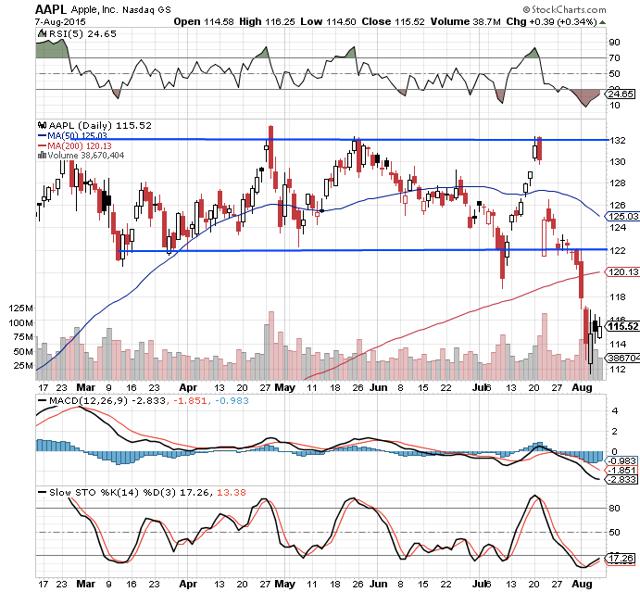 GILD managed to avoid the market moodiness until Thursday, when is sold-off from ~119 to 115. It finished the week at 114.4. It is close to being sold on RSI(5), which has been a reliable indicator of a short-term bottom in the stock this year. Momentum is neutral. Support is 112.5. I anticipate GILD holding to 112.5 this week, particularly since it ended the week on a bullish hanging man candle.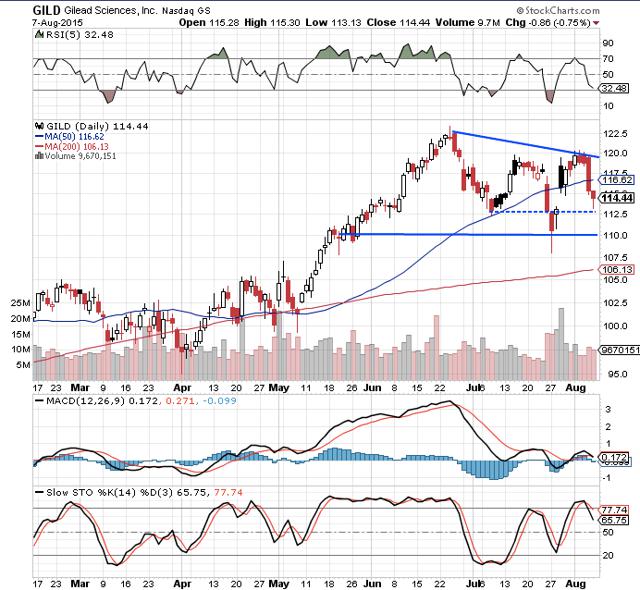 GOOGL did this week what it did last week: nothing, which was nice. It ended the week up slightly, on a bullish hanging man. Technically the chart indicates it heading to oversold on the stochastic, otherwise it is neutral, so I don't expect GOOGL to have to an exciting time next week. Steady as she goes.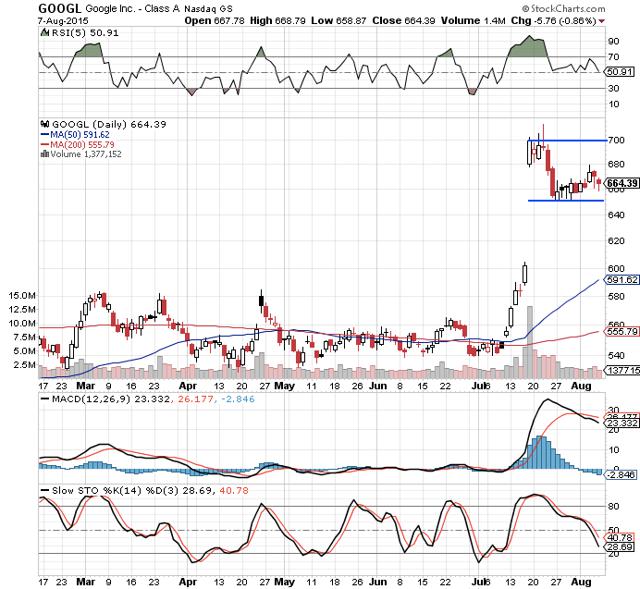 And then there was LNKD. Having been beaten up after last week's earnings report, the punishment did indeed continue this week, pushing it down to 190 to close the week. So, that makes it 18% down in 1 week. Spectacular. At this point it is heavily oversold, but momentum looks to have turned neutral and it managed to finish in the positive on Friday; quite a feat given the state of the rest of the market. We may well now see it stabilize at 190, and this is a region that has provided support several times in the past year and a half. Short strikes at 180 might be a decent bet, and the increase in implied volatility due to the sell-off should provide reasonable premiums while allowing a margin of safety.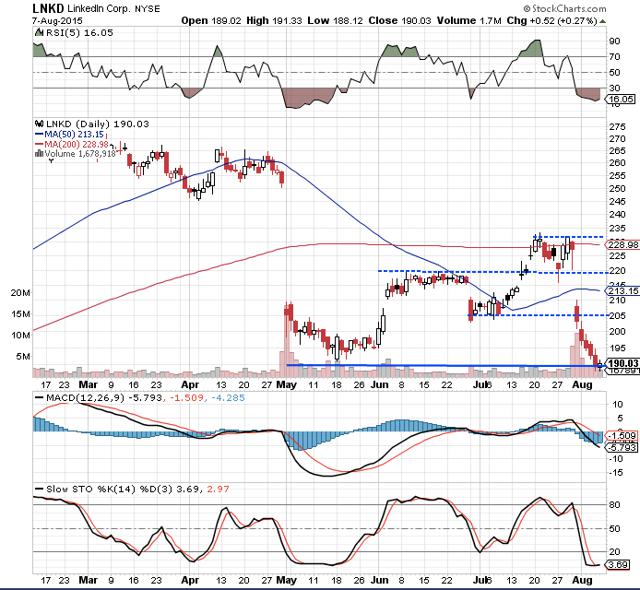 Trading Summary
Despite the market plunge this last week, aside from AAPL, I did not experience much trouble. All the EW1 spreads were comfortably OTM; I closed 2 early in the week so I could move the capital into new spreads. I had to roll the RUT spread with 1210 short strike down to 1150 and out to 09/03 expiration as RUT descended below 1210. I managed to do this at a small profit with an increase of capital in the spread. The profit looks great at 14%, but that is only because of an insanely low margin requirement from the broker on that spread. I still can't figure how the broker's algorithms work to explain cases like this.
The AAPL Debacle: The difficulty this week was AAPL blowing past the 120 short strike I had open for 08/07 expiration. To make matters worse, or in actuality to make it as bad as it could possibly be (really, I mean it), AAPL went ex-dividend on 08/06, and ITM puts are not the thing to be holding when that happens. Unless you really want to be assigned large amounts of stock at above market price, if your margin requirement can stand it. A full loss on a spread, and assigned an over-priced stock - no, thank you very much. Unfortunately, I was terribly distracted at the beginning of the week moving house, and so I really did not focus on the problem until mid-week. There's a lesson there about having open spreads when you know you are are going to be distracted. This type of trading absolutely demands full attention, front and center, or you end up in the situation I am now in. Well, I waited until Wednesday and I managed to catch AAPL as it ran up to 117 before closing out the 08/07 115/120 spread. (This all happened with no internet access in the house. Needed a quick midnight trip to the 7-11 to use their internet to get this done. Trading the US market from Asia can be difficult :-) Not a happy camper at that point, and you don't want to hear what my wife had to say.) Not as bad as it could have been, but still 50% down the pan. This is recoverable, no sweat, although it may take a couple of months. It will require perhaps twice as much capital as the original spread, and I will not start until I am sure AAPL has stabilized. I'll pay particular attention to the A/D line to make sure the stock is not being distributed. It looks like this started to happen at the end of last week, but I will wait to make sure. Don't want to lose more capital on a recovery effort. I did not close the 113/118, 08/14 open spread even though this was also well ITM, and at risk of assignment. I decided to ride that one out for a couple reasons: first, it was less ITM than the 115/120 spread, which was fully ITM. I figured anyone holding 118 puts would be more interested in continuing to hold anticipating more downside rather than exercising them to grab the dividend only. Second, I decided that I could handle being assigned at 118 because AAPL will probably get back there reasonably soon. As it turned out I was not assigned, and I'm waiting to see how AAPL does next week to decide on how to recover. Even if it does not get back to 118, I think a recovery will be straightforward and relatively stress-free.
Lastly, aside from the AAPL 8/14 spread, I have EW2 spreads open at 2020 and 2010 short strikes. These should pose no problem next week and I anticipate they will expire OTM. I also opened 2 ES spreads at 2000 and 1180 short strikes, taking advantage of the increase in VIX to grab good premiums with nice margins of safety. I'm still holding GOOGL and GILD spreads from July recovery trades. Fingers crossed on these. I included the loss associated with the AAPL 08/07 mess in the monthly total to give you idea of what can happen to profits with failing trades. I have no intention of letting that situation run since I just totally detest losing money on any trade, and as is my preference, once I roll that spread down/out I will record any loss/profit on the new transaction, and the loss on this month will disappear. Ex-AAPL loss, the monthly return is 9.7%, and my plan for the rest of the month is to ensure the profit stays at that amount or larger.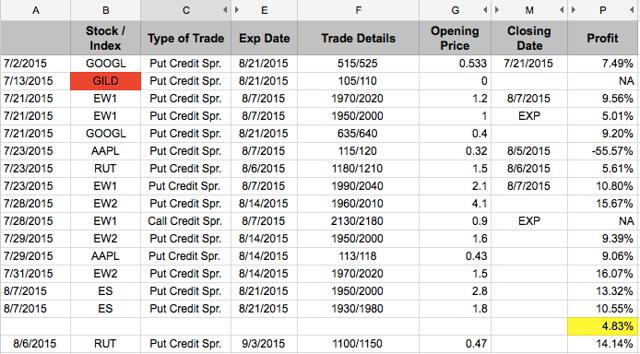 Reading List
Additional disclosure: I have open spreads as listed in the article, and I will definitely be opening more in the upcoming week.