A positive week for the market as the rally continues and the SPX pushes through the resistance level at 2040. All in all the economic news globally was positive, giving impetus to the market to continue to rally. In the US initial claims are still at record lows. The US manufacturing sector, meanwhile is showing signs of stabilization as the flash manufacturing PMI came in above expectations, solidly improving on last month'a reading. The recent pullback in the dollar has probably help this sector, and as the dollar stabilizes, manufacturing should be able to move forward. China came in with GDP growth of 6.9% this quarter, just a tad below the official goal of 7%, and beating expectations of 6.8. At the end of the week the PBOC lowered interest rates again, and decrease bank reserve requirements. This easing helped push the US markets into Fridays strong gain. However, Chinese industrial production once again declined MoM; at this point it is clear the Chinese government thinks previous monetary easing has not been sufficient to get the economy moving at the right pact, and so more easing can be expected. In Europe the manufacturing, service and composite PMIs all increased as the EU economy continues to grow; Germany is going through a rough patch with industrial production shrinking again MoM. However, Draghi has once more put it out there that the ECB will do whatever it takes to get the EU back to strong growth and moderate inflation. This heartened the US market mid-week, and was the cause of the SPX finally getting beyond the 2040 resistance level. Finally, Japan can't seem to get back to consistent growth. YoY exports took a dive, and the trade balance went down the pan. The debate is whether the Japanese are going to add more stimulus in the near future.
It was a big week for earnings in the US with the tech. sector really coming through with some nice earnings beats. Amazon, Alphabet (nee. Google) and Microsoft all resoundingly beat estimates and everyone + dog appears to have jumped on them to drive double digit gains. MCD also came through with a great beat, looking like their turnaround efforts are finally paying off. IBM in the other hand can'e seem to get it right yet; despite and EPS beat (buybacks) revenue declined again, and the stock tanked at the beginning of the week. The health care sector continues to take it on the chin as the unloved orphan sector of the market. Thus far, positive earnings surprises continue to beat the averages, while negative surprises undershoot. Earnings are 5.2% above projections for the SPX. Energy and materials continue to drag on the index. Forward earnings estimates decreased slight once again this week (Factset). Bespoke's analysis suggests that from here on out EPS growth rate comparisons YoY will improve as the impact of oil and commodity price chaos abates.
The markets appear to have overcome the weakness experienced this summer, leaving behind concerns about Chinese growth. The worries about high yield spreads increasing also seem to have been misplaced (see Scott Grannis in the reading list). Cam Hui believes the market is looking beyond the current situation to US dollar weakening as evidenced by bottoming commodity prices, and sector rotation in the US toward dollar sensitive sectors. Not everyone agrees with the rosy assessments. Lance Roberts (in the reading list) see it differently: he is concerned that profit margins may have peaked, which is a strong market negative. He is also concerned that the small caps (RUT) have not pushed past their 200 MA to confirm the bullish trend of the large caps. One thing I notice in this regard is the lagging breath of the NASDAQ (e.g. NASI NAA200R), relative to the SPX. This gap needs to close if the markets are to move consistently towards previous highs, and to new highs. Markets clearly have momentum at the moment, and the only question is will we regain previous highs this year. The gains so far have been very strong, and SPX has recovered much quicker than most observers had expected.
Looking at the SPX Dec. Future ESZ15, it has easily cruised past resistance at ~2030, and also blown past the 200 MA at 2043. It ran into resistance at ~2070 on Friday and closed at 2065 with a bearish inverted hammer candle. Candle formations have not mattered much the past couple of weeks, having been overtaken by momentum, so I'm not sure this signal has much significance. Momentum is increasing, but ESZ15 is now strongly overbought on RSI(5) and getting close on RSI(14). So, I expect a slow down within the next week. Support for any sell-offs is at 2043 (200MA) and then 2010 and 1985. At this point I would expect any sell-off to be short - lived as the market appears determined to move higher. This has caused untold grief for my call spreads, which I have had to negotiate this week. I simply had not planned on such a rapid and sustained increase in SPX. I guess I should have taken more heed of the short interest in SPX, which a couple of weeks ago was at levels not seen since 2009. All those shorts have got to be covered, and when the herd moves the momentum is irresistible.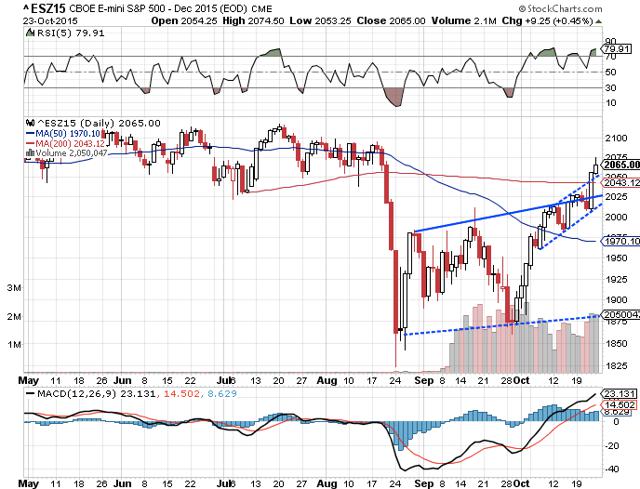 AAPL has broken out of its triangle formation to the upside. Upward momentum is strong. Earnings is after the close on the 27th, and we may see further price increases into the report even though AAPL is strongly overbought on RSI(5). Analysts expect a strong earnings report, and with concerns over China weakness receding, and the realization that the Chinese consumer is still going strong, there is more positive sentiment in the stock. This may help mitigate any weakness in forward guidance. I'm super happy at the price increase since my open spreads that I rolled from August are now OTM. We'll have to wait in the earnings report to see where this is going next.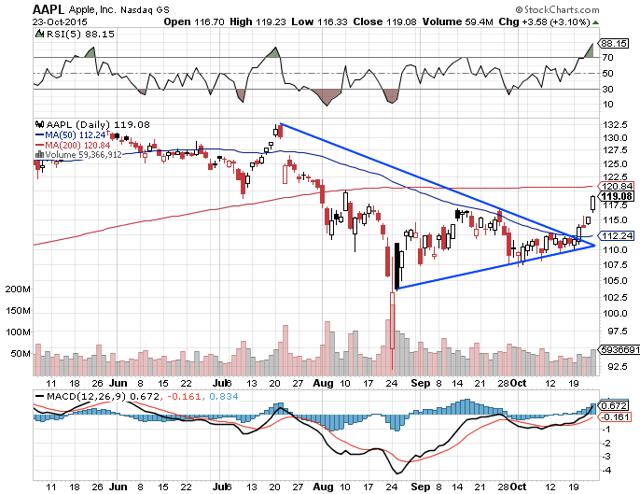 I have starting getting back into SWKS following the sell - off that has been underway since June. I have to admit I am amazed at this sell-off since SWKS has been a more than solid performer in the past several quarters. Since SWKS has a heavy exposure to the China market, I assume this has been the cause of the sell-off. Over the past couple of weeks SWKS appears to have bottomed at 77.5. It is now climbing as the China concern has decreased and is following AAPL (major customer) higher. Momentum has finally turned up, and it is not yet overbought on RSI(5). Overhead resistance is at 84.4, which is where I anticipate SWKS getting stuck this week. Earnings are out next Thursday and I anticipate another strong performance. I have an open spread for the 10/23 expiration and I may well add another for 10/30 to take advantage of the increase in implied volatility pre-earnings.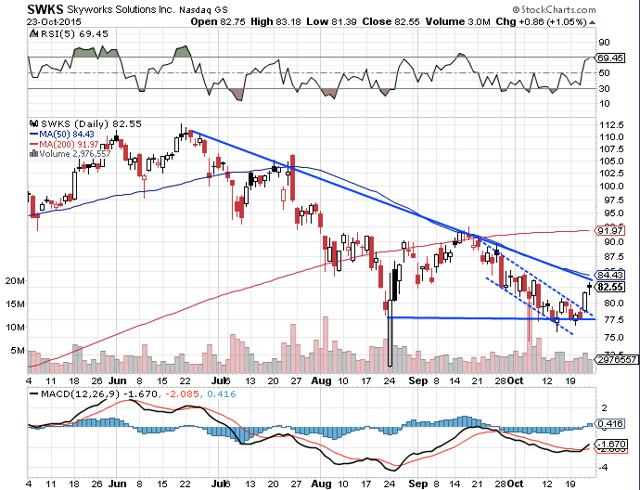 GOOGL reported earnings on Thursday last week and surprised to the upside both on earnings and revenues. The stock took off on Friday finishing the day up more than 5%. I'm inclined to start writing spreads again. It's just started to look overbought on RSI(5). There are sold support levels at 700 and then at 650 while 620 was the bottom line for the August flash-crash. The forward guidance appeared quite positive, so it may be a good time to get back to spreads on GOOGL.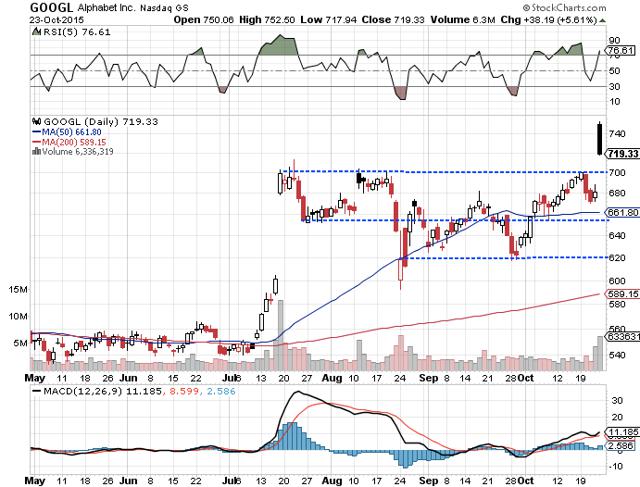 Finally, I have been keeping an eye on LNKD. It had a super jump up at the close last week to finish above 210. The stock has multiple support levels between 200, and 175, with 170 being the flash-crash support level. Earnings are out next week, on the 29th, so at this point it is best to wait until the numbers are out. After that I plan to get back into LNKD with credit spreads.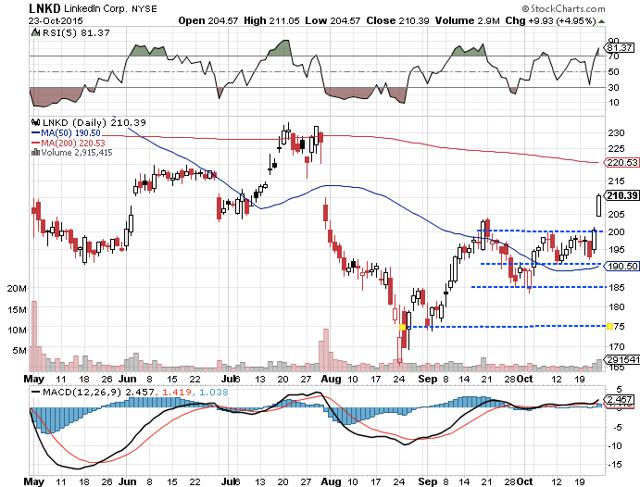 Trade Update.
For my open credit spreads the big problem has been the rapid increase in ESZ15. Since the 10/30 open spread had an short strike of 2030, I am well an truly underwater on this one. Fortunately, I bought ESZ15 as a hedge, and this has worked all although not perfectly, as the number of futures I bought was insufficient to cover the entire loss in of the credit spread. However, I intend to keep the long future open for at least a couple of weeks longer since I anticipate it will increase and I will be able to recover the loss completely. The AAPL spread at 100/105 closed out on 10/23. I will not open another AAPL spread until after earnings. I will look to open a SWKS spread at 70/75 early in the week since premiums are cur rely excellent. Earnings are not due out until 11/05, just before the 11/06 options expiration and so this will be my last attempt at a spread before earnings are released. I anticipate SWKS to provide a strong and positive report for this quarter. Currently, the profit for the month is a bit under 5%, but I anticipate that this will shrink as I have to close out the 2030/2080 spread for 10/30 expiration. I have a partial hedge withe ESZ15, but unless the ESZ15 price drops to 2050 or lower this week, I will not be able to hedge the full loss. I anticipate less than a 10% loss. However, I don't plan on selling the ESZ15 hedge until it is clear the market has reached its high point. If I can squeeze out another 15 points on ESZ15, I will have completely covered the loss on the 2030/2080 spread. The market seems determined to ride higher, and I will go with it.

Reading List
12 month forward EPS growth rate comparisons will be improved from this point forward as the the YoY comp is more favorable. Oil and strong dollar impact. Recently international stocks have outperformed domestic-focused stocks (Bespoke). https://seekingalpha.com/article/3580476-s-and-p-500-forward-4-quarter-estimate-comparisons-get-easier-from-mid-october-2015
Interesting article about the carry trade in China using metals as collateral for low interest rate dollar loans and then using the loans to invest in high yield Chinese credit. Author suggests this carry trade may be about to unwind as the yuan devalues and China interest rates drop. This would have a substantial negative impact on metals markets. However, in the comments a reader suggests this is not how the market works since the metals are not just stored, but are used in production even though they are used as collateral. https://seekingalpha.com/article/3580466-enormous-chinese-carry-trade-unwind-could-prolong-base-metals-woes
A nice article pulling together several threads and suggesting we are at the start of a year end rally. Basic idea is that the market is now anticipating dollar weakness and momentum is carrying the market. Over the course of the next couple of quarters this has the potential to add substantially to earnings for SPX. Support is coming from world markets, including China which, by and large have recovered their 50MA. While the US is in a shallow industrial recession, manufacturing is actually improving. Oil and materials are the problem. Support for the contention that the market expects dollar weakness comes from commodities, which appear to have bottomed and may now be turning up. Leadership in the US markets is also now changing to dollar sensitive sectors (energy, industrials, tech). Look for overbought readings that signal further increases i.e. market can stay overbought for a while. http://www.investing.com/analysis/the-weak-usd-scenario-for-equity-bulls-268447
Alternative measures of China's economic growth paint a picture of stability rather than collapse. The Chinese consumer is holding the fort. http://fortune.com/2015/10/19/measuring-china-3q-gdp-growth/
A suggestion that earnings have peaked for this cycle. Retail sales are ~2.4% YOY, > 4% ex-energy. PCE is still moving higher while industrial production has slowed and shows little sign of improvement in the short term. This is working its way through to the GDPnow estimates, which show GDP decreasing. Wages are moving higher which implies an impact on corporate profits i.e. profit margins are starting to shrink. There is a strong correlation between profit margins and recessions. The implication is that the economy is past its best for this cycle. Finally although SPX has made new highs and broken above the 200MA, several other indices have not yet confirmed this signal (RUT, transports. The bond market continues to advance, and the yield curve has contracted recently; apparently not a bullish omen. The closing paragraph "Overall, the market's tenor remains slightly bearish. Earnings are under pressure from the strong dollar and slightly weaker environment. The Republicans still haven't picked a Speaker placing a government shut-down on the table. And the international environment continues to slightly degrade." Couldn't say it better. https://seekingalpha.com/article/3581266-u-s-equity-and-economic-review-have-earnings-peaked-for-this-cycle-edition
Gold has strengthened of late, but so far this appears to be a rally within the context of a long-term downtrend. If inflation concerns start to appear, expect gold to break out of this down-trend.
A series of charts examining global stock markets and economic indicators. While the US market is doing relatively well, emerging markets in particular are suffering. Manufacturing is OK in developed economies, but export driven economies are suffering. Suggestion that the ECRI WLI is not of much value at present becaus it is skewed to credit spreads and stocks. http://www.investing.com/analysis/global-economy-in-charts-268606
Margin debt growth has turned negative as of September. This is a signal that has correlated with major market retreats in 2008 and 2000. However, looking at the data it is clear that this correlation is not so strong as suggested in this article e.g. margin debt decreased substantially in 2012, but the market subsequently went on to a strong rally. So, as the author says, one indicator does not a bear market make, but it is a useful one to keep an eye on. More indications that headwinds are building for the US markets. https://seekingalpha.com/article/3583986-the-latest-margin-debt-figures-send-an-ominous-signal-for-stocks
Article suggesting we have past the peak employment phase for this business cycle. This rhymes with the New Deal Democrat's analysis which indicates the same effect. https://seekingalpha.com/article/3583976-claims-and-openings-signs-of-peak-employment
Scaling the wall of worry with Scott Grannis. The recent concerns have been China growth and the oil industry in the US. With healthy markets these problems can be digested, and that is happening. Oil price has stabilized and the China market has now settled down as has the yuan following the recent devaluation. Recent decline in commodities has been exacerbated by the increase in the dollar. In terms of $EU the decline has been significantly less. Commodity prices today are still much higher than 10 years ago. Low swap spreads are sending the message that financial markets are fundamentally sound despite the recent fears. http://scottgrannis.blogspot.tw/2015/10/scaling-wall-of-worry.html
CB leading indicator dropped into negative territory in Sept. Since stock prices are included in the calculation of the indicator this had a negative impact, but the biggest impact was from housing permits. Housing market appears robust on a YoY basis, but the drop in permits points to a slowdown approaching. https://seekingalpha.com/article/3597366-stock-market-housing-permits-beating-down-leading-indicators
Earnings beat rate (77%) is above average, while sales s(43%) is below average. At his point earnings are 5.2% above projections.
Concerns about high yield bond defaults prevalent this summer, as well as pessimism about emerging markets appear to have been overblown. Surprise, surprise. http://www.etf.com/sections/weekly-etf-flows/weekly-etf-flows-2015-10-22-2015-10-16
The Fear and Greed Trader's weekly update. Always a superb roundup of the week's activities. Balanced view points. Can beat it. https://seekingalpha.com/article/3600136-weekly-market-update-the-s-and-p-charges-higher-china-isnt-imploding-and-earnings-season-is-underway