The equity markets found a bottom last week, and finally got sufficient strength back to rally in a substantial way on Friday. The impetus for Friday's move has been variously ascribed to the nascent rally in oil, the BoJ going into negative interest rates, which supposedly will provide a boost to US equities, and some positive US economic news (GDP OK, Chicago PMI improved). The SPX overcame the first important resistance level at 1920 and now needs to overcome 1950 and 1975 resistance. Of course, the question is whether this rally will continue or will we fall back to test the recent close low of 1850 or intraday low of 1812 on the SPX?
Despite the gloomy start to the year, it's not all bad news. This week further evidence surfaced that the economy is not in recession, or is even really close it, despite the drumbeat of recession calls in the media. This is important since we all know that the most vicious bear markets are associated with economic recessions. Initial unemployment claims moderated this week, high yield spreads decreased, GDP came in at +0.7%, housing indicators continue to show relative strength, and Markit flash PMI for manufacturing improved, while the services PMI is steady. The credit markets are also stable, and not suggestive of a lack liquidity. Consumer sentiment is pisitive, investor sentiment has shifted to a more positive stance, and market breadth, while still weak has started to improve.
This rally is nice to see, but it remains an open question whether the recently tight oil-equity relationshiphas weakened. The key issue, which seems to be out the limelight at the moment, may well be earnings. Earnings for SPX are NOT improving over the course of the earnings season, as is usually the case; moreover, the SPX 12 month forward EPS estimate continues to decrease by ~1% /week. This is a serious problem for the markets that must be rectified before we can expect equities to make solid progress. So in my opinion, the sustainability of this rally is questionable. While I'm trying to profit from the uptrend, I'm also planning on lower prices over the next couple of weeks, and hoping to profit from that also.
Summary of the week's major economic indicators: Ritholtz
Weekly economic and market action: Fear and Greed Trader
Option Credit Spread Positions
ESH16: Most of this past week was spent forming a base close to 1870, and Friday finished with a bang: up 2.6% to close at 1931. The Future has overcome the first resistance hurdle at 1925. The week finished with an increase in volume, suggesting the new week may start with further strength. MACD issued a buy signal on Thursday, which was confirmed. Technically, the charts are just below overbought. If the upward momentum can be maintained, all is well, but once overbought is reached I would expect to see selling increase, especially near 1975. It's unlikely that we are going to have a V-bottom to this downturn, so further weakness should be anticipated. When it will show up is uncertain, but it's a good bet that it will be sooner rather than later. I am currently long futures, but once we get into a downturn I will switch to short positions. I also plan to open a call credit spread at that time, with the goal of subsequently opening a put credit spread close to the next bottom to set up an iron condor.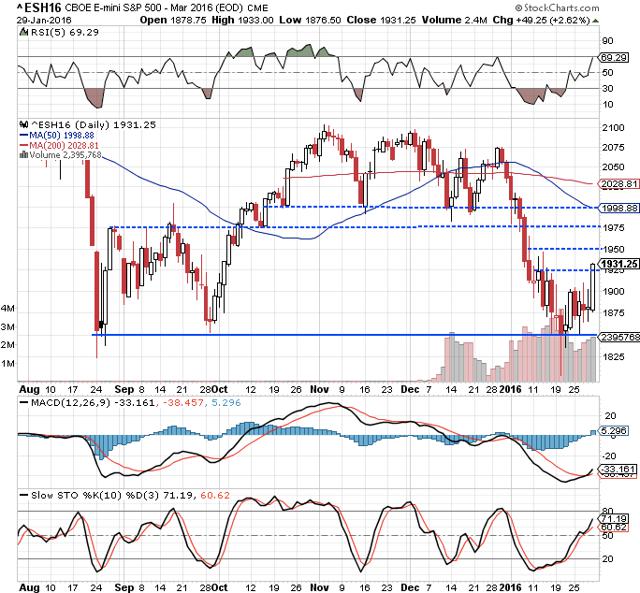 NQH16: The story of the NDX future is much that same as SPX, with the week ending well. The bottom is in the range 4070-4100. The technical picture also indicates an approach to overbought if we get another day or 2 in the uptrend. Resistance is at 4350, 4400 and more significantly at 4500. A close above 4350 early next week will keep a positive tone to the chart.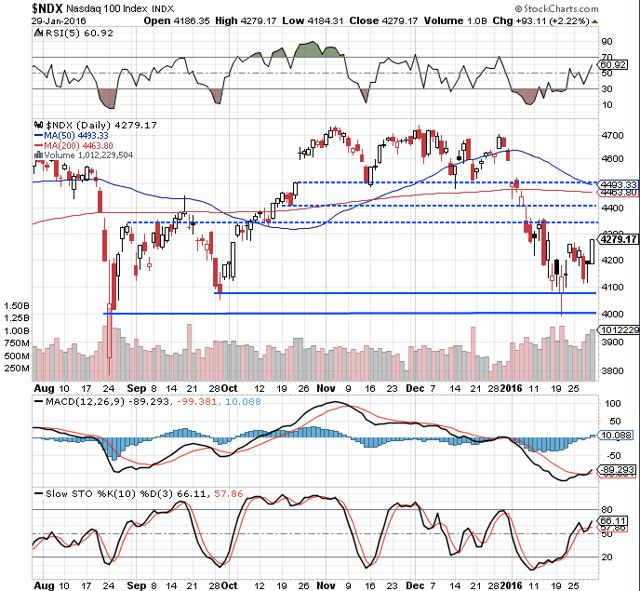 AAPL: So Apple took a drubbing following the earnings announcement on Tuesday dropping from ~100 to an intraday low of 92.5 on Thursday, before rounding the week off at 97.34. While earnings and revenues were respectable, forward guidance was not particularly satisfying. The feeling is that "peak IPhone" has arrived since the 6S has not managed to generate the excitement or sales hoped for. The future of the stock rests with the iP7. I've read several articles over the weekend suggesting AAPL stock may soon transition from a growth darling to a slow growing dividend stalwart. So be it. A good thing for option sellers if the volatility in the stock is beaten down. Support is now ~93 while resistance is ~102. Technically its a mixed picture with MACD still showing a weak buy signal, the oscillators closer to oversold. I'm not sure what will generate a lot of excitement for AAPL in the short-term, and I don't expect much from the stock until we get closer to the release of the iP7. However, I am interested if AAPL can form a trading range, since I suspect trading around that range may be profitable. We'll if it can get past 102 with the latest rally, and if 92.5 can hold with the next downswing. These levels are likely to define the trading range for the next few months until the 1Q16 earnings report. I tried a strangle trade this week, which ended in a profit, but I didn't do as well as I could have. I need more experience with this trade to get the nuance of it.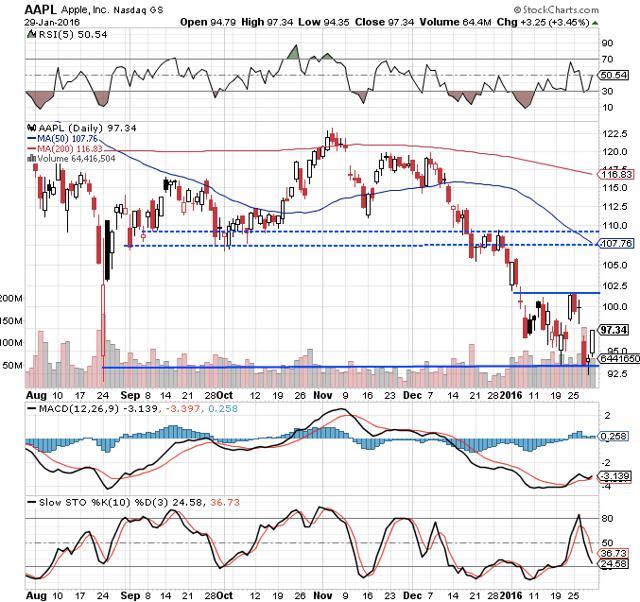 SWKS: True to form, Skyworks exhibited wild swings this week, firstly as a result of the sell-off in AAPL and then following its own earnings report on Friday. The latest earnings report from SWKS was fine from the perspective of 4Q performance. The company met its previous guidance, once gain confirming management's credibility. However 1Q16 guidance was weak, indicating "only" 8% sales grow, once gain courtesy of AAPL and probably Samsung, who are both experiencing a more difficult environment for smartphone sales. Nevertheless, the stock was off to the races on Friday, gapping up to close +6.4%. Support at 57.5-60 held this week and resistance is now at 75, close to the 50MA. Technically the chart looks like more upside can be sustained before getting to overbought, but a close above 75 would be a challenge. I opened a strangle trade on SWKS this week, which didn't work out; it could/should have, but no prize for being almost there. Details below.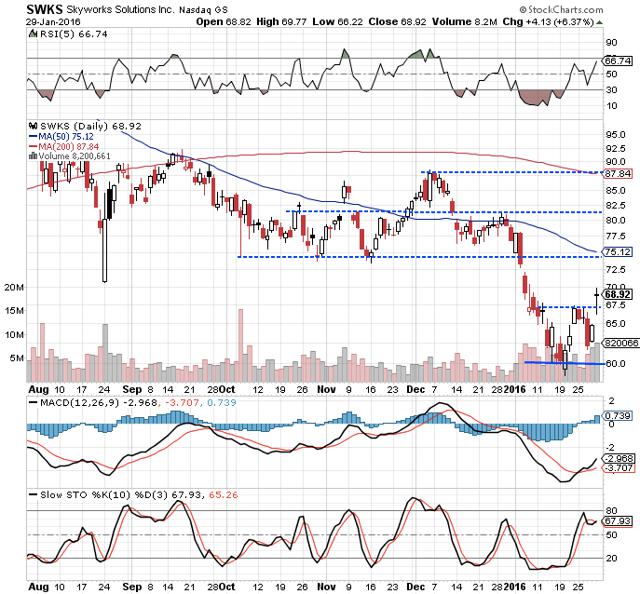 GOOGL: A strong close of the week for Alphabet, with a nice move up on Thursday and Friday. Support for the week was at 720, up from the previous week's low of 700, so the stock is now in a rising channel. It closed the week at resistance just above 760. It's almost at overbought, but it had a nice volume uptick during the latter part of the week, suggesting strength is there to move to 780. The action in the stock this week will be dominated by the earnings announcement. I may open a strangle to try and capture the movement around earnings, which may be high for a market leader under the circumstances.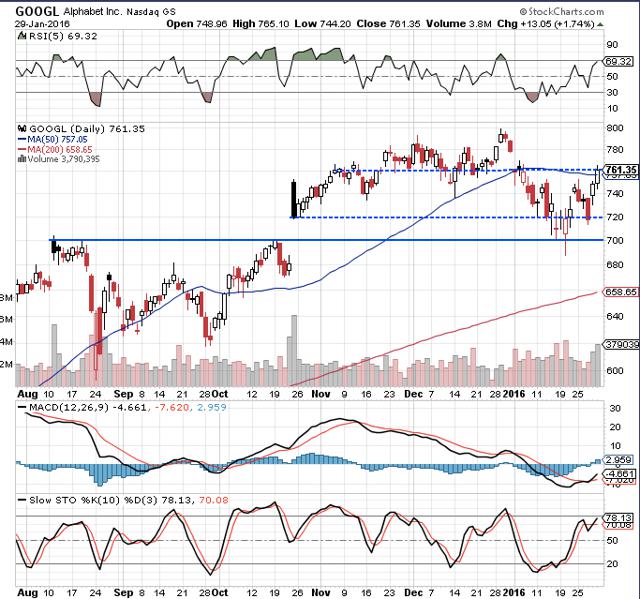 LNKD: This week LNKD moved around in the 200 - 180 trading range, a relatively stable range given the market volatility. Upward momentum does not appear to be very strong at present, and MACD is only now just threatening to issue a buy signal. Earnings will be out on Thursday, and LNKD typically makes large moves around earnings. I am planning on a strangle trade.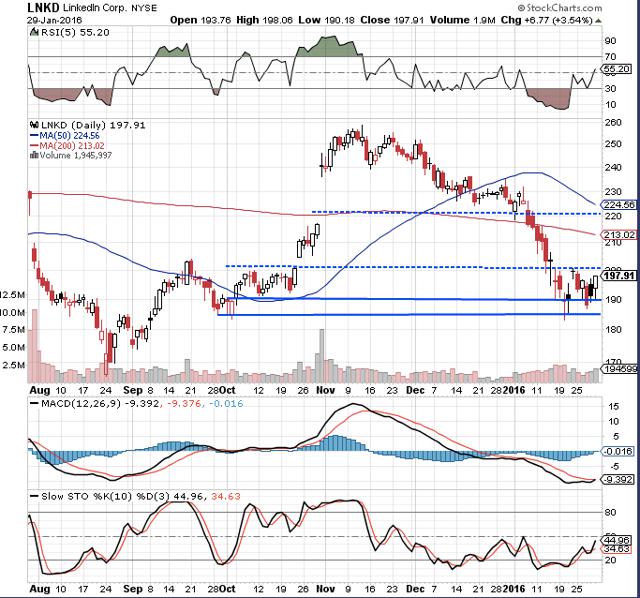 GILD: When you think it couldn't any worse for GILD, it did. This week it took a serious beating firstly from the political side with continued price gouging accusations, and then MRK's new HCV product has received FDA approval bringing with the the threat of increased competition, and finally with the ABBV report on Friday of a slide in their HCV sales. Friday was a mind boggling 5.2% drop on high volume. I'm not convinced GILD's HCV business should follow ABBV's lead since it is well known the latter has a safety profile problem, but that does not matter at the moment. GILD is the whipping boy for the whole biotech sector, which is itself having a hard time of late - down 33% from its all time high (i.e. IBB). GILD finished the week at 83, approaching summer 2014 support at 80. Technically the chart looks horrible: momentum and oscillators are all solidly negative. It reports earnings next week; solid 4Q performance, and guidance for an improved 1Q16 are a prerequisite from management to halt this slide above 80. The forward PE is an amazing 6.9, and the dividend is > 2% i.e. above the 10 year treasury yield; the market expects no growth from GILD in the future. Either the market somehow knows GILD must be dying, or there is a case of severe mis-pricing here. Since I don't have a crystal ball I am willing to wait until after earnings is done to consider put credit spreads. I am interested in a strangle since something has to give following the earnings report. If the report is positive, there will be one hell of a short squeeze on.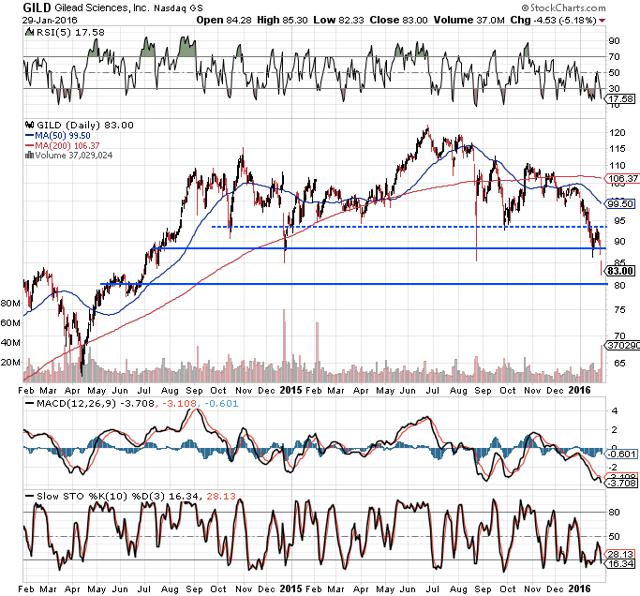 Weekly Trade Summary
This week I had an open EW spread that closed OTM, which was a nice 1 week trade for full profit. I open an AAPL strangle for the earnings trade and managed to squeeze out a 10% profit. This could have been much higher if I had paid more attention to the choice of strikes: by moving these out to 95 and 103 I could have achieved the same profit, but at much lower cost basis. I also didn't wait long enough for AAPL to move down before closing. Live and learn. SWKS was a dead loss, although I could have closed for a small profit on Wednesday following AAPL's announcement as SWKS sank with it.
January profit is not what is stated here since I still have not rolled the losing 01/15 ES and QN spreads, which I hope to do as iron condors by taking advantage of the upswing for the call spreads, and the next downswing for the put spreads.
At the end of the last week I opened put spreads on EW1 and RUT for 02/05 expiration. I closed them on 01/29 during the rally capturing the majority of the profit. This quick trades are good at the moment since the VIX > 20 and RVX ~25 results in decent premiums, and so a nice margin of safety even with the high level of volatility.
My February trades are all iron condors using ESH and NQH futures, and the RUT index. The iron condors are lucrative in times of high volatility. I also plan to open 02/12 put spreads as the market situation evolves next week, perhaps in combination with similarly short term call spreads.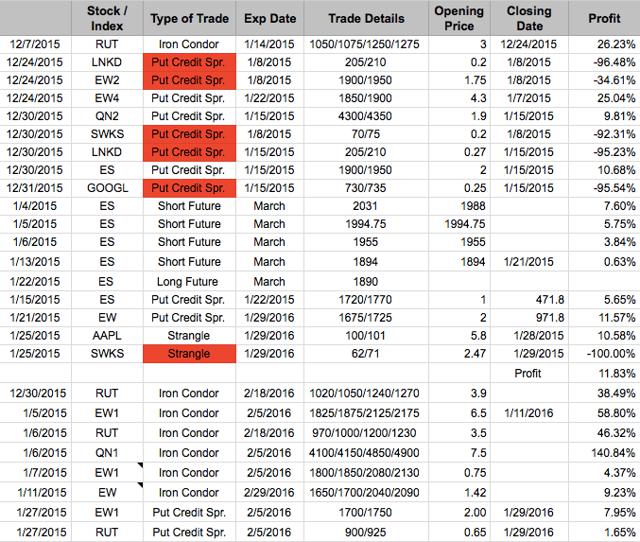 Economic Indicators
US Positive
Services PMI 53.7 vs 54.0 expected, 54.3 previous
CB Consumer Confidence 98.1 vs 96.5 expected, 96.3 previous
New Home Sales (NYSEARCA:MOM) 10.8% vs 2.0% expected, 1.9% previous
Initial Jobless Claims 278K vs 282K expected, 294K previous
Bloomberg Consumer Confidence 44.6 vs 44.0 previous
Pending Home Sales (Dec) 0.1% vs 0.8% expected, -1.1% previous
Real Consumer Spending (Q4) 2.2% vs 3.0% previous
Chicago PMI (Jan) 55.6 vs 45.0 expected, 42.9 previous
US Negative
Dallas Fed Mfg Business Index (Jan) -34.6 vs -15.0 expected, -21.6 previous
Core Durable Goods Orders -1.2% vs -0.1% expected -0.5% previous
Durable Goods Orders -5.1% vs -0.6% expected, -0.5% previous
Michigan Consumer Sentiment (Jan) 92.0 vs 93.0 expected, 93.3 previous
Asia Positive
Japan Trade Balance (Dec) 140B vs 100B expected, -380B previous
Asia Negative
Japan Exports (YoY) (Dec) -8.0% vs -6.8% expected, -3.3% previous
Japan Imports (YoY) (Dec) -18.0% vs -16.4% expected, -10.2% previous
EU Positive
German Consumer Climate 9.4 vs 9.3 expected, 9.4 previous
French Consumer Spending 0.7% vs 0.5% expected, -1.4% previous
EU Negative
German Retail Sales (MoM )-0.2% vs 0.5% expected, 0.4% previous
German Retail Sales (YoY) (Dec) 1.5% vs 2.0% expected, 2.4% previous
Reading List
Investors are still too bullish. http://www.marketwatch.com/story/investors-are-still-too-bullish-despite-the-stock-market-correction-2016-01-22
Looking at previous oil price drops in the last 40 years, they have been followed 100% (4/4) of the time by an increase in the US markets in the subsequent year. While the negative shock of oil price decrease is quickly felt via reduced cap. ex., high yield defaults etc. the positive effect of lower fuel costs requires longer times to become evident. Once the perception that oil prices will stay low for an extended time takes hold, spending will increase. The authors suggest this positive effect is starting to happen. http://www.investing.com/analysis/oil-and-u.s.-stocks-381588
Consumer confidence is up. At the same time consumers are pessimistic about stock prices over the next 6 months: 28.7% expect higher prices, which is the is lowest recorded since 2013. Only 5.4% of consumers expect interest rates to be lower in the next 6 months. https://seekingalpha.com/article/3836976-consumer-confidence
Some thoughts that the credit markets are undergoing a large shift. The high-yield category may take a long time to re-balance, and this may lead to substantial shifts in capital. The implication is it is not good for equity markets. http://www.investing.com/analysis/grumbling-from-the-bond-market-grow-louder-382129
Scott Grannis has an interesting compendium of charts, which amount to reasons to be cheerful in the current environment. His motivation in putting this article together is to counter the negative media drumbeat. http://scottgrannis.blogspot.tw/2016/01/more-reasons-to-avoid-despair.html?utm_source=feedburner&utm_medium=email&utm_campaign=Feed:+blogspot/tMBeq+(Calafia+Beach+Pundit)&m=1
NYSE margin debt continues to decrease. Correlates with the market downturn. http://www.advisorperspectives.com/dshort/updates/NYSE-Margin-Debt-and-the-SPX?utm_source=dshort_feed&utm_medium=rss&utm_campaign=item_link
No recession signal from business cycle index this week. https://seekingalpha.com/article/3846436-recession-signaled-ims-business-cycle-index-update-january-28-2016
An analysis of the yield curve from Scot Grannis. The market is not pricing in a recession, is anticipating GDP growth ~1-2% for the next 5 years, and inflation expectations over the same period are ~1.3%. No worries, except that the economy is ~2.8TUS$ below its capability. https://seekingalpha.com/article/3849316-yield-curve-says-recession
ED Yardeni is blaming the Fed for the debacle in EM currency markets. His contention is the Fed is unnecessarily oblivious to fund flows and to the global impact of its policies. http://www.investing.com/analysis/blaming-the-fed-382380
Factset earnings estimates are now at -5.8% for 4Q15. Ex-energy, the earning estimate is -0.5%. Stronger dollar, slow global growth, oil and gas prices.
Market flash EU composite PMI dropped this month, but generally manufacturing and services are improving in the EU. Hiring in both sectors is strong, and order backlogs are increasing. https://www.markiteconomics.com/Survey//PressRelease.mvc/0ff66b28239749119d7ddee71db4f62d
Sovereign wealth funds have begun liquidating assets to balance budgets in the oil and commodity producing countries. So far, it appears to have been controlled selling, but if oil/commodity prices continue to remain low, selling pressure will increase (panic anyone?) http://www.bbc.com/news/business-35361661
Goldman sees a short term rally in oil prices. https://www.worldfinancialdigest.com/contents/markets/3505-goldman-tells-clients-to-buy-oil
Fear and Greed summary for this week: 1. Interest rates: Since the Fed is led by Janet Yellen, don't expect a premature tightening of interest rates. 2. Economy: GDP: +0.7%, but weaker than expected. Inventories, consumer spending investment weakness. Mixed signals from manufacturing persist. Retail sales, housing, consumer confidence are positive. It pays to examine a wide range of indicators; too easy to get a false impression by focusing on single indicators. 3. Earnings: 12 month forward estimates continue to decrease; YoY growth rate is improving. 4. Foreign selling of US assets is at an all time high, and may well be the root cause of the recent market downtrend. Net outflow is of the order of US$100B over the past few months. The outflow is following the oil price (bespoke). Lower foreign oil consumption leads to lower buying of US assets with the dollars that result from the purchase of oil. Add in equity sales by sovereign wealth funds at unprecedented levels. Then add high yield bankruptcy and contagion fears leading to earnings drop. On the surface, recession seems imminent. However, no evidence of contagion is forthcoming; oil is at historic lows, from which it will rebound; Goldman has recently recommended a buy on oil, which has not been widely reported unlike their earlier prediction of US$20 oil. Recent oil price action might suggest oil is experiencing seller exhaustion. 5. Market technicals: Recent price improvement has healed on some of the damage caused by the January drop. Long term (20 month MA) has leveled off, but a SPX close > 2020 is required to negate the recent trend. https://seekingalpha.com/article/3849836-s-and-p-500-update-bulls-bears-focus-crude-oil-fed-taken-eye-really-matters-earnings
GDP as a measure of economic well-being has well known shortcomings, which are outlined in this article. Assessing the benefits of technology also poses challenges. http://www.cbsnews.com/news/why-gdp-fails-as-a-measure-of-well-being/
Some positives from the recent GDP report. House prices, proprietors income (correlated with corporate profits), median wages. http://bonddad.blogspot.tw/2016/01/three-positive-takeaways-from-4th.html
Be careful not to cherry pick data to support your opinion. http://www.capitalspectator.com/best-practices-for-consuming-business-cycle-analysis/
China is making progress in reforming its economy and capital markets. https://www.project-syndicate.org/commentary/china-crisis-false-alarm-by-stephen-s--roach-2016-01