The main event this week as the Fed chair speech on Friday. Nothing much came out that was new Friday, with the exception that September is in play for a rate hike as far as the FOMC is concerned. The bond market disagrees, and the bond market has been winning this argument all year long. The second GDP estimate came in at a meagre 1.1%, a touch below expectations. Consumer spending continues to pull the economy along. News from the housing market was positive with new home sales growing strongly; existing homes sales slowed because of a shortage of inventory and increasing prices. Durable goods also improved, but the regional Fed surveys painted a mixed picture. The markets will be revved up for next Friday's payroll report since it is likely to have an impact of the interest rate decision the following week. Waiting with baited breath for these economic reports is getting old.
Earnings season is over and its possible to take whatever message you want from the data. Overall SPX earnings once again decreased for the 5th consecutive quarter. Analysts now expect earnings to grow QoQ in Q4. On the other hand, beat rates for earnings and revenues were the best since 2010. YoY earnings growth rate is improving and the 12 month forward earnings from Factset also continue to improve. The equity markets are clearly focused on the direction of earnings rather than the numbers themselves, and this together with an absence of a recession on the horizon is sufficient to keep the markets grinding slowly higher.
The US equity markets meandered this week until Friday when volatility picked up following Yellen's speech. When all was said and done SPX finished down <1% and pretty much at 2070 support. NDX finished down ~0.5% having made a new all time high during the week. RUT managed a small increase for the week. Market dynamics changed this week, with SPX breadth (SPXA50R) dropping. VIX also climbed at the end of the week. Ir appears the markets are beginning a corrective phase. This is not unexpected given the length of the recent rally, and SPX has consistently had trouble hurdling round numbers (2200 this time) on the first try. The question is now how far will the correction go?
Summary of Weekly Events: Ritholtz
Technical Market Analysis: Urban Carmel
Economic / Market Summary: Fear and Greed Trader
Credit Spread Positions
The potential exists for volatility at the end of the upcoming week, and in a further 2 weeks time when the next FOMC meeting occurs. I don't want to hold off on trading entirely over this period so my preference for new credit spread positions is to keep short strikes as conservative as possible, and limit position size, particularly if VIX continues to increase. Fed-related volatility should be short-lived.
ESU16: Price drifted down from ~2180 to close the week at 2167, having dipped below 2160 intra-day on Friday on a considerable increase in volume. Support is now at 2154 and then at 2140 from the rising channel and 50MA. RSI(5) is oversold, but the stochastic still has a way to go. MACD also suggests downward pressure is increasing. A dip to 2140 would probably drive both RSI and stochastic deeply oversold, meaning we might expect a bounce from there. If the employment report on Friday is particularly strong, it's likely we'll see a dip to 2140 or 2130, the previous all time high for ES. If VIX spikes appreciably it will be a good time to consider opening an iron condor.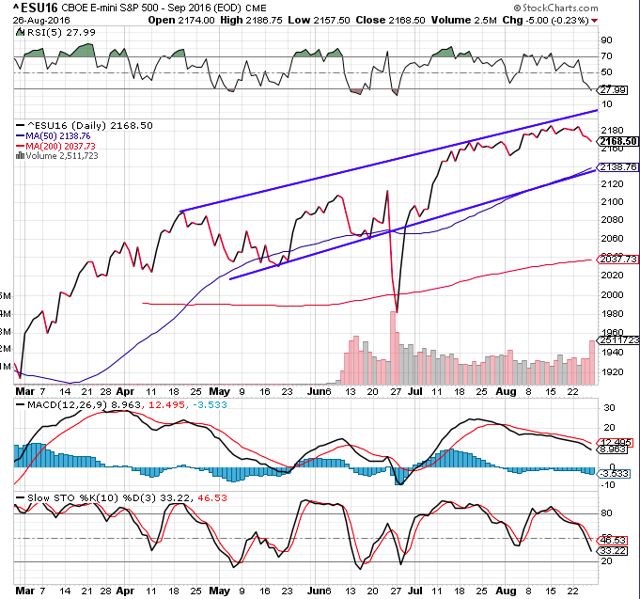 RUT: The small cap index continues to lead SPX as the risk-on trade continues to be favored. Short-term support last week was at 1235. Weak support is at 1220 and stronger support at 1200, which is the channel bottom and the 50MA. RSI and stochastic indicators are neutral at the moment; plenty of room in either direction. Short strikes below 1200 would appear to be appropriate, with smaller positions until it is clear how volatility will evolve this week. An RUT Iron condor would also be a good trade if RVX spikes up to 20 or so.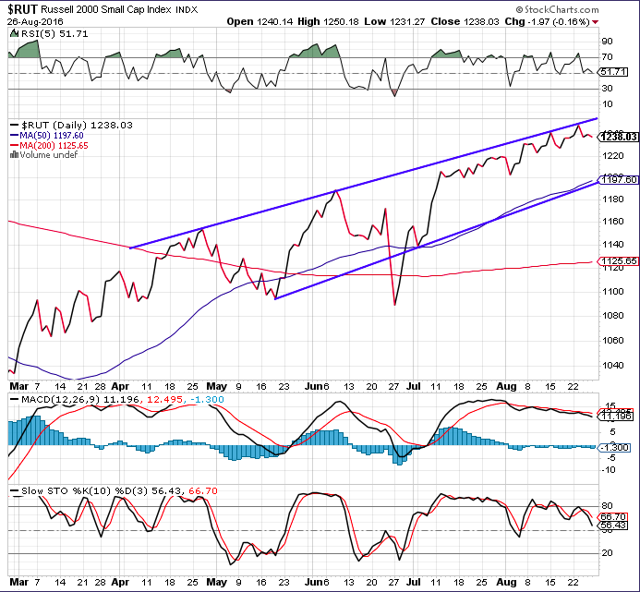 This Week's Trades
The EW4 and 08/26 RUT trades closed OTM this week. I also opened 08/31 and 09/02 expiration trades for EW and RUT and 2125 and 1190 short strikes respectively. These trades have room for some price decreases next week and I expect they'll close OTM unless we get a surprise at the beginning of the week. The VIX long call trades were total losses this month. I should have moved these out earlier. I anticipate a slow start to September as the interest rate decision unfolds. Hopefully I can pick up later in the month.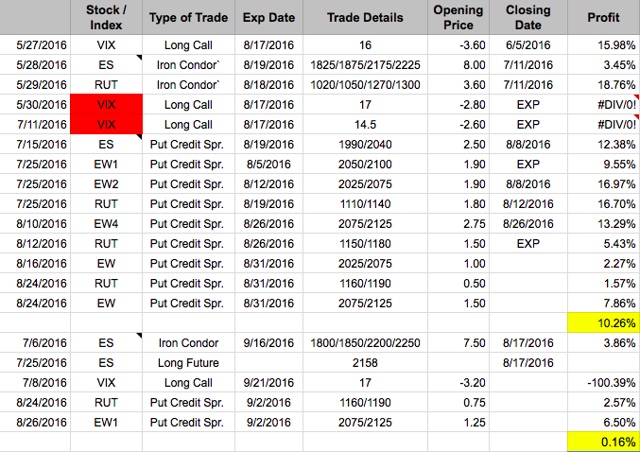 SPX Hedge (Paper Trade)
Despite the volatility on Friday, I closed out the 8/26 trade and opened the 09/02 short put for a reasonable premium. Progress continues. We'll see how the trade works this week as SPX may continue to move down.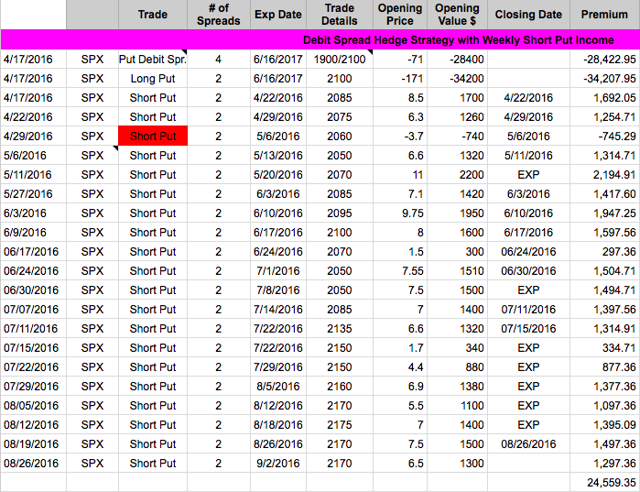 Reading List
This is what I've been reading this week.
Fear and Greed Summary
1. Global Economy:
- "The Westpac Positive Surprise Global Index has surged by its quickest and largest amount of the entire recovery since March, and now stands at its best level in more than five years."
- EU flash PMI improved
- China retail sales leveled off, consumer confidence slipped
2. Market Technicals:
- "The technical signals remain very strong. Market history is also slanted to the bullish side ... all the previous times when the S&P 500 has made a new all time high, following at least 52 weeks of trading below the old (May 2015) high water mark, the average return over the next 12 months has been 12.28% (median +12.30%) with an average pullback of 5.48% (median 2.73%). First, that statistic confirms the consolidation phase the market has digested. Second, it portends future market advances."
- "In reviewing more technical evidence, the Coppock Curve is a technical indicator that measures how fast the S&P 500 is currently rising, versus 11 and 14 months ago, to identify good buying opportunities. When it moves from a negative to a positive position, like now, it is considered a buying opportunity. Not many signals are generated, however, when they are, the success rate is very good."
- "The Bollinger Bands have contracted to one of their narrowest readings in decades. In the six times this narrowness has occurred since 1960, the returns for the S&P 500 have been significant over the next 12 months. I will also note that this signal has warned of corrective activity ahead, that may be the case now. Also realize that the ensuing rally tends to be quite strong."
3. Record Net 6 month foreign selling of US bonds and notes, with Japan and China being the largest net sellers. "this is what we tend to see as the equity market transitions from an interest rate driven bull market to an earnings driven bull market. More risk on, and we may be at the beginning, not the end of that transition."
4. US economy: Real retail sales continue to increase and are at an ATH. CFNAI is 0.27 signaling above trend recent growth. Regional Fed reports are mixed, Flash PMIs decreased but are still in expansion.
5. New home sales surged to 9 year highs, existing sales slipped - blamed on a lack of inventory leading to higher prices.
6. Earnings: "The final earnings per share beat rate registered at 64%, which is the best beat rate seen since Q4 2010. The final revenue beat rate came in at 56%, is the best top-line beat rate registered since Q4 2014. With a gain of over 4% for the S&P 500 so far in Q3, earnings certainly weren't a drag on the market."
7. Sentiment: "from the American Association of Individual Investors, bullish sentiment saw the largest weekly decline since March this week, falling from 35.56% down to 29.42%. That's the lowest weekly reading since the week after the Brexit vote, and now makes it 43 straight weeks where bullish sentiment has been below 40%, and the 77th week in the last 78."
8. "the Staples sector is now carrying a higher value than the Discretionary sector, and is at one of the biggest premiums on record. Overall, Staples continue to look ripe for a re-pricing to less exorbitant levels than their current valuation. I think that money goes to growth in Tech and Healthcare."
9. An interesting idea: " I have described how the stock market looks for change when fundamentals are concerned. What it is seeing now is a positive change developing. When all is rosy and the fundamentals are being talked up by all of the pundits, the market will have topped and be heading down. A continuation of the earnings trend that we just observed is what the equity market will be looking for. More improvement could be the catalyst to an earnings driven upward move in the continuing secular bull market."
https://seekingalpha.com/article/4002494-s-and-p-500-weekly-update-aware-near-term-consolidation-within-long-term-uptrend-stay-course
Fat-Pitch Market Summary
- "Our view has been that US equities are most likely in a final "wave 5" of their 7 year bull market, supported by solid breadth, skeptical long term sentiment and continued macro expansion. That view continues to be validated: SPX, NDX and DJIA all made new ATHs this week, and RUT made a new 1-year high. The trend remains higher."
- Short term price action suggests a correction is imminent: the "round number effect" for SPX. Short term sentiment (combined NAAIM, AAII, II, VIX term structure) appears bullish, while long term sentiment (equity vs. bond flows) is subdued.
- Fundamentals supportive of further gains: retail sales, low consumer leverage, low consumer delinquencies (9 year low), corporate debt net of cash relative to EBITDA is not high - corporations have taken on debt but cash levels are high. Recent rise in corporate leverage is energy related.
- Corporate investment is poor. Investment in physical assets has been replaced by growing investment in intellectual property. Moreover, the recent decline in investment in structures is primarily related to capacity being reduced in the energy sector. In 2Q16, non-residential investment in structures outside of the energy sector increased at 5.5% annual rate. That's also true for companies in the S&P: outside of the energy sector, capital expenditures continue to rise (from FactSet). Taken together, there are good reasons to believe that corporate investment will continue to support economic growth.
http://fat-pitch.blogspot.tw/2016/08/weekly-market-summary.html
Chris Ciovacco shows that weekly moving averages provide reliable signals for bull an bear market initiation. Signals are available over the past 35 years. He shows a new bull market signal was generated on the SPX. This signal joins those from Ned Davis and leuthold group in pointing to expected price increases. https://seekingalpha.com/article/4000998-stock-market-signal-occurred-10-times-last-35-years-video?li_source=LI&li_medium=liftigniter-widget
The Japanese economy is in trouble. The UK may be in better shape than thought post-Brexit, while the EU continues to move sideways. Regional disparities in inflation rates are clear in the EU. https://seekingalpha.com/article/4001167-international-economic-week-review-japan-trouble
LEI and CEI point to continued expansion in the US economy. Stock markets need continued revenue growth for meaningful advances. https://seekingalpha.com/article/4001164-u-s-equity-economic-review-less-bad-earnings-season-supports-modest-advance
The USA does not need more monetary policy. The need to increase the rate of growth from the ~1% range is in new trade, corporate tax and people training policies. http://www.cnbc.com/2016/08/23/why-fed-wont-hike-interest-rates-until-after-the-elections.html
Calculated risk is looking chemical industry activity as a leading indicator for industrial production. Latest data shows largest YoY change since Jan. 2015, and suggests IP will increase going into 2017. Economic growth returning! http://www.calculatedriskblog.com/2016/08/chemical-activity-barometer-suggests.html?utm_source=feedburner&utm_medium=feed&utm_campaign=Feed%3A+CalculatedRisk+%28Calculated+Risk%29
EU composite PMI is holding up well, and pointing to continued (slow) growth this year. http://bonddad.blogspot.tw/2016/08/bonddads-tuesday-linkfest_23.html
Cam Hui looks at EU stock markets and suggests it is a good time to get into EU stocks. Institutions have been unloading EU equities of late, but the most recent indication is that the selling has bottomed. EU stock markets are breaking out, and even the decrepit EU bank stocks appear to be in an uptrend. https://humblestudentofthemarkets.com/2016/08/23/second-chance-europe/
Cam Hui has the feeling that a reflationary rebound is underway based on price trends of industrial commodities and commodity - sensitive currencies. These are important trends that will be considered by the Fed in their interest rate deliberations. https://humblestudentofthemarkets.com/2016/08/21/the-markets-hidden-message-for-the-economy-rates-and-stock-prices/
An interesting article looking at long term economic and market price trends. Bottom line is this advisor thinks the stock markets have entered into a new bull phase. This makes the 4th such prediction of the year. https://seekingalpha.com/article/4002283-6-reasons-bullish
Cam Hui runs with the round number problem fromUrban Carmel. He shows macroeconomic indicators are taking a breather; market breadth is deteriorating, while NDX futures are in a crowded long. Recipe for a short term correction, with most likely target for SPX being the breakout level of 2130. https://humblestudentofthemarkets.com/2016/08/24/market-catches-round-number-itis/
Chris Ciovacco looks at NYUD and finds a Long term up signal for the markets (number 5 of the year) http://www.investing.com/analysis/is-this-long-term-volume-signal-a-warning-for-stocks-200149814
Dow theory non-confirmation is not a market showstopper. Several instances where waiting for confirmation would have led to missing large market rallies. Moving average analysis shows bullish signal for long term. Fed info suggests low interest rates for longer and option of more QE if the economy turns south again. https://seekingalpha.com/article/4002485-dow-theory-telling-us-stock-rally-going-fail
Global industrial production is at an ATH. led by emerging markets. Some credit for market increases should go to corporate managers who are still growing their businesses. http://blog.yardeni.com/2016/08/record-high-global-production.html
The 2 year yield is up against long term resistance from the 35 year old downtrend. Could this be the opportunity for rates to finally rise? http://jlfmi.tumblr.com/post/149525720315/here-comes-the-rising-rate-ruckus-again
The Yen continues to be strong while USA indices reach new highs. Due to BOJ inability to buy sufficient bonds. This divergence is due to momentum buying of US ETFs, retail buyers are not really involved. Markets internals e.g. Breadth are weakening while volatility is low. Possible correction if interest rates increase to quickly. http://www.investing.com/analysis/yen-crosses-and-stock-200150334
Short open interest in long volatility funds continues to be very high. This high interest caused problems in August 2015 when the market decline was relatively mild. A more significant drop especially over 1 day might completely wipe out the short volatility segment. http://www.investing.com/analysis/the-short-vol-trade-has-gotten-completely-out-of-hand-200150335
Damodaran takes on the CAPE, Shiller version. Really nice analysis from an academic. Covers familiar topics but in a clear and concise way. Several topics:
1. Overvaluation. This is a subjective issue and depends on the timeframe in question. E.g. Average CAPE over the past 20 years is very different than whole data series.
2. CAPE is a poor market timing tool. It improves as a predictor of returns only at 5 years and beyond.
3. Investing is relative not absolute. Valuation depends on the other options that are available. In the current environment of low interest rates equivalent bond PE is far higher than equity CAPE; this can be construed as stocks being relatively cheap.
4. Cash flow, not earnings, determines stock prices. Since 2009 CAPE has increased but P/FCF has remained stable. FCF is what determines shareholder returns.
Markets risks:
- equity alternatives as inflation and interest rates increase. Not a simple story since increasing growth can easily push stocks higher despite higher interest rates.
- earnings do not continue to show improvement this suggests that it is direction that is important for the markets, not absolute values. He suggests any correction will be slow motion.
- sustainability of cash returns to shareholders. In 2016 SPX companies returned 112% of earnings to shareholders. Without rapid increases in earnings (unlikely), returns will shrink I.e. Support from buy backs will diminish.
Final admonition: "As an investor, my suggestion is that you save your money and your sanity by staying far away from market prognosticators."
https://seekingalpha.com/article/4001924-superman-stocks-cape-cape-kryptonite-cash-flow
Business investment in the USA is weak because firms see a low growth future. A mix of demographics and slower technological innovation. http://www.economist.com/news/finance-and-economics/21705847-americans-are-spending-and-hiring-so-why-arent-firms-investing-econundrum?frsc=dg%7Ca
Why LIBOR has increased recently. It's due to regulatory changes, and its not a recession signal. http://www.economist.com/news/finance-and-economics/21705854-new-money-market-regulations-are-pushing-up-benchmark-interest-rate-secular-shift?frsc=dg%7Ca
Central banks need to revisit the concept of inflation targeting at 2%. The discussion is now widening to include the idea of nominal GDP targeting as an alternative strategy. http://www.economist.com/news/leaders/21705826-rich-worlds-central-banks-need-new-target-when-2-not-enough?frsc=dg%7Ca
Additional disclosure: Don't mis-construe anything here as investment advice.