The post election rally continues. This year it looks like the Santa Claus rally will occur as investors and traders adopt a more positive attitude towards equities.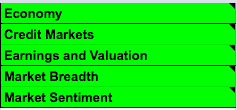 Economy: Strengthening. GDP and PMIs improving, recession > 1 year away, business conditions stable / improving
Credit Markets: No indications of stress.
Earnings / Valuation: SPX YoY in an uptrend. Markets now overvalued
Breadth: Improving. Defensive sectors now participating in the rally. International markets rallying. Divergences with price on MA metrics, but likely a sector effect
Sentiment: Bullish, overbought short term, intermediate room to run.
Weekly Summary of Events: Ritholz
Economic and Market Analysis: Fear and Greed Trader
Market Technical Analysis: Urban Carmel
Market direction is definitely up despite the apparent certainty of an interest rate hike at next weeks FOMC meeting. Given the relative exuberance of market participants compared to last year, it's unlikely this rate hike will induce a major sell-off. However, mid-December has, in the past few years, been a period of relative weakness. Given the condition of the US markets (overvalued) we might expect a short period of consolidation over the next week, and a strong end of the market as the rally continues. Market breadth is improving as the defensive sectors (utilities, consumer staples and healthcare) are now improving following rotations after the election result. Economic news ex-US has also improved over the past few weeks, particularly for China, while the EU is also growing more strongly than expected. International equity markets are now generally improving, which helps to strengthen investor sentiment towards equities. The SPX and NAS indices are showing a divergence between MA breadth and price, which would normally be a worrying sign. However, these signals are not confirmed by other breadth metrics, suggesting they are related to the sector rotations the market has experienced over the past month. Given improving sector breath these divergences are probably going to disappear over the next few weeks. Finally, fund flows are still positive for equities but they have slowed markedly over the past 2 weeks. While SPX sees continued inflows, NAS and RUT are now experiencing outflows. Definitely a headwind to further price increases in the short term. No panic rotation out of bonds and into equities. I assume this indicates bond investors are willing to ride out the present sell-off while they await concrete signs of the fiscal stimulus program in the US - this will take months at a minimum before it is finalized.
Credit Spread Positions
ESZ16: This is the expiration week for the December future, so be prepared for the price drop (~$10) that accompanies the March 2017 future. This impacts put credit spread positions negatively. Price action over the past week ended very strongly following the minor sell-off of the previous week. Support at 2190 held during this sell-off, and this now defines the resistance trend together with the low from the pre-election sell-off. Price is moving in a strong upward channel, and this trend suggests the possibility for ES and SPX to increase beyond 2300 by the end of the month, with the upper limit being in the vicinity of 2350. It's clear that money managers are currently going all-in on the year-end career-risk trade, and as institutional funds are also moving towards equities there is momentum for price to continue to increase. Valuations are starting to stretch with the 12-month forward PE for SPX now at 17, well above the 5 year average. But it is not obvious, at least to me, when valuations will actually start to matter in this environment. Technically, in the short-term ES is now at channel resistance and is overbought on RSI(14), which is a strong signal that price is likely to struggle until this condition is worked off. Moreover, volume at the end of last week was not particularly strong, and given the weaker historical pattern of this part of December, some consolidation is likely. Support is at 2240 then at 2213 and 2191. I think put credit spreads are a good choice for the next few weeks, with short strikes below 2240, and preferably close to 2215 if premiums are reasonable. Call credit spreads are risky and likely to be difficult to fill at reasonable premium given the low value of VIX.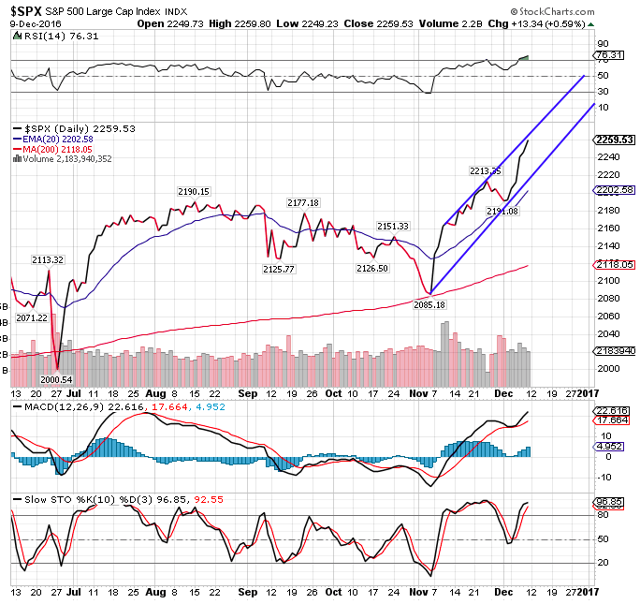 RUT: Another incredibly strong week for RUT. At this point it is extremely overbought on RSI(14), and it is also now ~16% above the 200 MA. This level of overbought is rare for RUT (only about ~5% of its previous price history). STO looks to be ready to issue a sell signal so it's reasonable to expect RUT to consolidate in the vicinity of 1380. It's possible price may crawl up to 1400, particularly since MACD issued a buy signal last week, but clearly RUT needs to time to work off overbought to continue to the top of the channel by the years end, which is in the vicinity to 1450. Put spreads with short strike of 1310 to 1320 look appealing, while for the more adventurous short strikes of 1340 could also work. Particularly at the latter strike, a recovery strategy should be in place in case we have FOMC - induced volatility next week. However, I would not expect price to go below 1313 support even in that situation. Short - term call credit spreads might work for the next week or 2 but these are undoubtedly risky in the present environment.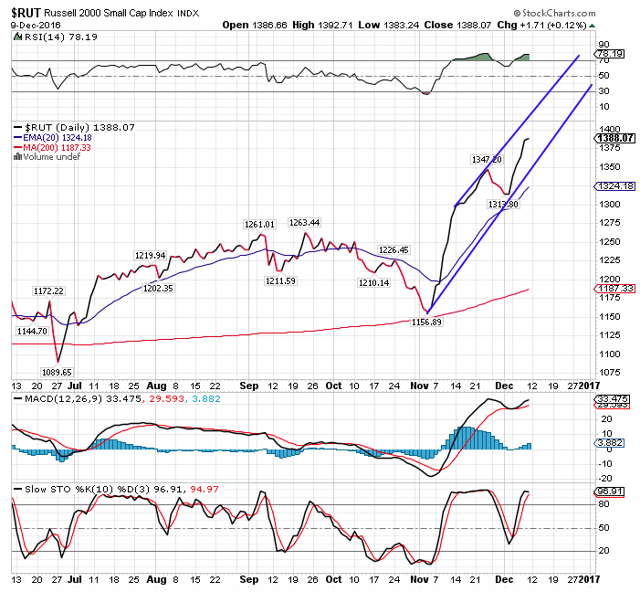 Weekly Trade Summary
Traveling all this week, so I did not have time to trade. I did try to get fills on ES and RUT for 12/16 expiration, but the short strikes I was shooting for were too conservative as the market ran away from me. No problem, there are always plenty of trades to make. So the EW2 and RUT put credit spreads I had open for 12/09 expired well and truly OTM. I'll look to open spreads for 12/16 and 12/23 early next week once I get back home. Nevertheless profit for the month is looking reasonable although I would have loved to improved on this with price increasing so quickly in the last week. Any FOMC volatility will be a good opportunity for put spreads or even an iron condor if VIX / RVX spike sufficiently high.

SPX Put Spread Hedge Strategy (Paper Trade)
With SPX increasing substantially over the past few weeks, the weekly puts have been working really well, and I am now well on my way to covering the total cost of the strategy. However, the disadvantage of this strategy is now becoming obvious: SPX price is running up to ~2300 while the long put strike is at 2100. This means the long put spread will only really pay off if SPX drops more than 10% within the next few months. While this is possible, the strategy will really not provide much of a hedge for the lower volatility (< 10%) that is a regular market feature. A larger drop to 1900 or below seems rather unlikely, except for a black swan event of considerable magnitude. So, as set up now this strategy is good for disaster insurance if the total cost can be minimized. Otherwise to cover more common market volatility, the whole strategy will have to be moved up in price, which will add to the cost. In other words, this strategy has be considered to be a default aspect of trading, and weekly put sales will likely continue in a rising market to keep costs reasonable. I had not considered this possibility when I started the strategy. Its not a terrible prospect, but I think I'll research other hedge strategies that can offer a lower level of activity with similar protection.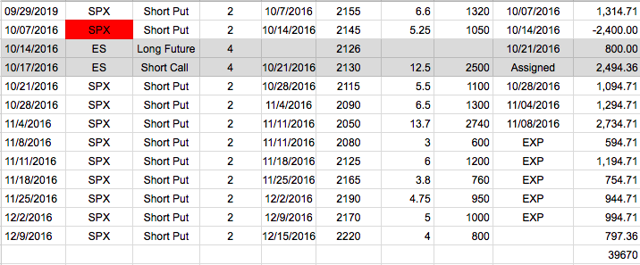 Reading List
Weekly summary. http://ritholtz.com/2016/12/succinct-summation-weeks-events-12-9-16/
Doubts about the fundamentals of the current rally. GDP has been inflated by 1 time events: soybean exports, restocking of car part inventories, car sales. Consumers spent on cars but cut back on most other items. Inflation is increasing which is likely to lower real incomes. This will slow consumer spending. Economic growth is unlikely to be accelerating. https://seekingalpha.com/article/4028872-second-half-rebound-built-sand
Chartstorm dec. 5. https://seekingalpha.com/article/4028125-weekly-s-and-p-500-chartstorm-4-december-2016?app=1&uprof=45&isDirectRoadblock=false
3 month low in VIX in early December tends to be positive for equity markets. http://jlfmi.tumblr.com/post/154152809885/does-this-signal-mean-smooth-sailing-for-santa
Inflation may well increase above 2% in 2017. Similar to recent suggestions from Vrba. https://seekingalpha.com/article/4028986-2017-late-cycle-year-inflation
Only half of 30 year old Americans are making more than their parents. With no real hope that this will change in the foreseeable future. http://www.forbes.com/sites/laurengensler/2016/12/09/american-dream-income-mobility-raj-chetty-study/#5bdc28192405
Labor market metrics continue to point to economic expansion for the next year. https://seekingalpha.com/article/4029366-october-jolts-labor-market-conditions-index-positive-meh
High NAAIM levels are correlated with positive future SPX returns over the subsequent weeks up to 3 months. http://jlfmi.tumblr.com/post/154288138340/active-managers-move-back-all-in-on-stocks
China central bank is propping up the yuan or is not letting it slide. Almost impossible to increase the yuan vs US$ spread demanded by trump. Capital flight is occurring causing less demand for the yuan. http://scottgrannis.blogspot.com/2016/12/chinas-problem-is-too-much-money.html?m=1
Consumer confidence is rising. Expectations are for growth enabled by new policies. Trump needs to deliver growth quickly or consumers will lower expectations and likely their behavior. http://www.calculatedriskblog.com/2016/12/preliminary-november-consumer-sentiment.html?utm_source=feedburner&utm_medium=feed&utm_campaign=Feed:+CalculatedRisk+(Calculated+Risk)&m=1