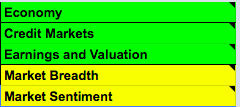 Weekly Indicator Summary
Economy: Q3 GDP estimate 3.5% YoY, Q4 estimate 2.5%. Recession > 1 year. Yield curve pointing to increased growth
Credit Market: No stress; Credit spreads narrowing
Earnings: SPX YoY in an uptrend. Valuations highs. Short - term overbought (Morningstar)
Breadth: Breadth weakening. Divergences of 200MA with price. Cyclical sectors weakening, defensives improving.
Sentiment: Bullish and complacent. Fund flows positive (except RUT), Short-term weakness, top likely. Intermediate strength.
Weekly Summary of Events: Ritholz
Economy and Equity Market Weekly Summary: Fear and Greed Trader
With the advent of the Trump administration, the equity market perception of the future seems to have brightened. The US economy, however, continues on its path of slow grow. The past couple of weeks economic news has been reasonably positive, with the Q3 GDP estimate increasing to 3.5% growth YoY. The Q4 estimate is currently at 2.5%. The bond market is expecting a faster rate of growth as the yield curve is steepening despite the latest increase in short - term interest rates. Small business optimism is also improving. Leading indictors are suggesting the economic expansion will continue for the next year. It's not all plain sailing for the economy as wage growth is low and inflation is likely to increase in 2017 as the increase in oil prices works it way into supply chains. The inflation being experienced at the moment is of the "bad" variety i.e. it is acting as an additional tax without stimulating consumption. Combined with the increase in consumer credit card debt, the potential exists for US consumer spending to suffer, which will be a significant setback for continued growth.
More optimistic news is also emerging from US equity markets. Q3 corporate profits increased, and while they still have not made a new all time high, they are now at 8.5% of GDP, and are not showing any sign of the mean-reversion that has preoccupied investors for the past 2 years. Earnings estimates for 2017 are improving, contrary to seasonal trends and gains in EPS of 20% are being suggested with a combination of increased profitability, new tax cuts and improved buybacks from repatriated cash. There's a lot of hope built into these estimates, but for now, the markets are seizing on the possibilities. Equity markets are now at the high end of historical valuations, and in the short-term remain overbought and extended.
The tenor of the markets has changed over the past 2 weeks. Breadth is weakening markedly with cyclical sectors (XLY, XLI, XLB, XLE) pulling pack relative to SPX, while defensive sectors are stabilizing and starting to improve. Divergences are still evident between moving average breadth and price (SPX), and while they are not deepening, they are still caution signs suggesting a shallow sell-off, or at least further consolidation is in store. Sentiment is now strongly bullish, although not yet at an extreme. At current sentiment levels, markets have struggled over the past 2 to 3 years to make progress. Funds are still flowing into equity ETFs, although small caps - recent market darlings - are now seeing outflows (e.g. from the IWM ETF). For the next couple of weeks equities prices will be determined by the balance between a year end rally, and the breadth driven potential for consolidation or a short-term top. Any upward movement is likely to be a slow grind at best.
Credit Spread Positions
ESH17: The past 2 weeks ES has not made much progress, moving from 2250 up to 2260. It has moved below the rising channel formed from the run up from the Nov. election. Volume dropped off markedly through the holiday week as expected. The technical indicators are painting a mixed picture as to the direction of price over the next week or so. While ES is not over bought, MACD has a sell signal, and both RSI(5) and STO(10,3) have a negative divergence with price. These indicators suggest there is little underlying strength for a continued upward move. The New Highs - New Lows breadth indicator on the NYSE, however, is still positive, and in particular new lows are not increasing. The slow upward move appears to be the result of profit taking in the cyclical sectors, and is unlikely to be the pre-cursor to a larger scale sell-off, at least as yet. At best price may stay range bound until RSI and STO dip to a neutral level. Support is at 2250. Then there's fresh air to 2187. The 38.2% Fibonacci retracement is at 2194, so most likely support is in the range 2187 - 2194 if a sell-off picks up steam. Resistance is at 2267. Put credit spreads below 2250 for the next 2 weekly expirations are probably the best trade-off between safety and profit. Call credit spreads are also appealing above 2270, but a recovery strategy should be in place when the spreads are opened. A covered call strategy using long futures would be a good choice.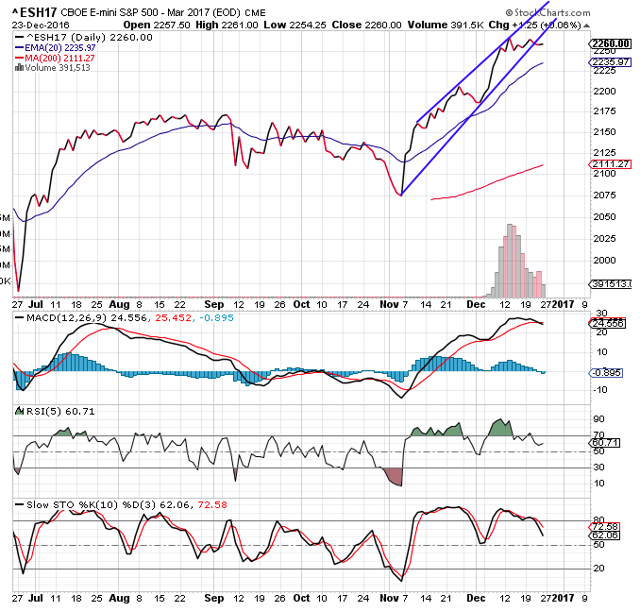 RUT: Even less improvement in price than ES, and there is now a lower high in place to add to the negative air. It has also moved through the bottom of the rising channel from Nov. 8. The technical indicators are not quite as negative as we see for ES: RUT is not overbought, and while MACD has a sell signal, there is no divergence between price, RSI and STO. The latter oscillators are neutral. However, breadth measures for small caps continue to be overbought and are still at extremes. This suggests price will struggle to move forward. Fund flows into IWM are now negative, and TF Futures speculators are heavily long. Both these factors argue for price to move down, and long Futures speculators will add fuel to the fire by covering their positions; The best case scenario here is for price to remain range bound, but a down move is more likely. Closest support is at 1350. This may contain the price in the absence of any external negative news. Below that is 1312 and the 38.2% Fibonacci level at 1300. Put credit spreads below 1350 appear to be the best choice, but it may be wise to keep position size relatively small to make recovery easier. Call credit spreads above 1390 may also be a good choice.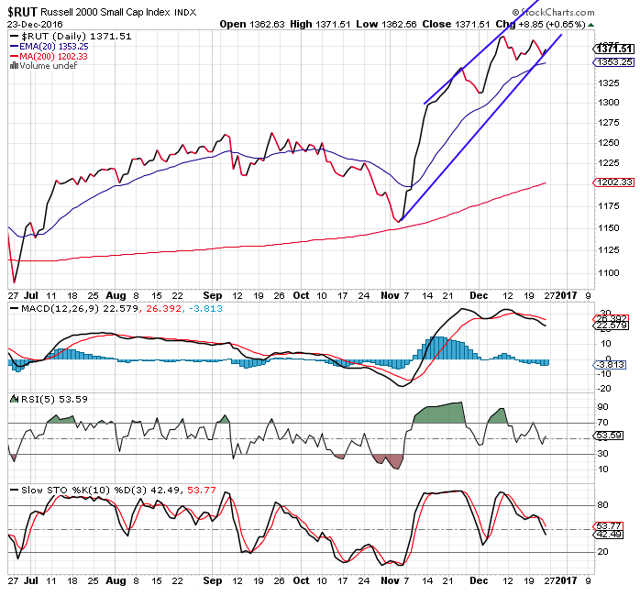 Trade Summary
Price stability has meant that put credit spreads have been very profitable this month. I have opened multiple ES and RUT spreads each week out to 12/30, with the occasional mid-week expiration on ES thrown in. All spreads so far have expired OTM, making it a calm end to the year. I still have open spreads for 12/30, but I'm anticipating they will expire OTM. I opened a short term iron condor EW at the end of the week. I have the short strikes at 2230 and 2280, and the wings are 100 points wide on the downside. Given the mild action of the past week or so, I believe the condor has a good chance of expiring OTM, but even so with such wide wings a recovery using long futures and covered calls should work well for both put and call sides. I have not opened any spreads for 2017 yet, but I will add them into the mix when the markets open after the Christmas break. December is looking like ~10% profit. A fine way to end the year.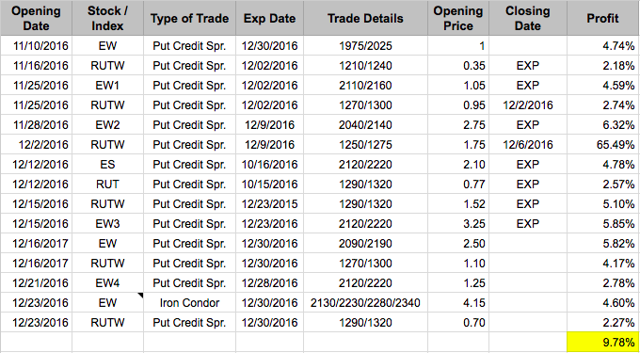 Hedge Strategy (paper trade)
The weekly short puts continue to work extremely well. Profit from the strategy is such that the hedge is totally paid off, but the long put protection still remains. Results are up on the Hedge Strategy Page. As I said in my last update, the limitation of this strategy is its inability to continue to protect in a rising market. I have not yet figured out a strategy to replace it, but that will be a goal for 2017.
Reading List
The Bonddad Blog: Energy Inflation Is Increasing and May Place the Fed in a Policy Bind Next year
Petrol prices are likely to increase in 2017, pushing up CPI and interest rates
Where Is The Wall? - Deutsche X-trackers Harvest CSI 300 China A-Shares ETF (NYSEARCA:ASHR) | Seeking Alpha
China has been selling USA bonds to support the yuan. Some of this money has found its way into USA equities. The author believes the market rally is built on hot money flows and so is unstable.
Votes Of Confidence: The Trump Bump | Investing.com
Anticipation of trumps economic agenda apparel to have brought about a change in market perception.
Stocks 2017: More Like 1987 Crash Or 1995 Bash? - spy | Seeking Alpha
Using ADX to look at market trends. Useful indicator to show over or under extended markets. 2016 does not look like 1987 or 1998 situations
http://media.wix.com/ugd/542496_2b3f1d06e864451da2dbe022c8ea78d0.pdf
Chartstorm for 2016. Serious and not so serious. Emphasis on bonds and the USA $
Santa Claus rally, or round number-itis? - Humble Student of the Markets
Will we see a santa rally? Sentiment is still bullish - hyg is leading iet and rut is leading Spx. Investor sentiment not at an extreme (although Lance Roberts analysis suggests it is). Gold signal is positive for equities. Vix not yet at an extreme. Seasonality indicates a rally. Rally likely.
Calculated Risk: Philly Fed: State Coincident Indexes increased in 43 states in November
State level coincident indicators are increasing in 43 states. Recent trend is positive.
Consider Bear Call Spreads For 2017 - Investor Questions | FullyInformed Members
Bear call spread strategy discussion. Some nice points.
1. Be prepared to turn the short call into a covered call or roll up the short side (more capital required)
2. Buy more shares than required for the covered call to profit from the price increase
3. Close short call and sell a short put ( or put spread)
Revisiting an old favourite | RecessionAlert
Using the SPXA50R to predict intermediate market tops. Divergence with price when SPXA50R > 80% has a strong correlation (not perfect) with price decrease. Criteria:
SPXA50R > 80%
Decrease below 80% while SPX is rising (divergence)
Stronger effect if SPX is at a top.
Top Charts Of 2017: China - WisdomTree Chinese Yuan ETF (NYSEARCA:CYB) | Seeking Alpha
China charts. House prices, PPI, yuan
2016 Year-End Bull/Bear Debate - SPDR S&P 500 Trust ETF (NYSEARCA:SPY) | Seeking Alpha
Lance Roberts looks at bull an bear cases for the markets. He suggests bears are absent at the moment. Valuations, and market extension are immediate concerns. Longer term is the possibility that the Trump administration will not be able to deliver on promises of tax reduction and fiscal stimulus. I am not convinced about his contention the technicals are similar to past market tops. The long term divergences he highlights in RSI and MACD are qualitatively different than 2000, 2008. Now RSI is in an uptrend while MACD is about to issue a buy signal. However, he provides a valuable opportunity to challenge confirmation bias no matter your market perspective.
Thoughts On Post-Election Industry Movement - xlf | Seeking Alpha
Some color and on the responses of sectors to the election results.
S&P 500 Weekly Update: Investors Hit The Snooze Button In The Quest For Dow 20,000. - dia | Seeking Alpha
Future capital expenditures are looking up. Another positive indication of growth to come. Home sales showed a large jump for November. Mutual
5 plots monitored through the year. Yield curve is improving, inventories are improving, US$ relatively stable but under employment poor and especially wage growth is not improving.
The Bonddad Blog: Five graphs for 2016: final update
Long leading indicators are stable but need to be monitored. Coincident and short leading indicators are positive
Weekly Indicators: Gas Usage Joins The U.S. Dollar And Interest Rates As A Negative Edition - ProShares Inflation Expectations ETF (NYSEARCA:RINF) | Seeking Alpha
6 month forecast is positive but 12 month more uncertain due to interest rates and US$ appreciation.
Weekly Indicators: Gas Usage Joins The U.S. Dollar And Interest Rates As A Negative Edition - ProShares Inflation Expectations ETF (NYSEARCA:RINF) | Seeking Alpha
Anecdotal evidence of an improving investment climate.
Calafia Beach Pundit: Animal spirits are perking up
Long leading indicators are mildly positive suggesting relatively slow economic growth will continue in 2017.
2016 Economic Year in Review and 2017 Basic Economic Projection
A looming headwind for small caps comes from the net short commercial hedger position, or equivalently the net long speculator futures position. Should these positions start to unwind it will be a headwind. But a catalyst is required to start prices on a down path first.
A Looming Headwind For Small-Cap Stocks
Small business optimism is increasing. It is at its highest level since 2014
NFIB: Small Business Optimism Index increases in November
Small Business optimism has increased since the election. Not a surprise given the tendency of business owners to favor Republican policies.
Calafia Beach Pundit: The Fed didn't tighten today
The interest rate increase today does not threaten the health of the USA economy. Real yields are close to zero, the yield curve is steepening, swap spreads are low, credit spreads are low, gold is dropping in price.
Calculated Risk: Quick FOMC Analysis
Next rate hike in June?
Dana Lyons' Tumblr - Forget 20K -- THIS Is The Stock Market Level To...
VLG is now at resistance dating back to 1998. If it moves above now it will be a significant milestone for USA equities. VLG is equal weighted with 1800 companies so a very broad market index. Pay attention to this one.
Late cycle inflation: Fed rate hike, higher YoY CPI
Yield curve and long bonds are suggesting continued growth. Housing is stable. However, wage growth is stagnating and inflation is increasing. Expect consumer spending to be negatively affected. Economy is late cycle but do not expect downturn for at least 6 months
Dana Lyons' Tumblr - A Lowly New High
New lows on the NYSE are high at the same time as new highs. This week a rare event as these signals coincided with a new high on the Dow. Previous similar signals have occurred near major market tops. A caution signal for equities over the longer term.
Small Business Optimism Surges
An outstanding missive from Lance Roberts:
He is somewhat negative on the prospects for the economy, citing increasing debt in combination with rising interest rates as likely to limit the rate of improvement in 2017.
He believes valuations are definitely stretched, and while it is not a good market predictor in the short term, in the long term current valuations suggest poor long term returns.
He presents AAII data showing that stock allocation levels by individuals is close to ATHs while cash levels are near all time lows i.e. individual investors are "all-in". Couple this with NAAIM being all-in indicates sentiment is overly exuberant.
Margin debt has increased as the rally has proceeded. This is not a problem on the way up but is definitely gasoline on the fire on the way down. The next sell-off is likely to be brutally fast as margin calls proceed apace.
On a longer term chart momentum and MACD have been decreasing. This signal was present in 2000 and 2007, and is an ominous portent for the market now.
US equity markets are significantly above their 200MA, and this is in combination with a sell signal on the longer term charts. Such deviations are only temporary and mean reversion will eventually have to occur.
"As a money manager, I am currently long the stock market. I must be, or I potentially suffer career risk. However, my job is not only to make money for my clients, but also to preserve their gains and investment capital, as much as possible. This is why, although I am often considered a "bear", I focus on the "risks" that prevail.
Understanding and analyzing both sets of arguments is crucially important to navigating the markets successfully over time. The REAL RISK to investors is not "missing out" on a further rise in the markets, but catching the bulk of the reversion that will wipe out most of the gains from the previous advance."
Outlook: while enjoying the bull ride it is important to pay attention to the potential risk in the market.
Technically Speaking: Bullish Or Bearish? What The Charts Say
Rising US interest rates and US$ are challenges for emerging market economies that have a large amount of US$ dominated debt. This article contains a list of countries most likely to be impacted by further increases in US bond yields and $. Given that these countries represent 1/3 of world trade, struggles in these emerging markets will be felt in the US economy and stock markets.
Lance Roberts suggests that markets are losing momentum.
Economy: expectations for economic growth are probably too high. Strong $ and increased interest rates are likely to slow company profits. LIBOR has already increased markedly before the interest rate hike. This impacts the broad economy. Sentiment is at a bullish extreme while valuations are nearing historic highs. Employment has not soaked up population growth while wage increases have only happened for supervisory employees, the average worker has not seen a significant increase. Inflation is the bad type i.e. equivalent of a tax increase; no sign of inflation in exports / imports suggesting significant consumer demand increase.
Markets: defensive sectors are now improving while cyclical sectors are weakening. Likely that the Santa rally will continue to year end, but afterwards risk of a correction is rising.
3 Things: What's Driving Rates, Trade And Fantasy Girl - spy | Seeking Alpha
China has been stabilizing the yuan by selling US treasuries. This is one of the major reasons for USA bond market sell off. Currently traders are short treasuries at 5 std deviations. Should China devalue abruptly there will be a large short covering rally in bonds. This will disruptive for the equity markets.
Weekly S&P 500 ChartStorm - 18 December 2016 - spy | Seeking Alpha
Chartstorm suggests short term weakness possible but longer term positive. Weakening breadth is the biggest concern
2017 Forecast: Looking For 20% From S&P 500 In Calendar 2017 - spy | Seeking Alpha
Brian Gilmartin thinks 20% EPS growth for SPX in 2017. He notes this estimate was in place well before the election and is driven by improved economic fundamentals. One potential fly in the ointment is trump trade policy.
Weekly Earnings Update: Forward Growth Rate Continues To Expand - spy | Seeking Alpha
YoY 12 month forward estimate is improving, contrary to seasonal patterns.
Stock investing: Stumbling blocks that could trip up the market
Reasons not to be cheerful in 2017.
Non-Commercials Deftly Riding Small-Cap Momentum - Watch Out When They Turn Tail | Hedgopia
Futures momentum can carry over into the cash index. Bear this in mind when assessing risk
How Trumponomics could push the S&P 500 to 2500+ - Humble Student of the Markets
SPX earnings may grow 6-8% in 2017. Tax cut will add about 10% giving ~18%. Add in 3-4% from buybacks with repatriated cash and 20%+ gain is not unreasonable.
Limited room for China to tighten policy as debt fear grows
China has limited room to cut interest rates further to promote growth, and may need to increase as inflation increases. The concern is the increasing amount of debt may lead to defaults. Deflation in China appears to be over.