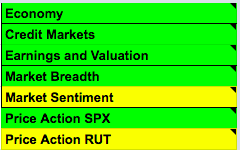 Economy: Slow growth, no recession risk.
Credit Markets: No stress
Earnings: Positive, markets overvalued.
Breadth: SPX Improved, RUT weak.
Sentiment: Mixed: Individuals have turned bearish, asset managers are still aggressively long
The US equity markets reached new ATHs last week for all major indices including the broad NYSE and WLSH. The only exception was RUT, which continues to struggle in a consolidation zone. Sub-indices TRAN and MID also made new ATHs. This leg up in the US rally is being supported globally. Last week 22 ex-US markets made new highs (not ATH), and the GDOW index finally broke through a decade long downtrend. What is going on seems to be a powerful global move brought on by improving economic fundamentals across the range of geographic areas.
US earnings season is progressing with a positive picture emerging. Q4 EPS estimates (Factset) have improved from 3.1% to 4.2%. The revenue growth rate has dropped slightly from 4.9% to 4.7%. Th percentage of companies issuing negative guidance for the next quarter is well below the historical average. Moreover, the YoY growth rate for Q4 EPS estimates is now 8%; this is the highest it has been since 2014. Analysts are clearly bullish. The US equity markets are overvalued (Morningstar) and extended over the 200 MA. Mean reversion is a frequently cited concern, but there are no indications that this is imminent.
Internal breadth of the markets has improved over the past couple of weeks. This improvement is most evident for SPX and NASDAQ, while small caps - SML - are relatively much weaker. However, it is likely small caps breadth has reached a negative extreme and will now improve. This will help RUT strengthen from its relatively weak position over the past few weeks. Cyclical sectors continue to lead the SPX while defensive sectors appear to be stable i.e. there is no compelling evidence that a risk-off rotation is taking root. However, the energy sector has weakened noticeably over the past month relative to SPX. One point to make in terms of breadth: once again a moving average breadth divergence with price is evident for SPX and NAS for both 200 and 50MA. This divergence is an anomaly at the moment and is not supported by other breadth metrics. I suspect the divergence is driven by the relatively weak performance of the energy sector: XLE is now below its 50MA. Provided the divergence is a limited sector effect its should not impact the markets significantly, and it will be worked off over time.
Sentiment still appears to be risk-on, with stock gains outpacing bonds, and junk bond gains outpacing treasuries, but investor attitudes have turned decidedly mixed recently. What is most evident is the pullback in bullish attitude from individual investors. Looking at the AAII survey from last week, the bullish percentage has dropped below the bearish percentage for the first time since the election. Individuals appear to be spooked by the latest advance and have no faith that it is sustainable. This is a contrarian bullish sign. Insiders sales turned freakishly bearish last week, with a very large sales to buy ratio (59). Insider sales have been elevated for the past month, but we'll have to wait until next week to see if this week's large increase in sales is more than a 1 off event. To cap off the negativity, fund flows have not been supportive of market gains: mutual funds saw outflows the last two weeks, and ETFs last week. Bond funds appear to have been the recipients of these flows. The VIX has now dropped below 11 - a sign of complacency about risk taking in the markets. These low values do not usually last long. Moreover, post-inauguration weakness is seasonally favored in February. It's a strange situation to see the markets advance quite strongly with so much negativity about the move. On the positive side of things, asset managers remain strongly bullish, and appear to be driving the markets. They continue to be aggressively long indices futures. They are clearly expecting this rally to continue. And of course, if it does continue, it is likely to pop as individuals come back in. Large financial Institutions have so far not participated in this rally (as indicated by the State Street Investor Confidence Index), and a move into the markets on their part is something to be watched for.
Credit Spread Positions
ESH17: Last week saw a decisive breakout from the previous trading range to the upside. The future touched 2300 on Thursday while SPX crossed above, and this now represents resistance to be overcome to sustain the rally. Support is at the breakout of 2270, and then at 2240, at least in the short - term. ES is overbought, but MACD is now on a buy signal, suggesting the upward move has momentum. On the negative side the volume for the move dropped off over the week, and a pick up in volume will be important to confirm the strength of the rally. With breadth signaling underlying strength is probably there, I believe it is likely we will see the rally continue unless political turmoil associated with the new administration inserts itself. In terms of credit spreads, short strikes at 2240 would be ideal, but given the low VIX, premiums are probably not good for weeklies. Short strikes at 2270 are the most aggressive to consider, but be prepared for a recovery trade at this level.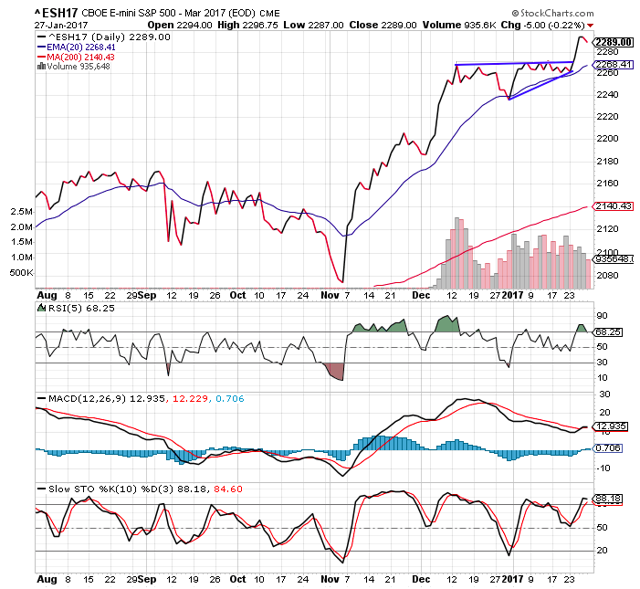 RUT: The trading range going back to early December 2016 is still in play. RUT did briefly dip below the lower level of 1354 for only for a couple of days. Breadth metrics are still positive, but not strongly so. However, the McClellan oscillator does appear to have bottomed, suggesting positive momentum may be returning. Unfortunately on the daily chart RSI is dropping from just touching overbought, while MACD is struggling to get to a buy signal. On the weekly chart the oscillators and MACD are weakening. Fund flows to IWM have been negative for the past weeks. All this points to RUT having difficulty breaking out of this range to the upside at the moment, but the weakness is not so strong as to suggest a strong down move. Further consolidation is most likely until a clear signal emerges or the broader markets continue a coordinated move. I would be careful with put spread short strikes above 1330 to allow for dips below support at 1354 - 1346. I'm more inclined to look at call spreads with short strikes above 1400 if the premiums are respectable.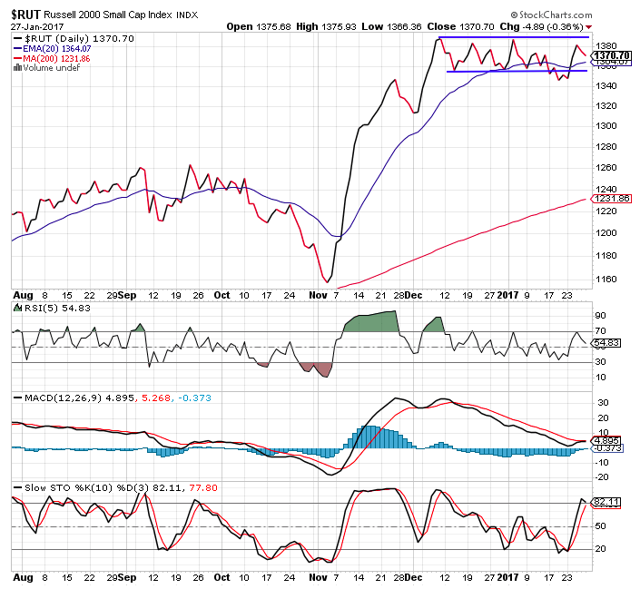 Trade Summary
This month has been relatively busy, and relaxing. The only trade I really had to touch in the past couple of weeks was the 01/27 iron condor, where I closed the short call and opened a put credit spread 2220/2270 to recover the cost. This I did because SPX was getting rather close to 2300 early last week. I decided to finish the week out by opening a wide put spread 2170/2270 for 1/31 expiration. This choice of short strike is aggressive, but should the trade go bad I will accept assignment and use covered calls to get out over the next few weeks. I don't expect a large drop in ES so this is a reasonable recovery strategy. I also set up iron condors for 02/03 expiration on ES with 2240, 2340 short strikes and RUT with 1320, 1420 strikes. Let's see how these work out this week.
Profit for January has been excellent. Perhaps the rest of the year will follow suit?