Economy: Slow growth, no recession risk.
Credit Markets: No stress, swap spreads elevated
Earnings: Q1 estimates strong. Over-valued, over-extension reduced.
Breadth: Cyclicals leading, defensives lagging. Weakness evident.
Sentiment: Bullish
This past weak saw the major markets breakout out to new ATHs, with the exception of SPX. This burst was inspired by relief, or short-covering following the first round of the French election cycle. The rally fizzled by the end of the week as a lackluster Q1 2017 US GDP estimate showed the economy to be off to very slow start. This has been a common feature for the past several years, and will probably not be reflective of the yearly GDP performance. Earnings reports are now coming in thick and fast and estimates for Q1 have now moved into double digits. Factset's latest estimate is for over 12% YoY growth, which if accurate would suggest Q1 will be the best quarter for earnings since Q3 2011. So, earnings are sending a much more positive message about the state of the US economy than economic indicators. Since corporate earnings tend to lead the US economy this bodes well for a pick in GDP for the upcoming quarter.
The major indices became overbought toward the end of the week. The rally was broad in terms of sector participation, with only the energy and financial sectors failing to improve beyond their respective 50MA. The cyclical sectors (XLB, XLK, XLI, XLY) all moved to overbought, while the defensive sectors (XLP, XLU) weakened marginally. However, technical breadth did not improve substantially, foreshadowing the lack of steam in the upward move by week's end. Sentiment improved markedly this week with individuals in particular taking a more bullish stance. Market - based sentiment measures have bottomed compared to a couple of weeks ago, although the upturn has not been particularly strong. Despite strong positive corporate earnings performance the US markets are unlikely to experience much further upside until the overbought conditions have been worked off over the upcoming week.
Credit Spread Positions
ES: The rally this week took ESM out of the downward sloping channel, and above the 50MA. It did not manage to exceed the previous ATH at 2397, and it fell back to finish the week at 2380.5. It was overbought until Friday, when the price drop took RSI(5) below 70% and STO produced a sell signal. MACD is still positive but it appears to be weakening. Breadth for SPX is not strong but may now be reaching negative extremes, implying further downside is likely to be limited. The weekly chart is more constructive with overbought not yet being reached. The weekly MACD still has a sell signal, but that is now weakening. I am expecting weakness for the next few days with support from the 50MA at 2358 hopefully limiting the extent of it. This week has an FOMC meeting and the NFP report, which may provide more volatility at the end of the week. I am inclined towards call spreads under the present circumstances. With the VIX sitting below 11, premiums are not very attractive so it may be a challenge to stay with short strikes much above 2400 for a 1 week expiration. I have tended to stay with the shorter durations lately since markets seem to be focusing on external events and I find the shorter expirations easier to handle for recoveries. For put spreads short strikes below 2350 may prove reasonable.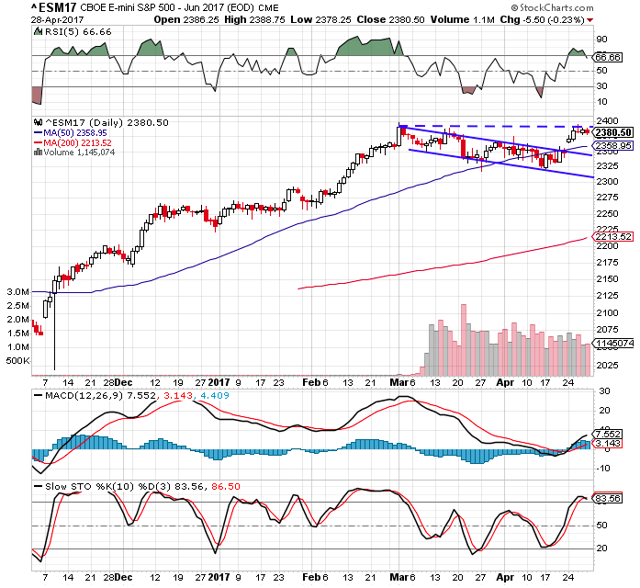 RUT: The small caps had a stronger performance this week as expectations for tax reform and fiscal stimulus ramped up in the US. RUT did manage a new ATH of 1425 mid-week before falling back steeply on Friday. Both RSI(5) and STO now have sell signals, while MACD is weakening. Breadth for small caps was better than for SPX this week, but now these have reached the high positive end of their ranges. There does not appear to be much steam left in the engine for RUT to climb higher in the short-term. A fall back to 1380-1385 - the top of the previous trading range and the 50MA respectively - may be enough to get to oversold, which will provide support. Call credit spreads with short strikes at 1420 or above are likely to be a good choice this week. Put spreads with short strikes at or below 1340 are the safest bet, although premiums may not be very attractive.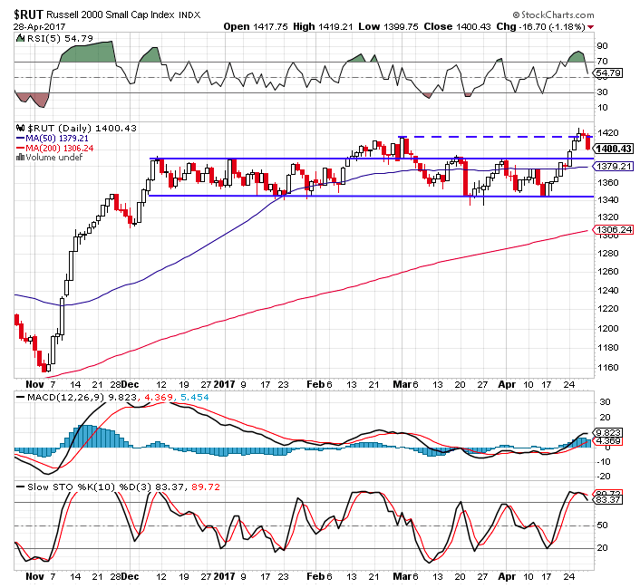 Trade Summary
A successful month, but not without some trials and tribulations coming from last week's rally. I was forced to close early several ES spreads on the upsides as the rally picked up steam. I chose to convert the call spreads into put spreads with strikes of 2365 for 04/26 and 2360 for 05/01expiration to buy some time. The RUTW condor I had for 4/28 expiration proved more problematical to salvage. I converted the call spread into a put spread for 5/12 expiration with a short strike of 2380, and with a hefty injection of capital to keep it profitable. I'll have to keep a close watch on RUT over the next couple of weeks and I'll be forced into another recovery if it gets too close to 1380.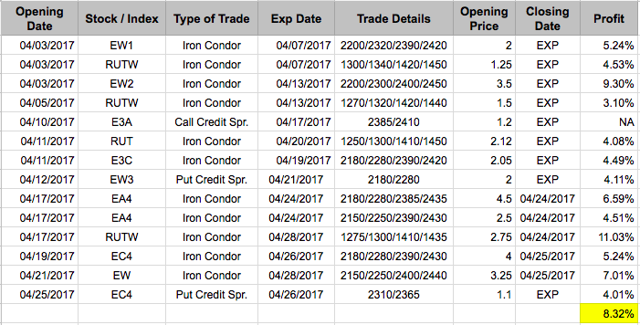 Reading List
One of These Things ... Market's Moves Not All About Trump - Charles Schwab - Commentaries - Advisor Perspectives
It's about global growth, not the Trump trade
North Korea Be Damned! IMF Sees Best Global Growth In 5 Years
2017 global growth forecast upped to 3.5% by IMF. Best growth projection for 5 years
Charts Of The Day: Trends In Asset Allocation | investing.com
Stock allocations remain high but not ATH. Cash is low, but that's because bonds have replaced cash since the recession. There was a large influx from cash into stocks during the 90 and 80s - the advent of the ETF and mutual fund industry
'Irrational Exuberance' Reading Explodes Higher | Seeking Alpha
The Amazon.com effect: retailers say they're not selling, but consumers
Are the retail sales numbers accurate, or are they missing online sales?
the ECSI index has dipped. The economy is going though a slow patch.
Real wages and spending: I don't think consumers will roll over that easily
Divergence between measures of consumer spending i.e. retail sales and Gallup consumer spending (and AMZN revenues). Previously consumers have saved less before cutting back on spending. The present reduction in saving is not as large as previous instances. Consumers may once again continue spending until the saving rates drops further - no guarantees; time will tell.
https://www.conference-board.org/data/bcicountry.cfm?cid=1
"The March increase and upward trend in the U.S. LEI point to continued economic growth in 2017, with perhaps an acceleration later in the year if consumer spending and investment pick up," said Ataman Ozyildirim, Director of Business Cycles and Growth Research at The Conference Board. "The gains among the leading indicators were very widespread, with new orders in manufacturing and the interest rate spread more than offsetting declines in the labor market components in March."
https://www.markiteconomics.com/Survey/PressRelease.mvc/307ee425575241199242b873ee6b128e
The PMI data suggest the US economy lost further momentum at the start of the second quarter. The surveys are signaling a GDP growth rate of 1.1% after 1.7% in the 4th quarter.
Technically Speaking: Oversold Bounce Or Return Of The Bull? | Seeking Alpha
The success of the VIX:VXV ratio to spot bottoms depends on the condition of the market. If oversold when the signal occurs, this is usually a reliable bottom indicator. However, if the market is still close to overbought, any rally tends to fail in the next few days
The Fat Pitch: Fund Managers' Current Asset Allocation - April
Cash levels remain relatively high. Allocation to USA equity has decreased. Positive setup for market strength
This Indicator Diverged In 2000, '07 And Again This Year
NYHL is showing a bullish divergence with price. Market rally has broad support.
Market Valuation And Occam's Razor - | Seeking Alpha
The simplest valuation approach is focused on earnings, inflation and interest rates. It's been on the right side of market trends
Declining Positivity Of Background Money And Financial Indicators - | Seeking Alpha
Long leading indicators are decelerating but not signaling recession.
Yes, The Stock And Bond Markets Can Both Be Right
The time to worry about a significant decline in equity prices in later in the interest rate cycle, close to inversion of the yield curve. Current markets are following past price patterns during interest rate cycles.
Looking at the components of GDP. No worries. Of particular import: residential investment continues to increase. This is an important leading indicator for the US economy.
http://web.nacm.org/CMI/PDF/CMIcurrent.pdf
Credit data supports an improving economic picture. Credit applications are increasing both in the manufacturing and service sectors. Favorable factors are improving while unfavorable factors are stable. Hard data to support the economic outlook.
2 Hits And A Miss On GDP And Wages | Seeking Alpha
Residential investment and proprietor income (proxy for corporate profit) both rose in the latest GDP report. Real income is stagnant