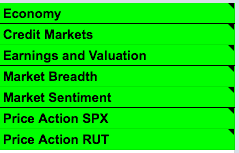 Economy: Slow growth, coincident conditions softening, no imminent recession risk.
Credit Markets: No stress
Earnings: Q2 positive
Valuation: Over-valued, over-extended
Breadth: Improving
Sentiment: Risk sentiment improving, but caution increasing
The major US indices (SPX, COMPQ, RUT) all hit new ATHs at the end of this week before pulling back on Friday. The strength of the markets can be linked firmly to earnings growth, with Q2 projections showing surprising strength, and a global economy that is clearly improving. Thursday also saw the US congress start to tackle the repeal of the Dodd-Frank legislation, which was taken as a positive sign for banks, particularly regional banks, and also for the energy industry since funding is likely to become easier to obtain. The financial sector has broken out of its recent doldrums with XLF decisively hurdling its 50MA on Thursday. The financial sector, because of its size, is a vital part of SPX, and especially so for RUT, and the recent run-up has a lot to with the increased performance of financials.
However, technology suffered a sell-off on Friday, seemingly as a result of analyst comments about valuations The large import of tech to the indices brought the recent rally to a screeching halt. The media is full of suggestions that we are "due" for a 5% or so dip, based on past history. However, looking at the market action on Friday it is clear that the sell-off in technology and in consumer cyclicals was primarily profit taking. Both sectors bounced nicely off their 50MA. The defensive sectors (XLP, XLU) sold-off in unison, while the remaining sectors all gained, with new ATHs for XLB and XLV. The TRIN indicator showed no indication of panic selling either for the broad NYSE (OTCQX:TRIN) or even the NASDAQ (TRINQ). We have not seen a jump in VIX since equity correlations have not spiked. Other sentiment measures suggest a bottoming and perhaps even a small increase in risk tolerance; certainly no evidence of a substantial risk-off attitude developing. Finally the internal breadth of the indices, particularly RUT, is improving. All these observations suggest we are in the midst of a sector rotation out of recent market leaders - defensives and technology, and into other growth sectors including small caps. My crystal ball reading capabilities are negligible, but it appears to me we will have to wait for another catalyst to trigger a larger sell-off.
Credit Spread Positions
ESM17: In the chart below I show SPX since ESM mirrors its performance. Basically SPX is still trying to decisively break resistance at 2440. On Friday it managed to get to 2444 before falling back. Technicals are mixed. RSI(5) is still close to overbought, but is now in a downtrend, while STO has issued a sell signal and is falling below overbought. MACD meanwhile is still positive although it is losing strength. Breadth measures of SPX are mixed with McClellan oscillator and summation index saturating while (new highs - new lows) is positive. I would not be surprised to see SPX struggle over the next few days to decisively get beyond 2440, particularly if tech weakness persists. A large spike upwards would appear to be less probable even though technology is now oversold, since the remaining stronger sectors are overbought. The weekly chart (not shown) still remains overbought and constructive for price increases despite the Friday sell-off, suggesting any short-term price weakness will be temporary. I'm still on my weekly iron condor kick, shooting for short put strikes below 2400. Ideally I'd like short strikes below 2380, but the premiums for weeklies, and the mid-weeklies that I am now enamored of, are not so attractive. I'm using call short strikes at 2470 for the moment, reasoning that SPX will likely run up to 2460 and then hit resistance. I have short futures on sell stops below 2350 as a hedge in the event we see a downward spike.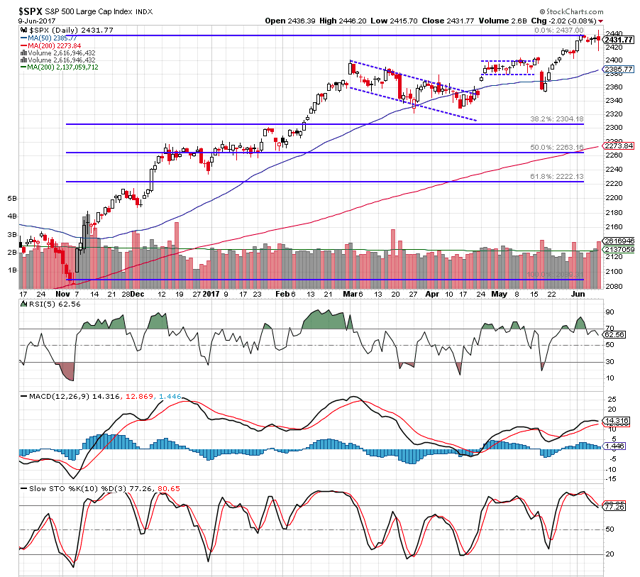 RUT: RUT finally appears to be breaking out of the trading range established at the beginning of the year on the back of improving sentiment in the finance sector, and a more positive risk attitude. On Friday it managed to climb to 1433 before falling back as tech tumbled. It finished by just sticking its nose above resistance at 1420 for a new ATH. Technical indicators on the daily chart appear constructive. Although RUT is overbought on RSI(5), STO still has room to run, and MACD is strengthening. Volume spiked on the IWM ETF on Friday. Financials are a big component of RUT, but tech less so than SPX. Further financials strength will help push RUT firmly above resistance. The weekly chart remains positive, with technicals improving and yet to become overbought. Given the strength indicated by the charts I'm holding off on the iron condors until I can gauge the potential for upside. I'm focusing on put credit spreads this week, using 1370 short strikes for weeklies. I'll look at call credit spreads once the week gets going to see if the risk / reward is favorable.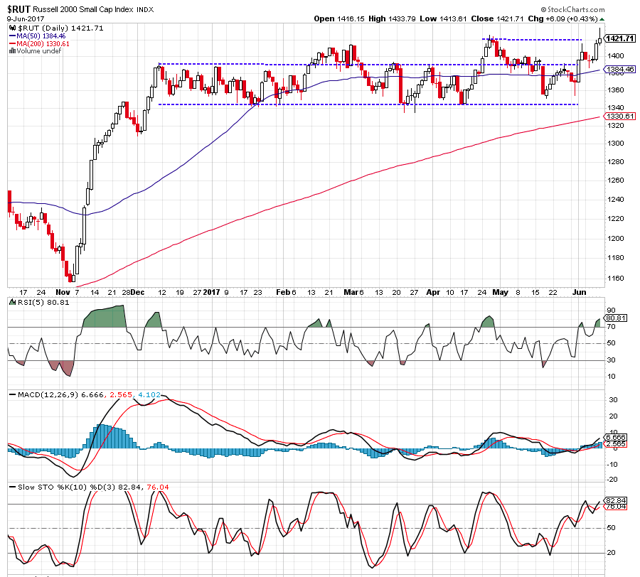 Trade Summary
Not much to say about this month's trades so far. Profitability is reasonable. I'm hoping I can get through the ES expiration with the 2455 short strike remaining OTM. This week we have the FOMC meeting with an odds on interest rate hike. This is already priced into the markets, so I'm expecting a muted reaction to the announcement. All-in-all downside risk is the more serious issue. Recovery strategies will likely involving buying out short put strikes, and selling calls to recover the cost.

Reading List
World Bank Still Sees Global Growth Picking Up Amid Policy Risks - Bloomberg
World bank leaves 2017, 2018 global growth forecasts unchanged. Anticipating 2.7% in 2017
NEVER Rely On Just One Indicator
Do not rely on 1 indicator to forecast recession.
A Tale Of Two Markets: Politics And Investing!
Equity risk premium for the current market is on the high side, explaining high valuations. Unfortunately much of this increase in the premium has come from low interest rates and stock buybacks. Both of these are likely to change in the near future. The stock market could respond in either direction.
Contributors to the low inflation rate at present include job worries/lack of skills, low union membership, price suppression from internet shopping.
The Bonddad Blog: No, record job openings in JOLTS do not mean that everything is Teh Awesome!
The JOLTS data adds to the impression of late cycle slowdown in jobs
Dr. Ed's Blog: Hannibal Spirits: S&P 500 Climbing Mountains
Dr. Ed is wondering whether a stock market melt up is starting
Trump's Economic Agenda Is Almost Dead - Bloomberg
Title says it all. Time to hedge?