In the current market it's easy to forget how harsh a credit crunch can be. Loans are again being made on terms that leave the lender little margin for error; a similar situation exists in equity markets. As long as momentum (meaning the Fed) continues to play along, things look rosy but if the markets do become risk averse, there are stocks that don't appear to be discounting that eventuality. We examine whether one of them is Avis Budget Group Inc. (CAR.O).
In a bull market, one factor that rarely works is Earnings Quality. In fact, the reverse is true. Investors want to take on more leverage and gain exposure to stocks that generally have more violent swings than the index - high beta. Thus the conservative high cash flow businesses tend to get ignored when times are good. The key to outperformance, in the eyes of the fund manager, is often the leveraged play that will only outperform while the music keeps playing, or until the tide recedes - pick your own metaphor.
With the market now alarmingly relaxed about the commencement of Fed tapering, it may be time to start identifying the firms that are only priced for the good times. One potential example is Avis Budget, where the share price has moved from under $11 to almost $37 in two years. How much of that is earnings-driven? Well, not enough - the P/E has expanded from 6x to 14x, well above the 2-, 5- and 10-year averages.
Avis recently bought the car-sharing company Zip Car for $500 million, moving into the faster growing 'new economy' area of car rentals, yet also facing operational challenges in terms of integration and cultural differences.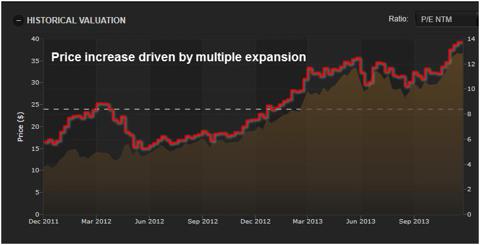 Source: Thomson Reuters Eikon / StarMine
Watch the insiders
From an Earnings Quality standpoint there are some challenges, with Avis Budget scoring in the bottom 11% for North America, driven primarily by its low cash flow score. Equally, the stock appears to be facing some headwinds in terms of the StarMine credit default scores and from a short interest standpoint.
So Avis Budget appears to be well-liked in the marketplace, with strong price momentum and analyst revisions as well as a moderate valuation. However when you look at the ownership metrics, we can see insider positioning tends to be negative and, perhaps most interestingly, hedge funds and other short sellers are starting to position themselves for a decline.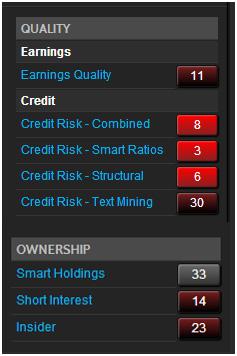 Source: Thomson Reuters Eikon / StarMine
Silver linings? Or clouds?
None of these metrics are, of themselves, conclusive, they simply indicate an interesting dichotomy in market views. The traditional quant measures of valuation and momentum remain positive - but dark clouds tend to be appearing. The company, carrying a large debt load, has unattractive free cash flow characteristics and the Smart Holdings data are also slightly negative. This model looks at the types of investment strategies that are de rigueur with investment professionals today, and assesses whether those strategies are likely to indicate an increase in institutional ownership or the reverse - and in this case it seems a decrease is slightly more likely.
From a sellside perspective the stock remains admired - with five buys and two holds outweighing a solitary sell recommendation. In terms of valuation, the median price target is $35.50 versus a recent close at $36.98, which highlights the limited support remaining from that valuation perspective.
To give you a sense of the importance of capex (the car fleet) in the Avis story, let's look at cash flow from operations versus net income. It's an attractive chart, with CFO exceeding net income in almost all recent quarters.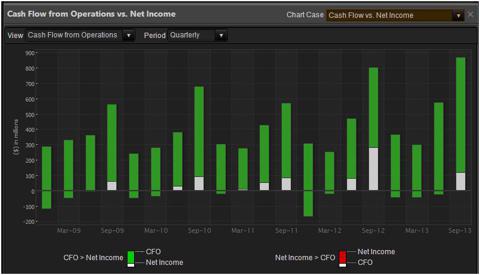 Source: Thomson Reuters Eikon / StarMine
Judging the trend
Yet if we look at free cash flow - i.e. a measurement after accounting for capital expenditures - then the situation seems less rosy. While credit markets remain accommodating, firms can exceed their debt limits significantly. Just ask the U.S. government. Yet looking at the overall trend in free cash flow, it's important to remember the investment axiom: if a trend is unsustainable - it will stop.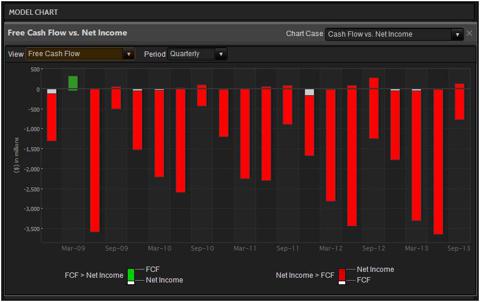 Source: Thomson Reuters Eikon / StarMine
Timing issues
Stock and equity markets can remain overly accomodating for years - Mr. Greenspan's prescient warning was delivered more than three years before the market truly reached its irrational zenith. So the timing of such concerns is always uncertain. When risk aversion does mount, it seems clear that it will be the stocks with strong, sustainable cash flow, able to meet the exogenous shocks at a corporate or economic level, that will possess the capacity for outperformance. And you can't rent a decent balance sheet.
Receive stories like this to your inbox as they are published. Subscribehere and follow us @Alpha_Now on Twitter or check out the Thomson Reuters Eikon blog. If you are looking to access Thomson Reuters data or analytics, register for a free trial.