Just as in real life with real people... investing time, money, and energy in a company can often lead to a love/hate relationship once the newness wears off. When the honeymoon ends, pesky things such as "expectations" start to come into play. If you feel your significant other is not keeping up, then it might have you questioning... is my significant other really who I thought they were?   
I am no stranger to flip-flopping. In fact, of the 3 articles (not blogs) I've published on SA, two of them were turning on an ex-lover. For example, with Delcath Systems (DCTH) in 2013, I was initially positive ('Improving the Bicycle' in Chemotherapy)... but then turned negative two months later (Too Many Red Flags to Hold Through May 2nd ODAC). Result: Five years later DCTH is down around 99.99%. 
Another company I turned on was CombiMatrix (CBMX) in 2014. Though once a shareholder, I never published a positive article on the name. Instead, I'd eventually publish an article on why the stock should be sold (Dark Clouds Gather Around CombiMatrix). Result: Four years later, the company is no longer in existence. However, it's not as bad as it seems... the company put itself up for sale and eventually found a buyer, but at a price considerably below where I recommended selling the stock. 
So... here I am again. Turncoat. Actually, that's not true at all. I'm simply an investor thinking the company might not be living up to current expectations. But let there be no doubt, our relationship started off HOT!    
To give you a condensed brief overview: I entered Protalix (PLX) in mass in Dec'16 after the company refinanced debt and raised capital. By early April I was up between 300%-400% in various accounts. Then came Adam Feuerstein on 04.12.17. I immediately began writing covered calls against my position. Over the next 10 months, I'd wash and repeat with options a total of four times. By the time my last set of covered calls expired in Feb'18, I'd accumulated about as much in option premiums as the current price of the stock (last trade: $0.57). 
However, with the expiration of the Feb options, it was clear that my covered call strategy would no longer be appropriate. The share price of PLX had simply fallen too much to make writing another cycle of $1 covered calls worthwhile. To provide some color... the Apr and May $1 calls were showing "no bid". I'd have to go out all the way to Aug to find a .05 bid on the $1 strike. Since, in my opinion, PLX held more (potentially much more) downside risk than .05/share prior to the Aug expiration, I knew it was time to pack up and leave.
Plan: To sell all my remaining shares upon the announcement of the  company's final ph.II OPRX-106 results (which were expected to be positive, based on prior interim results).
Goal: To be completely out of the stock ahead of the companies annual shareholder meeting on Apr 15.
Why?: Because the company is seeking to increase their authorized share count by 40% and would be calculating/revealing the voting results on Apr 15.
Expectation: If the vote passes, I suspect some sort of dilution event will be announced the next day, on Apr 16.
On Mar 13, the company released their OPRX-106 results. I sold all my shares into the volume at $0.66. I then alerted LQQKER INSIDER subscribers (the ones who owned PLX shares, anyway) of my trade and suggested they follow my lead. The next day, PLX would close at $0.58. The decision to sell all my shares was already paying off. 
                                          The LQQKER ALERT: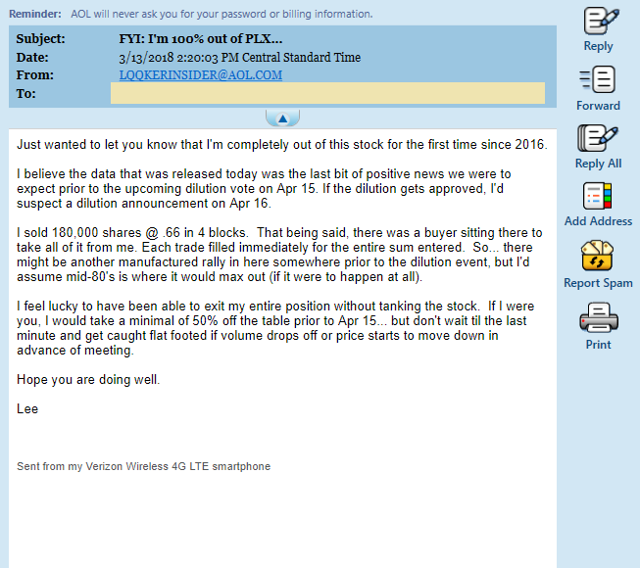 The LQQKER Protalix Exit: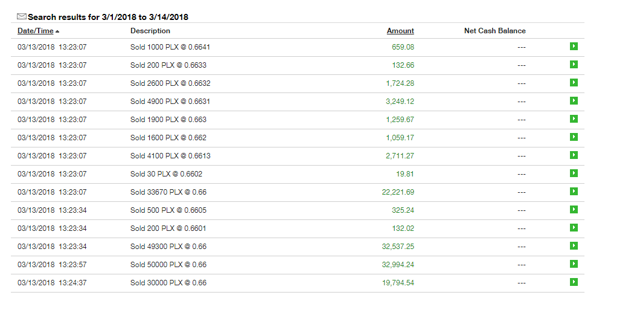 The 12 RED FLAGS (in no particular order):
Company is calling shareholders on their cell phones, begging for their affirmative vote to increase the share count by 40%.

Company forced to do "road shows" to increase awareness.

Moshe Manor - 41 months after becoming CEO, 38 months after announcing company focus to switch to bio-betters, 14 months after promising new indications in 2017... has yet to bring anything new to the table that didn't exist prior to his arrival. 
Final results on PRX-110 and OPRX-106 were less impressive than interim results.
Grant from Cystic Fibrosis Foundation for PRX-110... denied!

Brazil... now not living up to their 2nd agreement with company (for Uplyso).

198 employees that... do what exactly? A suspected "Friends and Family" work-from-home or sleep-at-the-office employment structure. 

Knight Therapeutics Inc - dumped all their shares after stating they wanted relationship with company and access to their pipeline.

Company is on Adam Feuerstein's radar.

Institutional ownership at/near lowest levels in over a year, at 4.77%, per NASDAQ. 

In Dec'17, the company changed/amended Section 10.07 of the Base Indenture with their creditors from Dec'16... appearing to tinker with the "Make-Whole" provision in a way detrimental to shareholders by 50%.
Part-Time CEO. On his Linkedin page, Moshe Manor doesn't even bother referencing an association with Protalix, past or present.   
So, do all the above spell impending doom for existing shareholders of Protalix?  Not necessarily, but (for now) I'm not willing to stick around to find out. While the deal with Chiesi Farmaceutici for Ex-US rights to PRX-102 was nice, it will take years before all the potential milestone funds can be extracted. In the interim, the company remains cash strapped (despite their claims to be funded through 2020) and continues to try to get shareholders to green light the issuance of more shares... a vote the company has failed to secure on at least two prior attempts.  
Speaking of the shareholder vote... though I currently own 0 shares, I was holding on the date required in order to secure the right to vote.
                                        The LQQKER VOTE: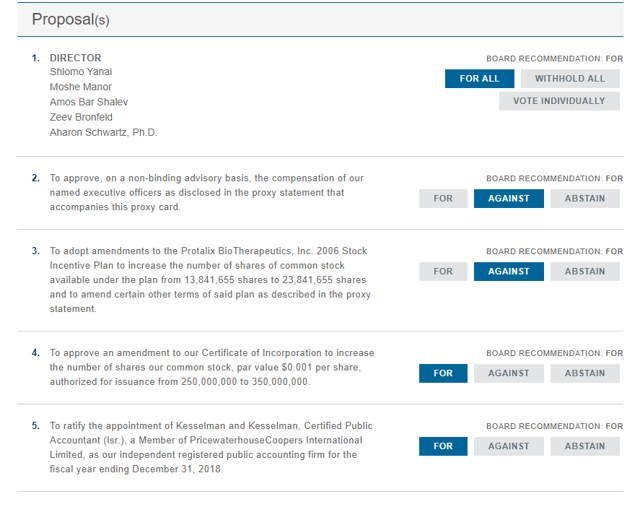 Though I could care less how people vote on proposals 1, 2, 3, and 5, I feel it's absolutely critical that shareholders vote FOR proposal 4, to increase the authorized share count from 250,000 to 350,000.
Over my 30 years of investing, I've noted many times shareholders being "sticks in the mud" in regards to these dilution matters. Ultimately though, the company is going to get the cash they need to fund operations one way or another. The easy way is to give them what they ask for. The hard way will be to reject their request and force them to get creative in a way that's likely to be far worse for shareholders. Trust me, the loan sharks are out there waving money around and you do NOT want this company to get in bed with them. It's better to go with the "known" versus "unknown".  Look at it this way... if the vote passes and the company dilutes, it could provide investors with their greatest opportunity since Dec'16 to buy shares on the cheap.   
Another potential bonus if dilution is announced...
On Apr 16, I'll be discounting my yearly LQQKER INSIDER subscription rate by a % equal to the % drop in PLX shares.... but for 1 DAY ONLY. Stay tuned!
Disclosure: I/we have no positions in any stocks mentioned, and no plans to initiate any positions within the next 72 hours.