Howdy folks!
Good to see you. Myself and the pet cat have been eagerly awaiting to publish our follow up to last years wonderful piece: 2017 YEAR IN REVIEW.
While 2017 could have been considered the "Year of the Cat", my 2018 was more "Year of the Dog". Why? Because this year we took a dog in that I was under the impression had been potty trained. This dog was sort-of gifted to us after an in-law retired and decided it was time to travel. I gave my blessings. After all, the dog was about 3 years old and considered an indoor dog. Well, as it turns out, the dog previously had access to a doggy door... unbeknownst to me at the time. I had almost installed one myself about eight years ago but ended up selling it on CraigsList instead. I did this after realizing I myself could squeeze through the opening. While not in an area known for crime, that was a deal breaker for me. Well, I'm happy to report that the dog is now almost fully potty trained. Sure, he still pisses on the floor every now and then and has ruined a few dozen planks of my beautiful white wood-like Pergo flooring (which now feature swollen outer edges) but I'm happy to report that he has completely stopped pooping on the carpet. On the flip side, I have found the dog to be an excellent guardian of my eldest son. So good, in fact, that it has been months since I've been able to get close to him... and despite having been bit twice, the dog has only drawn blood from me once. Hopefully by this time next year, the dog will have found a new home and I will have a new story to tell about my pets.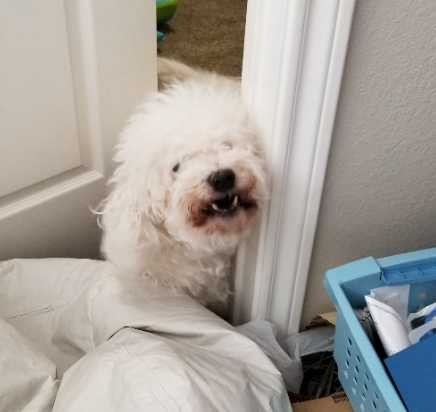 So, where shall I go next? Let's make it one of last years topics:
StockTwits (... and the remnants of Lqqker):
I'll keep the StockTwits portion brief this year.
I keep thinking LQQKER's short-lived legacy there will be allowed to slowly fade into the abyss but, due the Protalix (PLX) chatroom having become a full-fledged cult, my name has not yet been allowed to "rest in peace". Rarely do more than a few weeks pass without me noticing my name coming up in conversation again... despite the fact I was unceremoniously (for posting a picture of a siren and telling people to SELL SELL SELL) kicked off the platform 18 months ago.
Way too many people over there are still convinced that I never left and have simply assumed new identities. Sometimes my name is uplifted, sometimes it's spoken in a negative light. Sometimes they think I'm posing as a guy, sometimes as a girl, and sometimes as one of the newer 31 genders recently determined to exist between the male/female bookends by the State of New York (eat your heart out California). I like the drama. It's almost like reading/watching a soap opera. I find it entertaining and, truth be told, it does warm the heart. No one wants to simply be forgotten. I still love you peeps... each and every one of you crazy bastards!
Also, sorry, but I've got to bring up another pet. I need to come clean. As my friends on the Protalix StockTwits board may recall, a short time before the heavy handed ax came down upon my throat there, I posted a picture of my newest pet (at the time)... a silver dollar fish I named "Plex", in honor of PLX. I then opened the thread up for debate... What would happen first: Would PLX hit $1.50 or would Plex reach 1.5 inches? Would PLX hit $2.00 first or would Plex hit 2 inches?
UPDATE: PLEX WON!... and it wasn't even close.
Sadly, just like I dumped PLX, I'd end up dumping Plex as well. You see, unlike PLX, Plex started to grow exponentially. But he'd also move around too fast and aggressively and it was making his tank mates nervous. However, unlike the PLX story, this story has a happy ending. Plex was donated to a local fish store where I received a minor amount of store credit. My relationship with both Plex and PLX was nice while it lasted... but I don't miss either one of them. But I do miss my old StockTwits tank mates.
LQQKER INSIDER:
Okay, moving on to business, and because a picture paints a 1000 words... here are the 2018 LQQKER INSIDER results. A total of 47 stock recommendations, several of them played multiple times: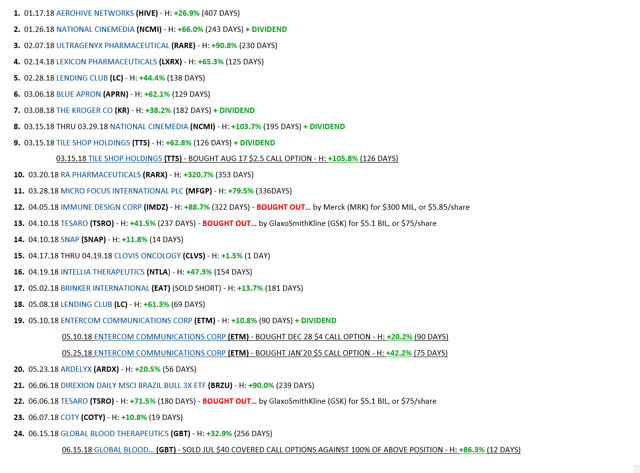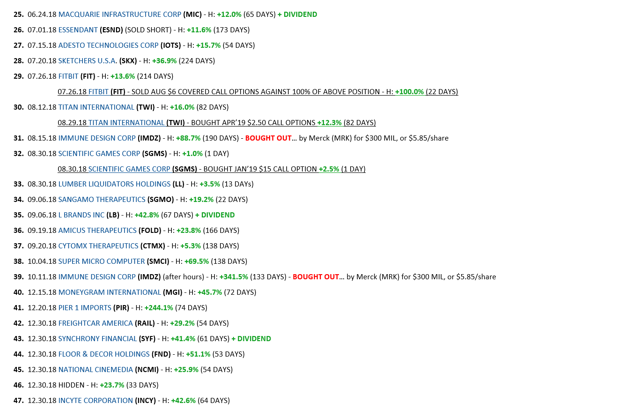 Note: The % return numbers above reflect the highest percentage gain from recommended price (price stock was trading at when LQQKER ALERT was sent out, and stated on alert) to its peak price since being recommended. All 2017-2019 LQQKER ALERTS and (and more) can be found on my website.
What I'm most proud of with these alerts are the long-term results they'd eventually bring. Very few of them maxed out immediately (ie: no pumps and dump turd stocks). As anyone reading my website will quickly learn, I'm not a fan of day traders, chart chasers, or crap stocks. I'm a quality over quantity guy and believe the long-term results seen above reflect that. I recommend stocks across all sectors and consider myself (mostly) a value investor.
Buyout Dig Out
Perhaps the greatest testament that I'm able to locate value is the fact that two of my seemingly worst performers in 2018 would eventually be bought out.
Case# 1: Immune Design Corp (IMDZ). IMDZ was my most frequently traded stock last year. I recommended it for purchase a total of three times in 2018 and once in 2017. This was a stock that seemed to love spitting out double-digit gains over short compressed periods of time, before fading again. It had become a wash-and-repeat type of play and insiders were pouring their cash into it by the tens of millions. Despite having become a great dance partner, IMDZ left us alone on the floor one night in October after announcing after hours that they were ending one of their drug programs. Digesting the news and market reaction to the news, I then sent out my last LQQKER ALERT on IMDZ... stating that I was buying the stock after hours as it was now trading below cash and seemed like a considerable overreaction. The company also stated they were essentially doubling down on their G100 platform as they believed it held more promise and thought it might someday be able to replace chemotherapy as a first line treatment against cancer. Four months later, in February 2019, partner Merck (MRK) bought out the entire company for $300MIL causing IMDZ's stock to close 309% higher. Value won out in the end.
Case# 2: Tesaro (TSRO). Where I initially went wrong with Tesaro was not waiting for OBV (on-balance volume) to confirm my feelings that the stock was severely undervalued. As a seasoned investor, I'm well aware of the fact that just because stocks appear cheap doesn't mean they can't get cheaper still. Perhaps what lured me in (besides the long, seemingly over-extended, 45% degree angle down) was that their PARP inhibitor (and supposedly weaker) competitor Clovis Oncology (CLVS) had just been able to raise $100 MIL by selling convertible notes due 2025 that only paid a 1.25% yield that were not convertible unless the stock hit $76.17/share. CLVS price at time of bond offering: $54.41. To me, there was little chance these bonds would have been so eagerly bought up with that wimpy of a yield if the stock was not expected to reverse soon. Clearly, I thought (and still believe), these people were not buying the notes for the yield. This was my "reading the tea leaves" that allowed me to ignore the yet-to-turn OBV.
Big Mistake! Both TSRO and CLVS would continue their losing ways for months longer and serve as prime examples the value of using stops. In fact, CLVS would end up coming all the way down to $11.50... at which point those poor bond holders would now need a 662% return to convert their notes to shares (hope their enjoying that 1.25%). Anyway, GlaxoSMithKline (GSK) would also eventually see the value in TSRO and bought out the company for $5.1 billion in December. Value won out in the end.
Also note a common feature with the stocks mentioned above. IMDZ, TSRO, and CLVS are all oncology (cancer) based companies. If you want an easy rule to live by when it comes to bio-techs, it is this one: avoid ALL companies in this field of study. Companies focused on cancer (and particularly small-cap ones) have exceptionally poor success rates. With gene editing and other new technologies coming along, this might slowly be changing... but the fact remains, this field is littered with company carcasses.
Year progression and Silence is Golden
2018 started out hot! In fact, my first 10 LQQKER ALERTS of the year (thru today) went up between 26.9% and 320.7% with an average return of 88.09%... and this does not include the dividends collected on 4 of the 10. Top performers: Rah Pharmaceuticals (RARX) followed by Ultragenyx Pharmaceutical (RARE).
Then came April. For awhile, my foray into the second quarter wasn't looking too hot. My first two recommendations (IMDZ and TSRO) appeared to have lost their way as the year end approached... but we now know how this would ultimately turn out. Buyouts of both, in Dec'18 and Feb'19 putting both trades heavily in the green... between 88.7% and 341.50% for IMDZ and between 41.5% and 71.5% for TSRO.
Things mostly meandered along during the summer months with my best performer being the the 3x leveraged Direxion Daily MSCI Brazil ETF (BRZU). While I don't normally recommended these types of products, I'd seen the exact same type of action play out with this ETF years previous with political turmoil in Brazil and figured it was worth another go. In fact, I actually recommended it one day too early which had me down 20% in 24 hours. But, like most crises, this one also eventually passed and brought a 90.0% return.
However, it's what I was able accomplish in the two month period between mid October and mid December that stands out as one of my biggest success stories of 2018. And how did I accomplish this "success"? By making ZERO RECOMMENDATIONS! The market was running out of steam and was starting to experience spikes in volatility not since since the financial crises a decade earlier. Ultimately, all major exchanges would end up flirting with bear markets with the NASDAQ leading the way down, down over 21% from its 2018 peak. As I told my subscribers, just because things appeared cheap, didn't mean they wouldn't get cheaper still. You don't piss in the wind. Instead of recommending stocks, I was building up my watch list.
On December 15th, I came out of my shell and ended up making 8 new stock recommendations by year end. Results through today: returns between 23.7% and 244.1%, with an average return of 62.96%. Top performer: a company headquartered a rocks throw away from me: Pier One (PIER). The company was crushed by the tune of 66% following a poor earnings report. The market was still on pins and needles and, in my opinion, was being way overzealous in the degree to which it was punishing bad news. I recommended that we take advantage of what appeared to be a huge overreaction. 2.5 months later it was up 244.1% (but probably not one to fall in love with).
Note: Do not fall in love with any stock.
So, will 2019 be able to match 2018 and 2017? Thus far, it's looking possible. Through today, 6 LQQKER ALERTS have gone out in 2019. Returns: between 7.4% and 51.1%, with an average peak gain of 29.91%.
Again, LQQKER INSIDER is about QUALITY, not QUANTITY.
RANDOM STUFF:
In no particular order....
1. I'm now being followed by SeekingAlpha CEO Eli Hoffman. Sure, he's following 1133 other people besides me, but that's still only 10% of SA contributors. Happy to have you on board Sir! Love the website, and especially having access to company conference calls and other peoples opinions.
2. Starbucks. If you have a Starbucks gold card and/or are set up on automatic bank draft, you need to be very careful. Over an 8 month period, I'm on my 3rd card. The first two were hacked and pulling funds from my bank account. Purchases were occurring in multiple states on the same day with my card, yet no red flags were raised at Starbucks. Unlike a legitimate credit card company, which would have frozen your account immediately, this went on for months before it was caught... and it was caught by me, not Starbucks. Then it happened again. I wrote about it here.
3. Radio Ads. I started a radio ad campaign earlier this year but had to change the wording ever-so-slightly after some listeners took exception to hearing the word "turd" on their business/news network. I was wanting to post a side by side audio comparison here so readers could vote on which they thought was best... but there's no ability to upload mp3 files here. Oh well. If readers want to listen to the turd version (my favorite) they can simply visit my website. Just for fun, I also feature a turd emoji on the back of my business cards with the caption "Stop Investing in Turd Stocks". :)
4. Health. Here's to you health...
I'm now (mostly) convinced that the entire cholesterol market is based largely upon a hoax... that high cholesterol is (always) bad.  
Q: What organ in our body is the biggest beneficiary and user of cholesterol?
A: The brain. (Some now think that low cholesterol is what's leading to increased rates of alzheimer's and dementia.)
Q: Which substantially decreases your odds of dying from cancer, low or high cholesterol?
A: High
Cholesterol links: here, here <-- worth the price, can be found elsewhere also.
I'm also entirely convinced that intermittent fasting is a key ingredient to long-term health and longevity. In fact, I believe that NOT EATING might have as much (or more) of an impact upon your health and lifespan than WHAT you eat. To put it simply, so long as food is in your stomach, your body will likely be preoccupied with it. However, allowing your body to go without food can free up time for it to focus on other beneficial things... such as getting rid of the bad guys and/or things not working properly.
For the past 17 months I've been following a 16/8 fasting cycle. That is, I only eat during an 8 hour window each day. For me, that time period is between 12:30 pm and 8:30 pm and my success rate has been close to 100%. Basically, I've just cut out breakfast (reality check: there is no such thing as "the most important meal of the day") and cut out eating/snacking right before bed.
Result: At 50, I weigh less than I did my senior year in high school and look as good (waist up) as I have since my mid to late 20's. In fact, right now, I believe I look more fit than probably 80% of those in their 20's-30's... though I'm sure I get more aches and pains due to the age thing. To get my butt to match my more youthful days, I'd have to get back to the gym and hit the squat rack. The legs are good-to-go, but only the squat rack will bring the bubble fully back. :)
Meanwhile, my exercise routine primary consist of push-ups (I can still do 65-80 per set), planking (typically 90 second to 3 minute holds), elliptical trainer, and occasional lunges with dumbbells... all done at the house. At 5'11", the heaviest I've ever been was about 197 and that was about two years ago. Now I'm usually at 174-177 with fluctuations between 171 and 179.
More recently, I've tried incorporating entire days with no food. For the past 5 months, with about 75-80% success, I've been going one day a week with no food. While honoring the sabbath is something I've long thought would be a good practice, it was the health aspect that pushed me over the edge... but I wish it had been the other way around.
Intermittent fasting links: here, here, here, here
CONCLUSION:
I will leave you with this... the theory of compound interest is the greatest theory of all time. It can be applied not just to finance, but to many aspects of life. You invest early (Vanguard funds, lets say) and keep plugging away, you'll likely someday have wealth. You take care of your body early and keep plugging away, you'll likely age gracefully. You develop good study habits early and keep plugging away, you'll likely have more success in college and as an adult. You instill the value of life in your children, you'll increase the odds of a better tomorrow for all children.
Hope you were all entertained and/or enlightened in some way.
See you next year. God Bless.
Disclosure: I am/we are long VWILX.
Additional disclosure: I may or may not have positions in any of the profiled stocks at any given time, but have owned most of them. I may also be incorporating the use of options as hedges and/or for leverage in any security that offers them.