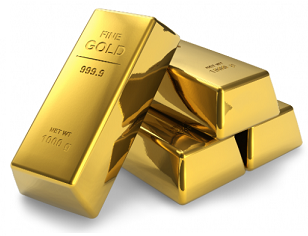 Gold (GLD) is generally regarded a precious metal that can serve as a hedge against inflation and an insurance policy for paper currencies and the high levels of debt that they often represent. Gold can also serve as a "go-to" asset in times of increased market volatility and geopolitical uncertainty. Geopolitical uncertainty appears to rule the day.

The Trump administration has been a revolving door since day-1. After only 6-months in office, the list of Trump administration officials that have been fired or have resigned is unprecedented in the history of U.S. Presidential administrations:

Sally Yates - Acting Attorney General
Michael Flynn - National Security Advisor
Preet Bharara - U.S. Attorney
Katie Walsh - White House Deputy Chief-of-Staff
James Comey - Director of the FBI
Mike Dubke - White House Communications Director
Michael Short - White House Assistant Press Secretary
Sean Spicer - White House Press Secretary
Reince Priebus - White House Chief-of-Staff

And of course Trump would love to fire Attorney General Sessions if he thought he could get away with it without huge blow-back from Congress - not to mention many Americans that still care about preserving American democracy.
There are even rumors that Secretary of State Rex Tillerson, one of the more well respected members of the Trump cabinet, has had enough and may resign.
Making matters worse were recent comments by incoming Communications Director Anthony Scaramucci about his plan to contain leaks:
I'm going to fire everybody, that's how I'm going to do it. You're either going to stop leaking or you're going to be fired.
Scaramucci claimed to have the full authority of President Trump to put his own stamp on the communications team. A source close to Scaramucci said that he's planning to bring in people from the corporate communications world in addition to conservative broadcast stars. This comes from a former hedge-fund manager that apparently doesn't know the difference between "on the record" and "off the record". Scaramucci appears much more qualified to make an appearance on the Sopranos as opposed to being the Communications Director for the (supposed?) leader of the free world.

But will Scaramucci's "strategy" work? Some are saying - after looking at the list of former administration officials who have been fired or resigned - that it isn't the people around Trump that are the problem. It is Trump himself. And that is confirmed and on display on a seemingly daily basis.
The latest comments from Trump appear to endorse police brutality. This coming from a President who on Tuesday night insisted that, except for "the late, great Abraham Lincoln," he could easily act "more presidential" than any president in history. Those comments were preceded the day before with a political rant in front of the Boy Scouts which failed to live up to the any of the values to which the Scouts aspire.
But what does all this have to do with gold?
The answer to that question was seen on Friday after the Republican's last-ditch effort to partially repeal the American Healthcare Act failed to pass. Gold responded with a $10.50/oz rally to the $1270 level: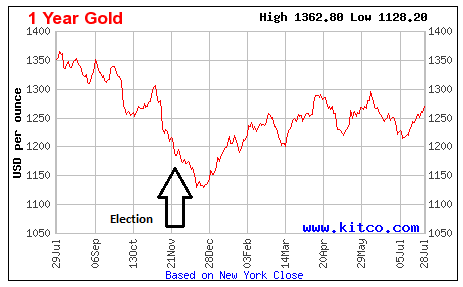 Source: Kitco
What is perhaps more remarkable, is that the rally in gold since the election has taken place in the face of three 0.25% interest rate hikes by the Federal Reserve - taking the Fed Funds rate from 0.5% to 1.25%:
December 14, 2016: raise from 0.50% to 0.75%
March 15, 2017: raise from 0.75% to 1.00%
June 14, 2017: raise from 1.00 to 1.25%
Just as remarkable is to have the Fed Funds rate increase from 0.50% to 1.25% in the span of 6-months and yet have the US$ Index decline. And not simply decline, but drop over 6%: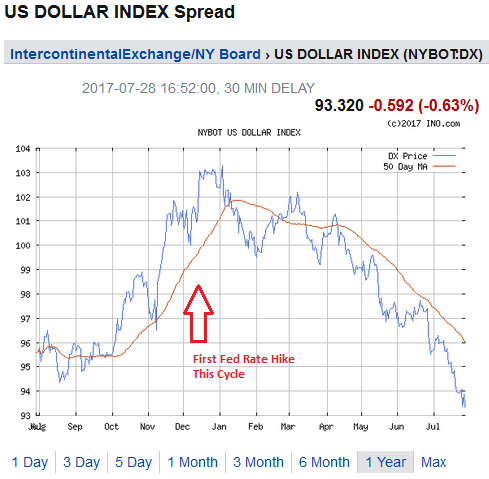 Source: ino.com
While it is certainly debatable as to the cause of the U.S. dollar decline, the large move on Friday implies it was primarily due to the Senate's failure to pass the "skinny" repeal of Obamacare. But it's more than that. Perhaps investors believe that Trump's agenda for pro-growth tax reform and infrastructure spending could be at risk. Or, perhaps the US$ index is simply suffering from massive political uncertainty in the White House due to the revolving door and a President that seems to have only one agenda: making provocative and un-Presidential tweets and speeches on a near daily basis.
Apparently, Trump also wants to tear down Americans' faith and trust in their government.
And that makes me wonder about the "Putin affect". Multiple Trump administration officials were obviously naive at best, ignorant at worst, with respect to their meetings with the Russians. My opinion is that in the early days of the Presidential campaign Trump didn't think had any chance to beat the Clinton machine. So what he wanted to do was "win" (i.e. profit) off the publicity and campaign notoriety as much as possible. The Russians - former KGB agents who are experts at their game - dangled some "business" (i.e. money) in front of Trump campaign officials (now in the administration...) and they went for it hook-line-n-sinker. Knowing how KGB agents operate, it is likely that they videotaped and recorded these meetings. As a result, it is possible - or even very likely - that the Russians now have the goods to "compromise" or even blackmail Trump and his representatives.

Could this be why so many Trump officials lied on their security clearance forms? To cover up these meetings with the Russians?
Could this be why Trump left Article 5 out of his first speech to NATO?
Could this be why Congress had to put restrictions on recent legislation to place additional sanctions on Russia for meddling in the election? Note the restrictions sharply limit Mr. Trump's ability to suspend or lift sanctions on Russia. ANd this was passed by a Republican majority.
Could this be why Trump has focused on U.S. voter fraud while doubting Russia's involvement in the 2016 Presidential election, even though the NSC, FBI, and CIA have all confirmed that Russian meddling did take place and assuredly will again in the future?

Could this be why Trump praises Putin and Russia while showing disgust and disdain toward nearly all of America's traditional democratic (and NATO) allies?
Could a case be made to revoke the top-level security clearances of the President and a number of officials in his administration?
These are valid questions because if Russia isn't behind Trump's words and actions, what else could explain them?

I've lived though lots of political "crises" in my life: Vietnam, Nixon impeachment, Iran-Contra, "Desert Storm", 9-11, the wars in Iraq and Afghanistan, and many others. In my opinion, the only crises that measure up to the crisis we have today in the White House was the Cuban missile crisis and the financial crisis in George W. Bush's last year in office.
For the reasons and questions listed above, I think the U.S. is now headed toward a Constitutional crisis. It is clear -from Trump's own statements - that he wants the Russian investigation shut-down. As the Washington Post recently reported, I think Trump will end up firing Attorney General Sessions and make a recess appointment to replace him. That person will then fire special counsel Robert S. Mueller and the Russia probe will be stopped in its tracks. Then I think all hell will break loose in Congress.
And if that happens, odds are we will see a major rally in gold. An article  by Armstrong Economics (see: How Did The U.S. Markets React During Watergate) points out:
Every major rally in gold was linked to a crisis in confidence centered around government. Such was the case during the Panics of 1864, 1869, 1893, 1907, 1929, 1974, 1980 and 1987. In each and every case, gold rallied when the full faith in government came into question. The extent of each rally was governed by the extent of concern in each situation.
and
The Watergate scandal of the early '70s was no exception. That scandal set off two trends as the story began to build in momentum. The bonds and stocks declined as gold rallied.
The moral of the story is that if Trump causes a Constitutional Crisis by firing Sessions and appointing a new AG that fires the special prosecutor in an attempt to stop the Russia investigation, he will likely be impeached for obstruction of justice. If that happens, you'll wish you owned some GLD and/or gold bullion.
Summary & Conclusion
It's a great time to own gold as an insurance policy against the geopolitical uncertainty introduced by the Trump administration. Politics aside, it would be unwise for investors to disregard the clear signs communicated to investors by the price action of gold and the US$ Index even in the face of three Fed Funds rate increases.
I will leave you with a 10-year chart of spot gold price: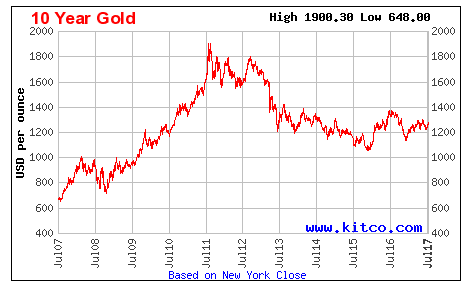 Disclosure: I am/we are long gold bullion.
Additional disclosure: I am an engineer, not a CFA. The information and data presented in this article were obtained from company documents and/or sources believed to be reliable, but have not been independently verified. Therefore, I cannot guarantee their accuracy. Please do your own research and contact a qualified investment advisor. I am not responsible for investment decisions you make.