Energy. Simply put, we cannot live without it. We use energy in different forms for different purposes. We need energy for transportation, industrial use, residential & commercial usage and electric power. This may come from various sources such as petroleum, natural gas, coal, renewables, nuclear energy etc. While each source goes up and down depending on the supply and demand and other market dynamics, we are on the verge of starting to see a shift in policy and a push towards cleaner fuel sources as we realize the effects of climate change. The recent Climate Change Conference in Paris is seeing renewed pledges for a push towards renewables and a continued shunning of dirty fuel sources such as coal. This article delves into the changing landscape of the energy sector.
The Changing Landscape of the Energy Sector
We have gone through some amazing fast-paced changes over the past few decades. After living on resources such as wood, steam, coal etc for thousands of years, we discovered oil (& gas) and went through a golden age of petroleum-based energy through the 19th and 20th century. With the availability of cheap oil came the freedom of cheap/affordable and fast transportation. Even to this day, petroleum remains the defacto source of energy for transportation.
We derive energy from various sources and use them for various applications, as mentioned in the introduction above. In fact, we can see a criss-cross of sources and economic sector usages from the image below - which indicates the usage in USA and presented by the US Energy Information Administration (NYSEMKT:EIA).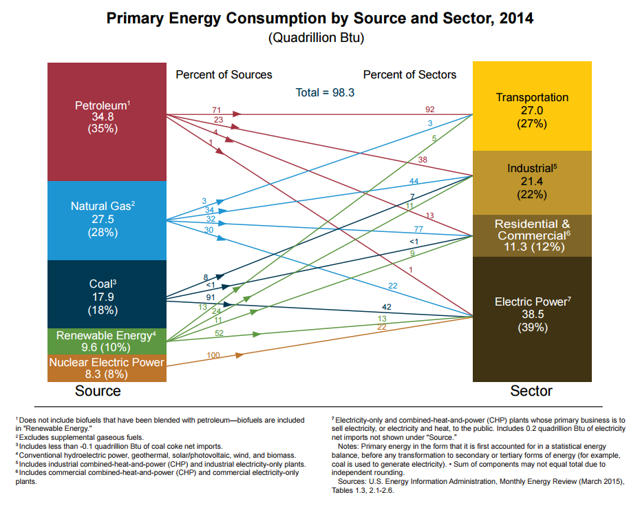 What does the global picture look like? The following image (source) shows the trend upto 2013 and still shows that all sources including dirty fuel (COAL) usage is increasing thanks to adoption by emerging economies. However, the rhetoric is increasing and more education of the effects of climate change is causing politicians to take action - as has been evident with the latest press coverage from the Climate Change Conference in Paris.
Disclosure: I am/we are long GE, CVX, KMI.