Welcome to the annual 2015 update. This is part of a series where I track our financial progress on a regular basis. I present four parts in this series: (NYSE:I) Investment & Portfolio Update, (ii) Passive Income Update, (NASDAQ:III) Blog Update, and (iv) Goals Update.
1. Investment & Portfolio Update
2015 saw some great amount of activity in our portfolio. We initiated/added to various positions and closed one position that did not fit into our portfolio. I present the following image which summarizes all the purchases (31 in total excluding the regular ETF purchases), all the sales (just one this year), all dividend increases (35 in total) and the dividend cuts (just one) in my portfolio.
In my wife's portfolio, we initiated a new ETF portfolio and moved from the traditional expensive mutual funds. Click here to read details about my wife's portfolio and why we chose the route of index ETFs.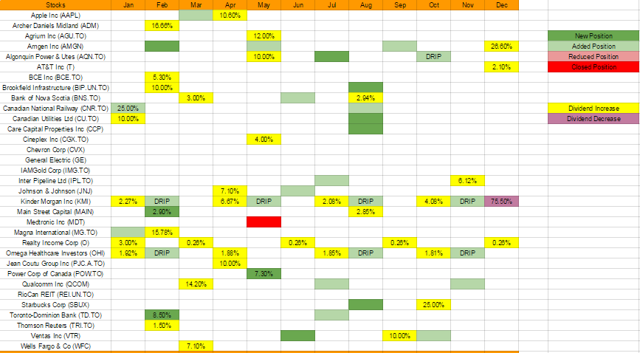 Overall, I am pretty pleased with the purchases made. Lots of fresh new money put into the portfolio and the cash put to work in investments. Most of the dividends received were reinvested back into the investments, thus ensuring we compound our growth going forward.
Companies listed without any activity during the year (such as CVX, GE, and IMG.TO) mean that we did not add or remove these positions in our portfolio, nor did those companies have any change in dividend policy. These investments remain dormant in our portfolio.
Disclosure: I am/we are long AAPL, ADM, AGU, AMGN, T, CNI, MGA, JNJ, KMI, MDT, MAIN, O, OHI, QCOM, SBUX, TD, WFC, VTR.