I have broken the one rule that dividend growth investors never dream about doing and Im sure this will not be a popular post with the community. I sold part of my portfolio and took some of my money off the market! I have been antsy over the past few months and decided that for the sake of my sanity, I needed to move part of my portfolio to cash. This was the easier part of the decision. Which stocks to sell? That was much harder to decide. This post details my recent sales in the portfolio and provides my reasoning.
As most investors are aware, buying is the easy part. Its the sale: when to take the profits? or when to cut your losses and re-evaluate your investment thesis? -- that is the hard part. Dividend growth investing, while I still really like the overall concept, can cloud this judgement a bit. Being "paid to wait" (dividend payments on a regular basis) is a double edged sword. There are countless articles out there which detail why this is the best thing since sliced bread, so I will not rehash the idea. But the flip side of this argument is that investors become too complacent risking a lot of their capital for very little reward.
Reason # 1 - Insanity in the Market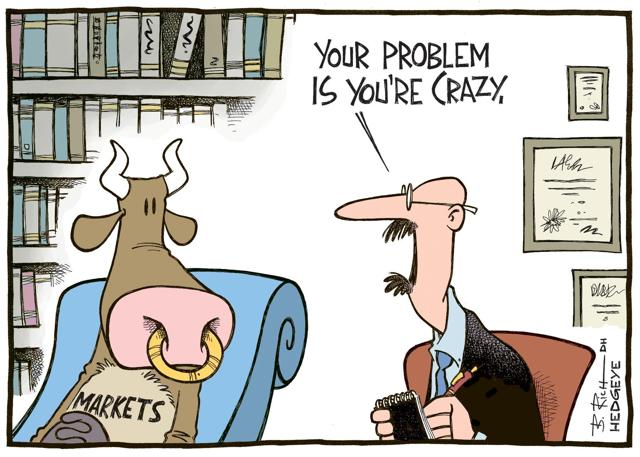 Image Source: Hedgeye
This market is crazy. There is no other way to put it. There are plenty more high-profile institutional investors, with far more resources than retail investors, who have been sounding the alarms. But like I have learned during the previous cycle (in the lead up to financial crisis of 2008/2009), I dont buy their arguments simply because they say so. I decided to listen and read through their reasoning (for e.g., see Jeff Gunlach's latest presentation, and Stan Druckenmiller's latest presentation) and looked at the data. The data doesn't lie. And as far as my limited understanding goes, I can see why this market cannot continue its run higher, without some bloodletting.