Background. On 7/15/2014, Reynolds (NYSE:RAI) announced that it plans to buy Lorillard (NYSE:LO) for $50/share in cash and 0.2909 share of RAI stock. The cash portion will be funded with debt raise, investment from BAT, as well as selling off Blu eCig & other brands to Imperial. LO stock traded down to $60/share. RAI traded down to ~$59.
The trade: Buy LO; short 0.2909 shares of RAI. Pay $60 for LO, get ~$18 for shorting RAI = Net cash outflow of ~42/share. This effectively locks in $50 of cash for an 18% gain if deal closes.
I have not decided to enter this trade - still taking notes and gathering some considerations here. Due to the asymmetric risk and reward profile, this would not be a large position.
RAI-LO merger arbitrage considerations
o Deal expected to close 1H 2015. Let's say June and we're looking at a little less than a year, so IRR will be > 18%. Call it 20%.
o Likelihood of success? First, Lots of approval are needed: from shareholders of LO/RAI/Imperial, as well as FTC. Should be no problem from RAI' end as it is 42% owned by British Tobacco. But will LO shareholders approve? LO shareholders might not like that they'll be selling off Blu brand.. This leads to the second question. Does the deal make sense? I question the value of the deal without Blu, and the fact that RAI just took on more menthol risk.
o Risks that are partially protected/offset by RAI short. Lack of regulatory approval is a risk that could be partially offset by RAI short. There's also capital market risk in that both Imperial Tobacco PLC and RAI will be using debt financing.
o Risks that are not protected by RAI short
If menthol regulation get worse then that would hurt LO disproportionately. This risk has been around for at least 3 years and all parties are well aware of it.
Due diligence finds something wrong with LO.
Management positions beyond CEO roles are still being sorted out. Politics could sink the deal.
LO has union employees who might oppose this.
Risk & Reward:
o 18% gain if deal closes.
o What kind of losses am I looking at if deal fails? If LO falls back to ~$48 (before media speculation started), then we're looking at 20-40% loss depend on cost of closing out RAI short. I think losses would be at the better end of that range since RAI stock also had benefited from the potential merger.

o Correlation between the stocks increases the chance that shorting RAI will be an effective hedge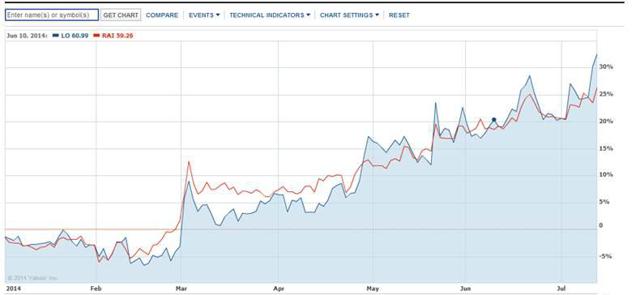 Notes on deal impact
Combined RAI/LO:

Camel and Pall Mall, Natural American Spirit, Grizzly and VUSE; + Newport
Pro-forma: $10 billion in revenue, ~32% market share

Imperial gets

KOOL / Salem / Winston / Maverick / blu brand.
In addition to the brands, Imperial will acquire certain assets currently owned by Lorillard including our headquarters, manufacturing and R&D facilities in Greensboro, North Carolina, as well as LO's facility in Danville, Virginia and approximately 2,900 employees, including its national sales force.

Management placement:

RAI's CEO, Susan Cameron, will lead the combined RAI / Lorillard.
Murray Kessler, Lorillard's CEO, will be joining the Board of Directors of RAI.
Martin Orlowsky, former CEO of Lorillard, will be joining as Executive Chairman Designate of Imperial's U.S. business
The remaining management positions will be named at a later time.

$800 mm of cost saving on runrate basis - I question how this works as RAI will have no job reductions and LO will have minimum cuts..this is just from selling to Imperial?
LO Retirees: "no effect on your pension or benefits. All retiree benefits are fully-funded and you will continue receiving all payments and benefits as you usually do."
Disclosure: The author is long LO.