The market's technical damage of the last week has been severe.
The stock market began its near-vertical climb in late 2012. Since that time, the 126-day moving average (DMA) and 280-DMA have served as major lines of support for the bull market.
The 126-DMA acted as initial support whenever the market began to lose momentum. And if the 126-DMA was taken out by intense selling pressure, the 280-DMA acted as CRITICAL support, as it did in October 2014.
Last week we sliced through both lined without any difficulty what-so-ever.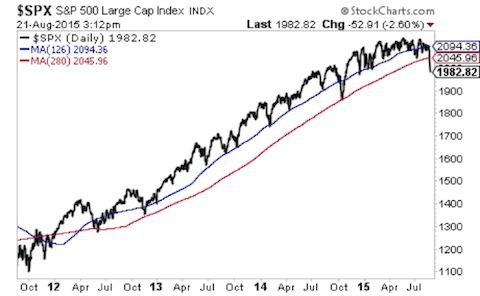 Investors must now assess two key questions…
They are:
1) Will the Federal Reserve intervene in the market with a new monetary policy (likely QE)?
2) If the Fed does intervene, will markets RESPOND to it?
#1 is an absolute certainty if the markets fall far enough.
In contrast, #2 is an uncertainty. When China's stock bubble burst a few months ago, the Chinese regulators reacted by freezing the markets, banning short-selling, arresting short-sellers, and pumping tens of billions of Dollars into the market.
Despite this, Chinese stocks continue to crater.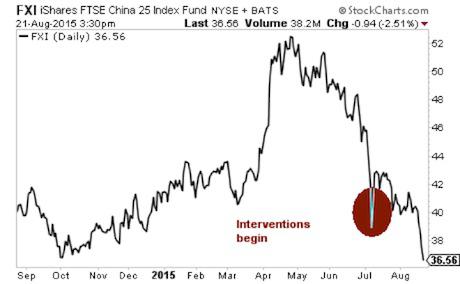 This is an absolute first: stocks NOT reacting to Central Bank intervention. And it signals that we may in fact have reached the point at which Central Bank interventions no longer "save" the markets.
If this has happened, and the investment world has reached the point at which it no longer has faith in Central Banks' abilities to prop up the markets, then THE major crisis of our lifetimes is here.
If you've yet to take action to prepare for this, we offer a FREE investment report called the Financial Crisis "Round Two" Survival Guide that outlines simple, easy to follow strategies you can use to not only protect your portfolio from it, but actually produce profits.
We made 1,000 copies available for FREE the general public.
As we write this, there are less than 15 left.
To pick up yours, swing by….
Best Regards
Graham Summers
Chief Market Strategist
Phoenix Capital Research