Unfortunately the GBPCHF setup we recently discussed didn't work out as anticipated and the channel pattern was broken to the upside.
Losses are o be expected and that's when the power of positive risk reward money management comes in and keeps us ahead of failed trades.
Today looking at a potential long term breakout on the USDJPY...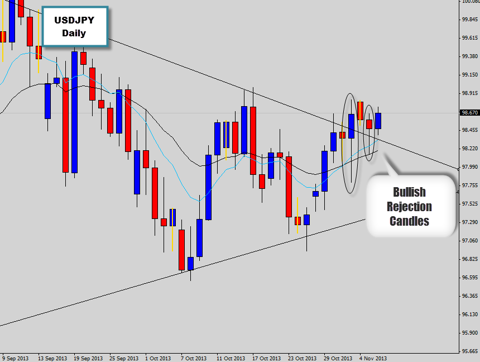 USDJPY is a market that we have been steering clear of most of the last part of this year. At the beginning of the year we had many bullish price action trading opportunities with the powerful trend that was present on the daily chart. But since then the market has been stuck in a long term consolidation pattern.
Last week, the market closed with a strong bullish rejection candle that closed outside of the squeeze pattern and we discussed in our war room weekly commentary to watch for further bullish signal to get us in on a potential breakout.
Last session the daily candle closed as a bullish rejection candle, signaling further upward movement is most likely. If the bullish momentum continues would could be looking at the next bullish trend extension on the Yen pairs. We will be continuing to look out for further bullish price action signals to jump in to the developing trend.