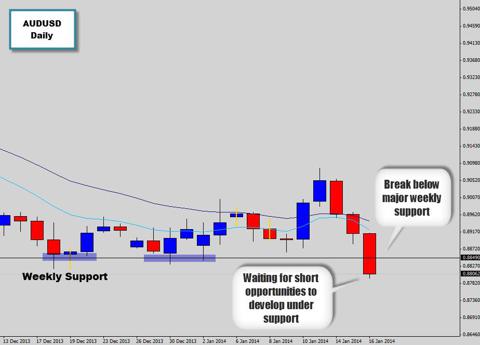 A major price action event took place on the AUDUSD today during the Asia session. The market broke down below a major weekly support level that was acting as a major long term containment line for the Aussie. A quick check on the economic calendar tells us the unemployment figures were disappointing, firing up the Australian Dollar bears.
We are now driving into very fresh lows and the dynamics of the chart are looking very bearish again indeed. As long a price stays underneath the support level as bias will be to the downside. We will be on the lookout for any bearish trading opportunities that form as a price action signal. There is no point just selling now as that would bechasing price, which is something we do not do.
The best place for a short trade to form would be on the underside of the breakout level, as the market test, and confirms it as new resistance. Something like a rejection candle or a breakout trap & reverse trade here would be very inviting to short into. The most important piece of information at the moment is going to be how this daily candle closes.
It's quite possible that the market will regain strength during the London/New York session and close back above resistance, which will change our stance on the situation completely, but if price remains on the low side of the weekly level then this chart has plenty of open space to move to the downside.