I've been looking at two major credit card ETFs lately, Mastercard (NYSE:MA) and Visa (NYSE:V). To get an overview of their behavior, take a look at this graph from CNBC.com: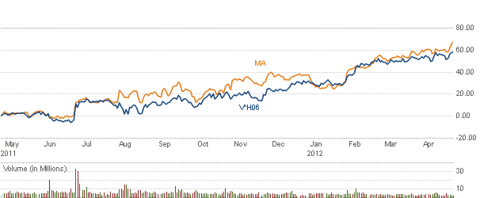 The behavior of the two stocks has been quite similar over the past year but there are some distinctions between the two. Mastercard's 52 week range is $204.01, while Vista's 52 week range is much smaller, only $51.11. Therefore, MA is more volatile as its stock value changes faster. Interestingly, both companies have no debt.
Also, the beta factor of MA has decreased in the recent time period, while that of V has increased.
Candlestick graphs are always great to have access to. Here is one for Visa (over 6 months):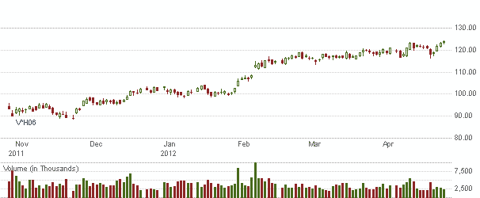 While Visa has been going primarily upward, it has yet to "fill in a gap" that was created a little less than three months ago, around the beginning of February 2012.
Particularly recently, the stock alternates between having a few bearish days and a few bullish days, and as a result, since this began to happen, the price of the stock did not changed much (during that time period).
In conclusion, it seems that either choice would be risky, and a this point I would be hesitant to buy or short either stock. However, because of MA's higher price (and therefore a higher probability to gain or lose more), then if you really want to buy one of these, go with Visa if you are a conservative investor, or Mastercard if you are willing to take a fairly large risk.
Thanks to cnbc.com for graphs and seekingalpha.com for data.
Disclosure: I have no positions in any stocks mentioned, but may initiate a long position in V, MA over the next 72 hours.