The bear case against our latest "Dividend Stock in Focus", SLM Corp. (NASDAQ:SLM), is focused on two things. The first is student lending is in a bubble.
The evidence is all here: Rising delinquency rates, rising cost of said loans, and anyone can get one, regardless of their ability to pay. The assumption is that after graduating with a degree, the debtor will have a job that can easily manage the student loan payments. This was a safe bet before college tuition spiked by 300%+.
The second premise is when the student loan bubble pops, SLM Corp (SLM) will feel the most pain.
Clearly, this is a macro event in the making. With outstanding student debt reaching $1 trillion, even an 11% default rate translates into a $110 billion loss. A 20% default rate pushes this number to $200 billion, and that would have a devastating effect on the Street.

But while there is no instrument to short the student loan market directly, I have found something even better.
Their "something better" is SLM Corp (SLM).
Costs for college and student debt are rising much too fast. However, these two articles fail to address the structure of SLM Corp's loan book and how little of an effect the potential bursting of a "student loan bubble" would actually have on Sallie Mae.
FFELP Loans
The largest part of Sallie Mae's loan portfolio is the book of over $106.3 billion (as of 9-30-2013) in FFELP loans. These loans are guaranteed up to 97% of their principal and accrued interest by the U.S. government.
Our FFELP Loans segment consists of our FFELP Loan portfolio and the underlying debt and capital funding the loans. FFELP Loans are insured or guaranteed by state or not-for-profit agencies and are also protected by contractual rights to recovery from the United States pursuant to guaranty agreements among ED and these agencies. These guarantees generally cover at least 97 percent of a FFELP Loan's principal and accrued interest for loans disbursed. In the case of death, disability or bankruptcy of the borrower, these guarantees cover 100 percent of the loan's principal and accrued interest.

-From 2012 SLM Corp. 10-K
Private Loans
Sallie Mae's private lending arm, the division soon to be spun off, is not like the subprime housing lending the two articles would like you to believe.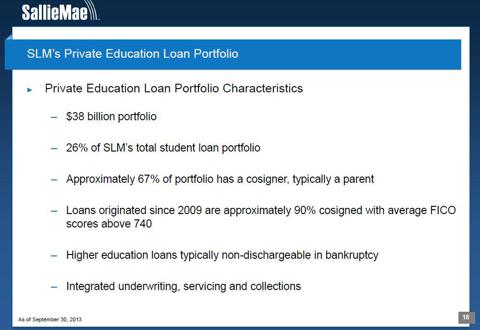 Majority of Sallie Mae's Private loans have a co-signer and the most recent loans are almost all co-signed, usually by a borrower's parents. Not only does the student borrower have to default, the co-signer does too. Plus, earlier private loans, pre-2009, have already been seasoned through the 2008 financial crisis and the charge off rates on these loans have been declining.
The majority of student loans, FFELP and private, can not be discharged in bankruptcy. A rise in default rates does not necessarily mean a equivalent decline in recovery rates.
Disclosure: I am long SLM.
Additional disclosure: Clients of American Money Management LLC may also have exposure to the stocks mentioned in this article.