Financials currently receive the largest weighting in our Dividend Strategy and we are given a couple more reasons below to stay overweight.
From BCA Research's blog and the re-acceleration of credit creation.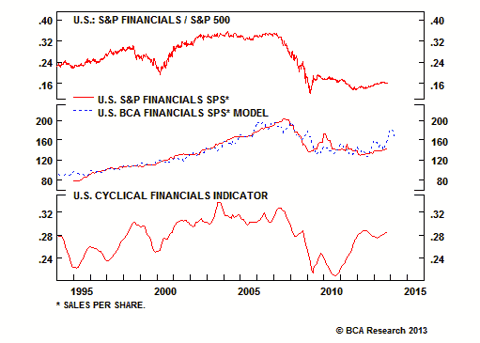 C&I loans have spiked up to challenge their 2008 peak, and the corporate sector is shifting back to expansion mode. M&A activity is perking up, new issuance is booming, and the corporate sector financing gap has nearly fully closed, indicating that external capital requirements are headed up. Consumer deleveraging is far advanced, and the surge in asset prices is boosting consumer wealth to the point where confidence has improved by enough to spur strong durable goods purchases, such as autos and housing. Our Financial Sector Sales-Per-Share (SPS) Model is soaring, and is by far the strongest among all ten of our sector sales models, reinforcing that credit creation is set to accelerate.
From BAML via The Reformed Broker on banks outperforming the S&P 500 when the yield curve steepens.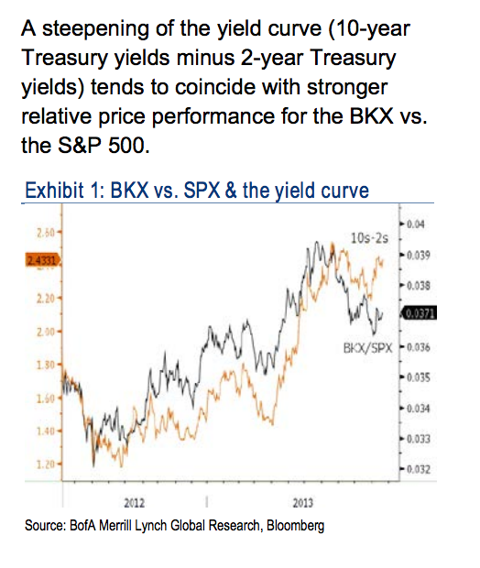 The KBW banks Index (BKX) is consolidating within the rising channel from late 2012 and is set up for a breakout that would set up a rally to channel resistance at 74-75. A break above 67 for the BKX would complete the bullish consolidation…

Also, a steepening of the yield curve (10-year Treasury yields minus 2-year Treasury yields) tends to coincide with stronger relative price performance for the BKX vs. the S&P 500.
Sources:
BAML: Here comes the big bank breakout (The Reformed Broker)
U.S. Financial Stocks: Stay Overweight (The BCA Blog)
Disclosure: I am long JPM, WFC.
Additional disclosure: Clients of American Money Management LLC may also have exposure to the stocks mentioned in this article.