In my opinion one of the biggest issues surrounding the prescription anti-obesity space is insurance coverage. At this point Arena's (NASDAQ:ARNA) Belviq and Vivus' (NASDAQ:VVUS) Qsymia have about 30% to 35% insurance participation with most that are covering carrying these drugs at high level tiers.
In order to combat the lack of insurance coverage both companies have initiated rebate programs to help offset consumer costs. More insurance coverage leads to more willingness by consumers to try these products. When more consumers embrace prescription anti-obesity medications sales increase. Increased sales then translate to a healthier bottom line. Essentially the greater the insurance coverage, the better the stock prices will be.
This week Arena's Belviq got some positive news on the insurance front by getting coverage on the Tricare formulary as well as some Blue Cross Blue Shield plans. This follows an announcement last week from Vivus detailing better coverage with Express Scripts and Medco.
The Tricare formulary covers employees of the Department of Defense and their families. Several million people are included in the plan, so this is an important step. While it would be tempting to think that other government insurance programs will follow suit in short order, let's take this a step at a time. Currently Belviq is the only anti-obesity drug covered in the Tricare system.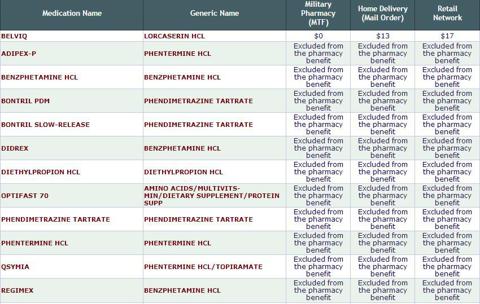 One thing that I have oft stated is that it is important for investors to watch the sector as a whole. When Vivus makes progress on insurance with Qsymia it will likely benefit Belviq in conjunction. The same is the case when Belviq gets insurance news. If you are invested in the sector it matters not which company makes positive traction with insurance. What matters is that we see traction.
Arena partner Eisai is responsible for reaching out to the insurance industry. Eisai has indicated that it is targeting 40% coverage by the end of this year, and 50% or more by the end of next. Landing Tricare is a testament to having a big partner with the manpower to handle getting insurance in bigger swaths rather than dribs and drabs.
What investors want to watch for is any news regarding insurance. These positive events seem to go under the radar much more than they should.
Disclosure: I am long ARNA. I wrote this article myself, and it expresses my own opinions. I am not receiving compensation for it (other than from Seeking Alpha). I have no business relationship with any company whose stock is mentioned in this article.
Additional disclosure: I have no position in Vivus