The fact that prescription sales numbers have more of a challenge during a holiday week should not surprise anyone. There are less days for a product to sell. What we need to consider though is that "compelling" products that are in demand from consumers still usually find a way to clear the holiday hurdle and show continued growth. This past week Vivus (NASDAQ:VVUS) saw an 8% decrease in sales vs. the prior week. Essentially we have seen sales levels of Qsymia level off for the last 8 weeks. While the concept of an anti-obesity drug seems compelling, the reality of sales levels is demonstrating that the growth process may be very slow.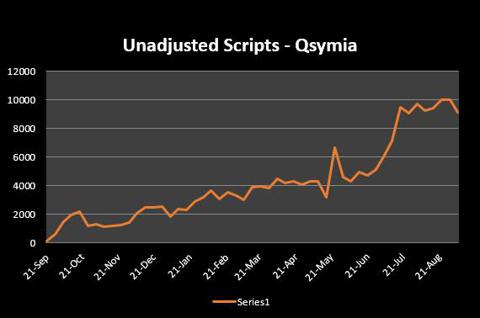 Even if you adjust the scripts up to account for sales not captured by IMS Health or Symphony, there is no denial that an 8 week span of flat or negative growth is no instilling any confidence in the potential of the anti-obesity space. Vivus needs to see some compelling growth in sales. If sales stagnate at current levels it will be difficult at best to seek out a partner for Qsymia or keep pace with cash burn rates at the company.
A year ago the anti-obesity space was ripe with potential. Now we see that perhaps the competitive environment is such that a lot of the potential is evaporating away faster than the pounds this drug is supposed to help consumers remove.
For the prescription anti-obesity sector the challenges are getting insurance companies to cover these drugs, getting doctors to prescribe them, and getting consumers to accept them. For Vivus there are added considerations that pressure the equity. New management, and the lack of a partner can also make investing in this company a challenge.
On a positive note the drop in sales of 8% from Qsymia was better than the 14% drop experienced by competitor Arena (NASDAQ:ARNA) with its drug Belviq. That being said, sales of phentermine seem to be much more immune to the holiday week issue. Phentermins typically sells between 130,000 and 150,000 scripts week in and week out.
Next week Vivus has a shot at getting back up to an unadjusted script number of over 10,000. It would be a step in the right direction, but if we want to see sector traction, we need to get to 12,000 and then 13,000 without seeing weeks or even months pass by essentially treading water.
Longer term investors initially bet on the potential of anti-obesity drugs because of the size of the potential market. After a full year on the market Qsymia is having trouble even getting past 10,000 in weekly prescriptions. Having patience is one thing, but the real issue seems to be a lack of patients (consumers) gravitating toward prescription treatments for weight.
Disclosure: I am long ARNA. I wrote this article myself, and it expresses my own opinions. I am not receiving compensation for it (other than from Seeking Alpha). I have no business relationship with any company whose stock is mentioned in this article.
Additional disclosure: I have no position in Vivus