This week, SA declined this article under the standard program, thus, readers will get it in an Instablog format.
As was anticipated, the week over week growth in prescription sales from Arena Pharmaceuticals (ARNA) looks very impressive at first glance. After all, being up about 24% sounds very nice. The main factor in the 24% gain is that the numbers from last week, which was down 27% included the Thanksgiving holiday. The dip last week should have been expected by investors, just as the rise this week should be expected. However, the majority of investors do not necessarily follow the sales data closely, and thus a market reaction can ensue with the data. Last week we saw a sell-off. This week we saw Arena begin a recovery ahead of the news, but what is appearing to be a sell off of sorts after the news. Essentially, scripts did not get back to pre-Thanksgiving levels, but instead came up almost 500 scripts short of the numbers two weeks ago, prior to the holiday
Services such as IMS Health and Symphony Health provide sales data on hundreds of prescription drugs. Investors use this data to see if actual sales are aligning with expectations. In the case of Arena, what investors are looking for is growth in Belviq sales on a continued basis. The short term reactions on weekly sales are usually tied to what type of growth we are seeing. A modest move in the equity usually correlates to a modest gain in the sales pace. An aggressive gain in the equity can be tied to a growth pace that is showing singes of exceeding expectations.
To simplify this consider that, at this point in time, typical weekly gains of 4% to 8% are pretty much expected. Taking out holiday anomalies, we should anticipate that if sales growth is within this range that the equity reaction will be mild. If we were to see a week over week gain (in a normalized week) of over 10%, it would demonstrate that traction in sales is developing in a way that is more positive than anticipated. Thus, when I say something to the effect that it would take a 10% gain in sales to drive the stock, I am not referring to a 10% increase in perpetuity, but rather at this point in time.
This week sales were up 24% (unadjusted) according to IMS Health. Script sales fell short 5,000 (unadjusted) and seem to have demonstrated a partial recovery from the holiday week. Ahead of us, we should now have two weeks of reported gains (numbers reported on 12-20 and 12-27) before we see our next holiday anomaly for Christmas week (numbers reported on 1-3). The numbers reported 3 weeks from today (1-3) will include the Christmas week. The number reported 4 weeks from today (1-10) will include New Years week.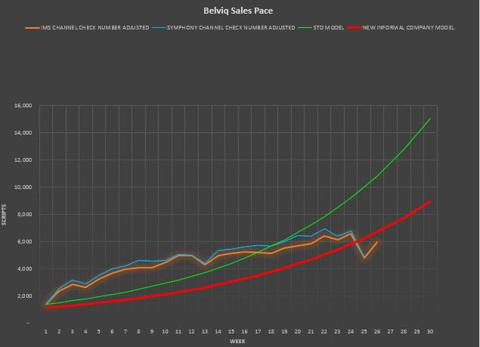 In looking at the chart we can see that sales have been progressing at a modest pace. I adjust the numbers upward to account for prescriptions written where a patient fills a few months at a time, under-reporting, etc. I have gross sales (to consumers) for the year at $23,968,109. Gross sales are what is used to determine blockbuster status ($1 billion of sales in 1 year). Arena is paid a percentage of net sales, not gross.
Overall, in this sector, there were some very lofty sales projections made. Arena, as well as competitor Vivus (NASDAQ:VVUS), have had sales figures well below those expectations. A new investor considering this sector may look at the stock chart since launch and wonder why this equity has seen such a dramatic shift down. The easy explanation is that sales expectations (right or wrong) were not being met. That being said, there is an opportunity here if you look at catalysts that have potential to carry impact in 2014. These catalysts include broader insurance coverage, more advertising, a bigger sales force speaking to doctors about Belviq, and the fact that weight loss as a sector tends to sell more in the first 6 months of the year.
In the very near term we should have 2 more growth weeks reported followed by a dip for Christmas week, and sales in the New Year's week low as well. After that, we should see a normalized pace for several weeks. It is during this period that we want to see traction increase. Those that know what to look for because they follow closely can profit from their knowledge.
In my opinion, as 2014 begins to take shape, sales expectations will be formulated by the street. One big goal for Eisai, the marketing partner of Belviq, will be to be able to report something good at its fiscal year end, which is March 31st of 2014. In my opinion, Eisai has every reason to develop a hard push with the beginning of 2014. This could bode well for those invested into Arena at the right price. Stay Tuned!
Disclosure: I am long ARNA.
Additional disclosure: I have no position in Vivus