This topic often arises when trying to discuss any of the drugs in this sector. Depending on what company an investor is in, often determines what spin will be applied. Arena investors love to tout safety. Vivus investors love to tout efficacy. Contrave investors love to tout that they are in the sweet spot between Belviq and Vivus. Meanwhile, Novo Investors are simply a pretty quite bunch invested in a massive big pharma company and not very worried about the debates such as this.
That being said, I have taken the time to list all side effects over 2% according to the FDA label on Belviq, Contrave, Qsymia Low Dose, Qsymia Mid Dose, Qsymia High Dose, and Saxenda. I took the ratio of a side effect vs. the placebo to arrive at a number. That number was then assigned a rank from 1 to 6 with 1 being the best and 6 the worst. There were safety advantages and disadvantages to each drug.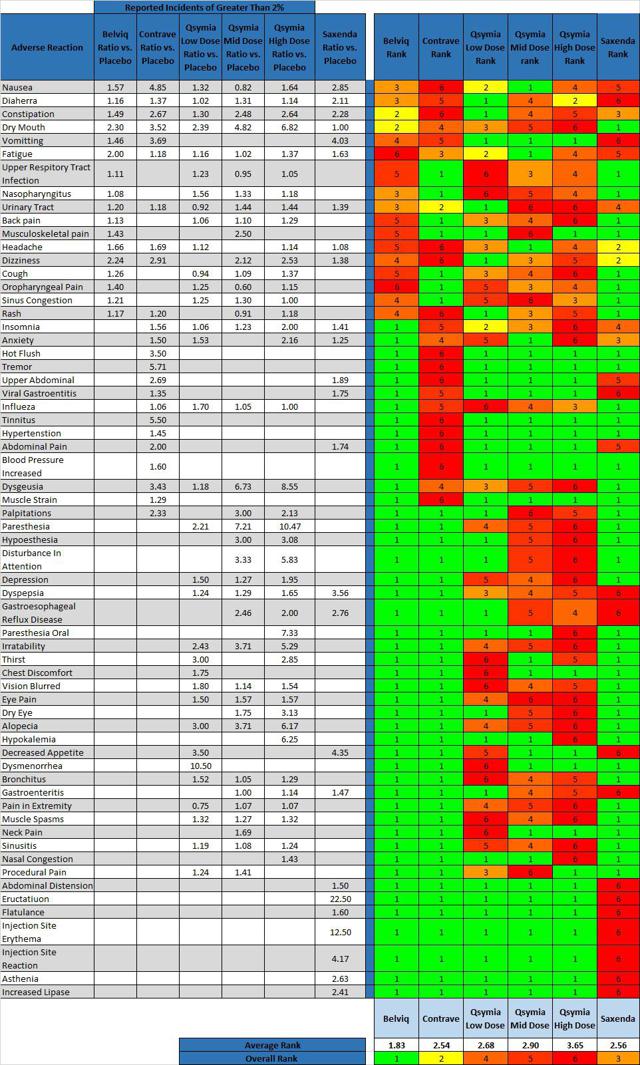 Chart Source - Spencer Osborne
The result of this analysis of "safety" is that Belviq was the safest, followed by Contrave, Saxenda, Qsymia Low Dose, Qsymia Mid Dose, and lastly Qsymia High Dose. Be aware, this is simply an anecdotal assessment based on reported side effects included in the FDA label. There are various other safety concerns with each drug.
Shifting to efficacy, we have yet another anecdotal look at the FDA results. Again, I used the ratio method of results vs. placebo. In looking at things in this manner, Qsymia is the most effective, while Saxenda in regular patients is the least effective. If you look at the data, you can see why Novo Nordisk is focusing on people that are overweight and have type 2 diabetes. Saxenda ranks quite high in that area, and is in fact the best in that category.

Chart Source - Spencer Osborne
Investors can debate these things until the cows come home, but remember this. You are in a stock. The goal is to see the stock do well. One of these drugs is likely to help someone. Each drug has its selling points and its pitfalls.
Disclosure: The author is long ARNA, OREX.
Additional disclosure: I have no position in Vivus. I have no position in Novo, but am looking to initiate one. I may trim my over-core positions in Arena and Orexigen in the days ahead.