MannKind - Technical Look
Please Note: Blog posts are not selected, edited or screened by Seeking Alpha editors.
Summary
Technical Trading has advantages and disadvatages.
I like to look at 3 areas: EMA's, Support/Resistance, and Volume.
I am initiating a mock investment with $1,000.
Over the last year and a half or so I have been covering MannKind (MNKD), but have no financial interest in the company.  One reason I have avoided any investment is that there seem to be many out there that are bent on spinning any assessment I make into something nefarious.  Thus, to avoid even a hint of impropriety, I have sacrificed any potential trading of this equity.  That being said, there have been many points along the way where active traders can make good money by investing in MannKind.  Trading and Investing can have very different outlooks on the same company.  The creation of a mock portfolio will allow readers to see what I would do had I been trading this equity.
The rules of this mock investment are simple and kept simple so as to carry value to even the most inexperienced investor:
It will start with $1,000
I will consist of only buys and sells
No short position will ever be initiated.
No options strategies will be utilized
Assumed commissions will be $15 per trade.
Closing prices will be used for all actions.
With that being said, I will update this blog any time a trade is made.  The current tech charts will be posted here, and the tracking immediately below: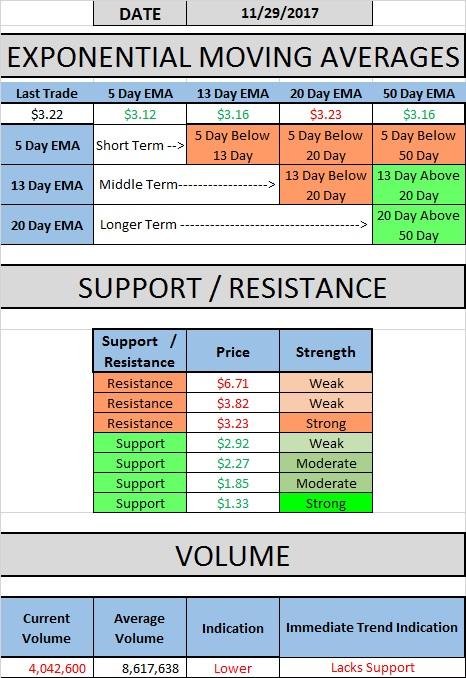 TRADES
11/29 - Opening balance of $1,000 in cash and no shares 
12/17 - MNKD being added to the index was tempting, but the volume on the slide down is simply to big to ignore.  The index buying in should help slow the slide.  Support down at $2.67.  I want to see the action tomorrow.
12/18 10:30 AM - Support has broken on moderate to heavy volume.  This is the day that the index should get filled.  It would appear that they will get a deal on those shares.  Watch volume closely.  Most technicals are now bearish.  My stance going into the share authorization vote was that if the company had no partner announced, the street would assume dilution in Q1.  It appears that the danger I felt had some merit.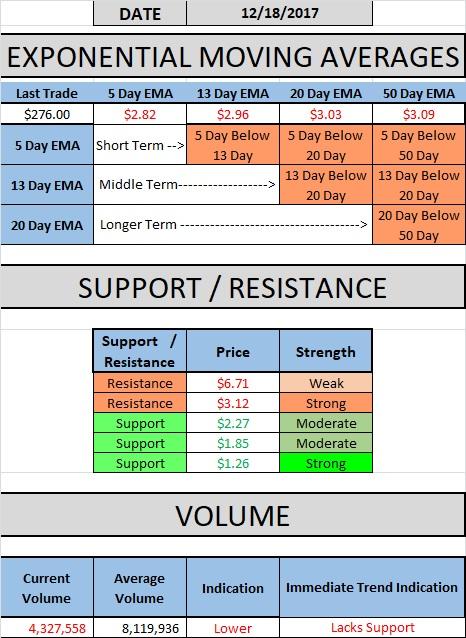 12/18 After Close.  The equity dipped substantially early in the day, but did so with less volume pressure than was seen on Friday.  The bottom (at least in the near term) formed around $2.50.  Given this news, I will place a speculative buy on 100 shares. As stated I use the end of day number in this portfolio.  The 100 share buy is at $2.76 cost $291 (including commission).  This means a cash balance is $709.  I will place a stop at $2.50 since that was a demonstrated low.  The concept here is this.  If $2.50 breaks, the stock will go a lot lower.
12/20 - Stopped out at $2.50.  This results in a cash position of $944.00.  As I stated on 12/18, if $250 breaks the stock could go a lot lower.  As I write this the stock is now at $2.37.  This downward pressure is happening on volume. I suspect that the previous bounce off of $2.50 was a result of the IBB index buying.  It served to ease that slide.  The stock did not test the support at $2.27 yet, but was within striking distance at $2.33.  The high volume on this downward move means wait.  All of the EMA's are bearish as well.  Overall, I feel that the downward pressure is too strong to re-enter at this point.  In my opinion the market is expecting a dilution in some form as the next binary event.  A traders buy signal will appear first in the volume.  If the volume on 12/21 is lower, then the immediate pressure is waning.  I do not expect anything outstanding on the script front on 12/22, and leading into the holiday weekend, the pressure to the downside could increase.
12/20 - after close.  Stock closed at support level of $2.27 on high volume.  The key here is watching the volume on 12/21.  If it lightens up, it could present a buying opportunity.  If it is over 5 million shares ad still moving down, wait.  Next support is at $1.85.  I am not calling it to dip that low, but if it passes below $2.15, it may want to test $2.  If it passes below $2, it may take a trip down.  Stock needs material news to stop the current trend.
12/21 - 10:00 AM- Volume early in the session is pointing toward a lighter day than the previous session.  If that holds, it could indicate that the selling pressure is wearing off.  While the other technicals are not yet turning positive, a very speculative bet with a stop to protect is the aggressive move.  I tried an aggressive move on 12/18 and got stopped out.  Will assess as the day progresses.
12/21 - 11:20 AM - The equity is now moving off of a low of $2.20 on volume and has gone up to $2.40.  This see-saw on the pps is fast moving.  It would appear that the volume will be heavy today.  The equity did dip below $2.27 support, but recovered from it pretty quickly.  If the stock closes above $2.27 then that support level will strengthen a bit.
Analyst's Disclosure: I/we have no positions in any stocks mentioned, and no plans to initiate any positions within the next 72 hours.
Seeking Alpha's Disclosure: Past performance is no guarantee of future results. No recommendation or advice is being given as to whether any investment is suitable for a particular investor. Any views or opinions expressed above may not reflect those of Seeking Alpha as a whole. Seeking Alpha is not a licensed securities dealer, broker or US investment adviser or investment bank. Our analysts are third party authors that include both professional investors and individual investors who may not be licensed or certified by any institute or regulatory body.