I wanted to offer readers a quick look at assessing the revenue growth and cost growth MannKind (MNKD) is seeing related to Afrezza.  There are a few key metrics that investors should look at.  Of particular note is that the rate of growth on gross revenue is outpacing the rate of growth on net revenue.  This happens when a company is increasing the amount of rebates and subsidies it is paying.  In concept such a strategy is built on spending now to gain loyal customers so that eventually the customer base spends enough to more than offset the spending on such things.  The issue with this strategy is that you need to be able to finance the initial spend and need to see compelling enough results to warrant continuing this strategy.
Back in May of this year, when MannKind gave its Q1 conference call, the company stated the following:
"Our gross to net percentage was 35% in Q1 2018 versus 27% in Q1 2017 due mainly the price increases taken in 2017 and the resulting rebates for managed care and government programs such as Medicaid. We expect our gross to net percentage to increase in the mid-single digits for the remainder of 2018."
Instead of this metric growing to the mid single digits (5% implied), the metric has been at double digit growth (10% implied).  That was an overspend by about $250,000 in Q2, and nearly $500,000 in Q3.  The main contributor to this is that the mix of standard scripts vs. medicaid scripts is not what the company anticipated.  
Perhaps some visuals will assist as we go forward: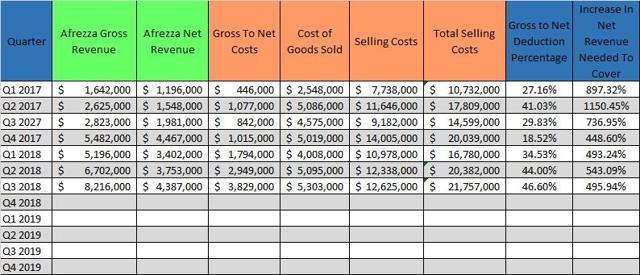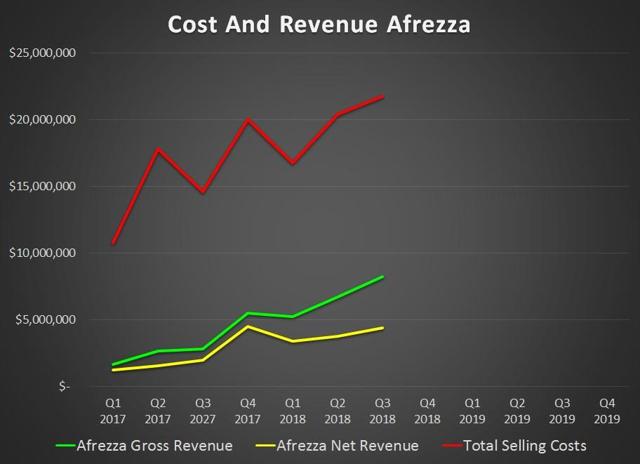 Source of Charts - Spencer Osborne
What investors want to see the ability to increase net revenue without having to increase costs at the same rate.  There is a long way to go before that happens.  In the upper chart, you can see that net revenue would have had to be almost 500% higher simply to offset the cost side of the equation.  Another thing investors want to see is the gap between gross and net stabilize.  From Q2 to Q3 the gross revenue increased by about 25%, while the gross to net deductions increased by 30%.  Overall costs increased a bit over 6.5% vs a net revenue increase of 16.5%, so there is potential, but it is clear that the company needs to manage the costs closely, and turning on television ads simply may not be budget friendly.
Pay attention to both the revenue side and the cost side.  Stay Tuned!
Disclosure: I/we have no positions in any stocks mentioned, and no plans to initiate any positions within the next 72 hours.