Facebook and the Ominous E-Day
Joel Wood
October 24,2012
There have been many recent downgrading articles that have been stating the eventual lock up expiration due this month will hack Facebook's stock. Talking heads have postulated that although Zuckerberg claims he will withhold selling any of his shares (approx: 500,000,000) , the majority of FB employees will surely dump their holdings (approx: 800,000,000) come mid November. The difference from the previous two FB lock up expirations is two fold. First, the amount will double the existing float, and second, everyone from directors down to the guy who replaces the urinal cakes will have the opportunity to finally dump the shares they've been holding all these years. One would assume that the massive amount of shares flooding the market on November 14 will have a detrimental effect to FB share price and it just may - but not the way you might think.
Removing subjectivity and noise, I have attempted to delineate a trend among recent IPOs and their respective lock up dates with the idea of calculating a similar movement for FB's stock during the largest and most marketed lock up expiration. I have selected 5 major stocks whose IPO transpired in the last 18 months: Groupon (NASDAQ:GRPN), BazaarVoice (NASDAQ:BV), Yelp (NYSE:YELP), Pandora (NYSE:P), & Linkedin (LNKD).
Note: Znga was initially selected but was removed as an extreme outlier. Although it exhibited the same characteristics preceding the lock up expiration, the stock continued to fall. This is mainly due to a number of negative financial press releases and a decreased forecasting outlook for 2012.
IPO Price Gain/Loss Percentage to Date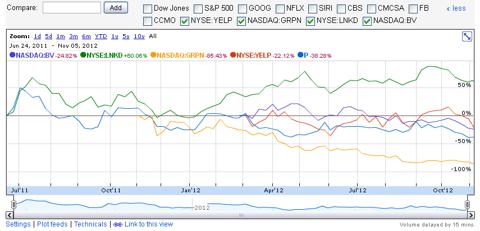 Company

% decrease before exp date

15 days pre-LED

LED*

15 days post-LED

% increase after exp date

YELP

15.46%

$26.46

$22.37

$25.71

14.93%

GRPN

2.12%

$9.90

$9.69

$10.40

7.33%

LNKD

32.84%

$93.93

$63.08

$65.84

4.38%

P

20.69%

$12.52

$9.93

$10.35

4.23%

BV

9.33%

$14.90

$13.51

$14.28

5.70%

 

16.09%

 
 

Average:

7.31%

 
 
 
 
 
 

Note: *LED Lock-up Expiration Date

 
 
 
 

15 days = 15 trading days

 
 
 
 
The chart above defines a basic pattern: Within the 15 days preceding the stock's main lock up expiration date, the stock declines on average of 16.09%. 15 days following the lock up expiration, the stock price increases an average of 7.31%.
In terms of size of offering, float, shares short, and overall market sentiment, FB most closely resembles LNKD at the time of their respective lock up date. One would expect the short ratio to increase while sellers concurrently sell into November 14 which may cause FB to drop to new lows of $15-16/ sh. This would be followed by a short covering rally after hours or the following day and finally a slow steady climb into the month of December.
Disclosure: I am short FB. I wrote this article myself, and it expresses my own opinions. I am not receiving compensation for it. I have no business relationship with any company whose stock is mentioned in this article.
Additional disclosure: The information contained herein is for informational and recreational purposes only. Nothing in this article should be taken as a solicitation to purchase or sell securities. Before buying or selling any stock you should do your own research and reach your own conclusion. It is up to investors to make the correct decision after necessary research. The information and data is believed to be accurate, but no guarantees or representations are made.
_____________________________________________________________________________________
Update 11/5/12
FB is down 8.9% since Oct 24.
Disclosure: I am short FB.