What I hate more than anything when reading research reports is when two stocks are compared against each other when they clearly have different business models and/or are clearly targeting different customers. While Lululemon (NASDAQ:LULU) might have been a semi-appropriate benchmark to Under Armour (NYSE:UA) years ago as a successful apparel IPO, it's clear that the two companies have gone their separate directions as one continues down the path as a specialty apparel retailer while the other has broadened to general sports apparel and footwear. Red Bull and Snapple may both make beverages, but they're targeting different customers and have different business models (I know Snapple is a subsidiary, but bear with the analogy).
The next thing I hate most is automatically comparing an up-and-comer with the industry leader without regard to all the other players in between. Under Armour has grown their top and bottom lines incredibly well since inception, but its revenues are still 1/14 of Nike (NYSE:NKE). To put into perspective, the 9.7% revenue growth portion of Nike last year was larger than the entire annual revenue of Under Armour despite its 38.4% growth. Sports apparel and footwear has two clear global leaders in Nike and Adidas (DE:ADS), but there are a number of other smaller, but significant players that Under Armour has caught up to and will need to clear if it wants to stand up to the leaders.
1. Li Ning (HK:2331) - The largest Chinese sports brand that was featured prominently during the Beijing 2008 Olympics
2. Mizuno (JP:8022) - The second largest Japanese sports brand
3. Asics (JP:7936) - The largest Japanese sports brand
4. Puma (DE:PUM) - The second largest German sports brand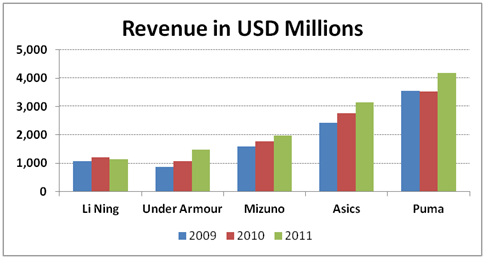 This first chart gives a snapshot of the revenues of each company for the past 3 years in USD and takes into account the effect of exchange rates. In 2011, Under Armour exceeded the revenues of Li Ning as they had difficulties growing outside of China and a number of management issues.
Another notable company is New Balance, which had an estimated $2B revenue in 2011, but is private, thus has limited available data.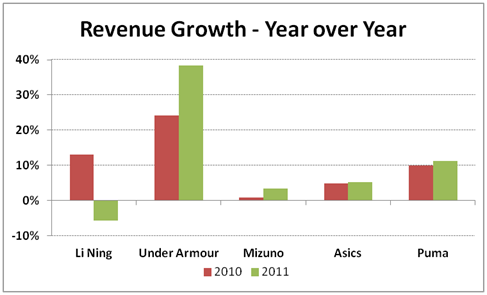 This second chart shows the revenue growth rates of each company in its local currency. Under Armour is the fastest growing company within its peer group by a significant margin. It is important to note that Nike and Adidas grew 9.7% and 11.3% respectively during 2011, so the industry as a whole is still growing. Those that might question growth at the expense of earnings should know that Under Armour the 1st or 2nd in operating margin compared to its peers listed here for the past three years, while profit margin has ranged from 2nd to 3rd within the group.
With 94% of its revenue still coming from North America, Under Armour has yet to truly tap the international market and take on these competitors on a global scale. One of the reasons for this is that Under Armour has thus far, depended on domestic third party distributors such as Dicks Sporting Goods, Modells, and The Sports Authority, which also have relatively weak presences internationally. They have been very careful limit their own retail offerings, but that may become the key to international expansion as they have only five specialty stores opened in the US, but have already created their first in Shanghai, China. They have certainly taken initiatives to boost European appeal with their sponsorship of the Welsh rugby team and Tottenham Hotspur Football Club, but it remains to be seen if those investments will convert into permanent footholds in their respective sports/markets.
Going forward, the question for Under Armour as a company is whether they will be unable to break out of the US, settle comfortably as a middle-of-the-pack global brand, or eventually join the leaders of the industry.
Note: This is my first Seeking Alpha article, so any formatting tips would be appreciated.
Disclosure: I am long UA.