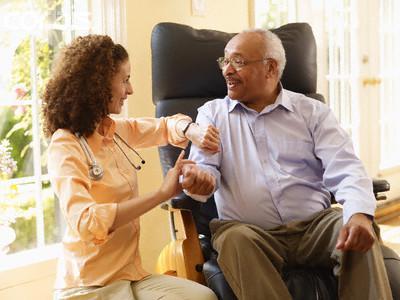 Geriatric Care Services
According to a new market report published by Transparency Market Research "Geriatric Care Services Market (Home Care, Adult Day Care, and Institutional Care) - Global Industry Analysis, Size, Share, Growth, Trends and Forecast, 2013 - 2019," the global geriatric care services market was valued at USD 560.4 billion in 2012 and is expected to grow at a CAGR of 5.9 % from 2013 to 2019, to reach an estimated value of USD 850.0 billion by 2019.
The rising population of baby boomers in the U.S. is a major factor driving the global geriatric care services market wherein a new study shows that the demand outstrips the supply of these services across the globe. There are service providers as small as a family forming a home care agency to few large companies with national and even international operations which implies that the market is underserved and is also highly fragmented.
Browse the full Geriatric Care Services Market Report with TOC at http://www.transparencymarketresearch.com/geriatric-care-services-market.html
The developed nations have anticipated the situation and are putting efforts to reduce the imbalance by increasing private service providers in the sector. However, most countries in the Asia-Pacific are far away from the thought of private senior care sector and have a stigma associated with senior care being provided by people other than the family members, friends and relatives. The scenario of senior care in these countries is however changing with time and creating new space and opportunities for the market.
The global geriatric care services market is analyzed by the type of services, and geography. On the basis of type of services, the market has been segmented into home care, adult day care and institutional care. The major geriatric population receives care from informal caregivers such as close family members which may include spouse, children, grandchildren, friends and relatives. The need for formal care arises when informal care is unavailable and is provided either in one or more forms of services mentioned earlier. The choice of these services depends on the need of care receiver senior adult and the ability to pay for these services. In 2012, the institutional care segment accounted for the largest market share in the global geriatrics market, followed by rapidly growing home care segment.
Get Free Sample Report at http://www.transparencymarketresearch.com/sample/sample.php?flag=S&rep_id=2558
Institutional care is the costliest among all the care services available but provides high level of care and has been the most developed and largest segment. However, high cost and the feeling of abandonment by family sensed by the elderly are limiting the growth of this segment. While speaking on this issue, Bunni Dybnis, an elder care industry veteran states the reason - "there are many people who would benefit from elderly care service, but a relatively few actually have paid or other non-related caregivers. Most are relying on family and other informal assistance. Cost, affordability, frugality, cultural traditions and resistance are all factors. Affordability is a major issue, but only one of many."
The restraints for institutional care settings are favoring the growth of other market segments. The community care in the form of adult day care is also a growing segment which is supplementing the role of home care services by providing respite to the home care geriatric care workers. Tracey L. Wolfman, Adjunct Professor at Monmouth University, and a CEO of We Care Adult Care Inc., justifies the growth of Adult Day Care Services. In her opinion "Adult Day Care allows individuals to receive comprehensive quality care at half the price of home care, or one-fourth the cost of assisted living or nursing homes. A person can attend Adult Day Care during the day and return to their home at night". Adult day care services offer several advantages such as living at home, skilled nursing care, enhanced quality of life, recreation, social interaction and respite to caregivers which contributes to the growth of the market.
Browse All Medical Devices Market Research Reports @ http://www.transparencymarketresearch.com/medical-devices-market-reports-6.html
North America and Europe are expected to maintain their leading positions in the global geriatric care services market throughout the forecast period from 2013 to 2019. In developed nations such as the United States, Canada, Germany, France, the U.K., Italy and Spain, the market is witnessing high growth due to increasing number of aged people opting for geriatric care services. The chronic illness among elderly people, increased life expectancy, and the limitations in performing cognitive and functional activities (i.e. activities of daily living) are the evident reasons for the growth of geriatric care services market in developed nations. The rising pressure on hospitals to reduce stay of patients is contributing to the growth of the out of hospital care services. Many countries in these regions have presence of several large companies and independent service providers which fulfill the needs of geriatrics care.
Geriatric care services market in these regions is trending towards consolidation while on the other hand the market in Asia-Pacific and Rest of the World regions is highly underdeveloped. Brookdale Senior Living, Inc., Extendicare, Inc., Genesis HealthCare Corp., Gentiva Health Services, Inc., GGNSC Holdings, Home Instead Senior Care, Inc., Kindred Healthcare, Inc., Senior Care Centers of America, Skilled Healthcare Group, Inc., and Sunrise Senior Living, Inc. are some of the major companies operating in the global geriatric care services market.
Download PDF at Geriatric Care Services Market - Global Industry Analysis, Size, Share, Growth, Trends and Forecast, 2013 - 2019