I prepared this draft write-up on a reasonably compelling long-term investment last month.  Seeking Alpha's editors asked me to re-work this article quite a bit.  I didn't get around to it, so here it is in "unedited" blog form before it loses its timeliness.  If you are looking for a catalyst-driven special situation offering huge near-term upside (and who isn't), let me save you time by saying this is NOT for you.
---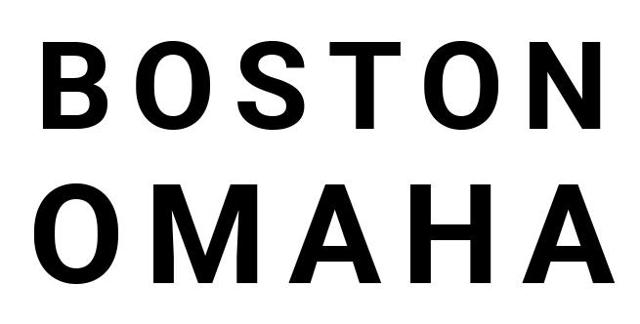 Boston Omaha (OTC:BOMN) is a Berkshire Hathaway-modeled conglomerate, set up with the goal of growing intrinsic value per share at an attractive long-term rate of return. The company currently operates three business segments:
Outdoor Billboards
Surety Insurance
Real Estate Investment
Conglomerates can be long-term compounders under the right management (and destroyers of capital under the wrong management), so I will focus on Boston Omaha's co-CEO/owners before diving into the business segments.


Brief History
The company was incorporated by Richard Church as "REO Plus, Inc." in Houston, Texas on August 10, 2009 with the goal of investing in real estate. For whatever reason, it never got off the ground. On February 13, 2015, Magnolia Capital Fund, L.P. ("Magnolia") and Boulderado Partners, LLC ("Boulderado") acquired all of Mr. Church's shares in the company (~ 95% of the outstanding shares at the time), reincorporated in Delaware and changed the company's name to "Boston Omaha Corporation". The company has subsequently been thoroughly recapitalized, most recently via a June, 16 2017 offering at $13.00 per share, in which Magnolia and Boulderado collectively acquired ~ 53% of the offered shares.
Magnolia is a private investment partnership run by Adam K. Peterson. It is based in Omaha, Nebraska and commenced operations in August 2014. Boulderado is a private investment partnership run by Alex B. Rozek. It is based in Boston, Massachusetts and was formed in June 2007. (Hence, the company name "Boston Omaha".) Adam and Alex now serve as co-CEO's of Boston Omaha and collectively own the majority of the company…

Source: Personal analysis, mostly from June 16, 2017 offering prospectus filed pursuant to Rule 424B4.

Co-CEO / Owners
I prioritize investing alongside owner-CEO's. I've shared some thoughts on that here. As a minority investor, I'll gladly surrender (illusion of) control for a management team with better aligned incentives.
It is still nice to see evidence that owner-CEO's will steward for the benefit for all. Absent a long-term record (not available in this case), I'd recommend potential investors read through Boston Omaha's excellent 2015 and 2016 annual letters.  Management unconcerned by minority shareholders rarely allocates significant effort towards frankly, transparently and reflectively communicating with them via an annual letter. (And this is sad since a good annual letter is as useful to the writer as the reader.)
The co-CEO's will be allocating capital with the broadest leeway imaginable – a conglomerate structure. One cannot simply look at today's business segments when making this investment – instead an investor must subjectively evaluate the co-CEO's capital allocation decision-making framework (and general temperament underlying it).  Below are some excerpts from the company's annual letters that increase my confidence the co-CEO's will manage capital judiciously over the long-term...
Guidance / forecasts… "You will likely not catch us making forecasts or estimates predicting anything in the future business of Boston Omaha, other than we intend to work hard for the shareholders to grow book value for the long term."
Acquisition strategy / patience / flexibility… "We do not have a predetermined plan or a rigid acquisition strategy to accomplish our stated goal. We will purchase suitable businesses as they are identified. Over time, and opportunity set willing, we hope to have interests in a handful of businesses that produce sustainable earning streams. Diversification is a potential result from a series of what we hope will be successful decisions over a long period of time, rather than a strategy at the outset."
Long time horizon… "Many other buyers of businesses require "sell by" dates because they cannot own a business forever. Buy it today for $"X", sell it in a few years for some multiple of $"X", and use lots of debt in the interim. Assumptions of large gains when sold at a later date are used to justify high prices paid today. To put it mildly, you can describe us as skeptical toward these buyers' conviction about assumed sale prices years down the road to yet unnamed buyers. We decide to invest based on our calculation of a business's earnings power relative to the price we pay for those earnings. We are not burdened with having to value a business based on what someone else will pay us for it at some future date. If we don't see a reason for Boston Omaha to own it for the life of the asset, then we likely don't see a reason to own it at all."
Fiscal conservatism… "We are not willing to compromise our solid financial position."
Incentives… "We also created a Management Incentive Bonus Program (MIBP). All executives in the Boston Omaha parent company are eligible and here is the plan: The bonus pool for management may equal up to 20% of the "Adjusted Stockholders' Equity" that exceeds 6% growth year over year. "Adjusted Stockholders' Equity" for this calculation is meant to measure book value growth from retained earnings. Specifically, it excludes any increase or decrease from purchases or sales of stock."
Decentralization… "Our goal is to find great managers and let them continue to do what they do best. If we get incentives right, a decentralized system works."
Two final notes on the co-CEO's before moving on to the current business segments…
From the 2015 annual letter…
First, with regard to the employment contracts, we thought it was better to state the future amount of our salaries now, so that shareholders can see what these contracts will cost the company at some point. For now, we both receive the minimum wage. At some point in the future our base salaries will increase to the level stated in our employment agreements. We bring attention to these contracts because we want shareholders to know the bill upfront.
The co-CEO's continue to make minimum wage and, at some point in the future, that will increase to an annualized base salary of $275,000 (which seems reasonable). They will also be eligible to participate in the previously mentioned MIBP incentive plan.
As I read up on Boston Omaha, I kept thinking, "Man, these guys clearly love and admire Warren Buffett". The style in which the annual letters are written borderline plagiarize him (and I mean this as a compliment). Then, I stumbled upon this article and realized the "B." in Alex B. Rozek stands for "Buffett" (Alex is the grandson of Warren's sister, Doris). The apple doesn't fall far from the tree I guess – no pressure, Alex!
Current Business Segments
As of December 31, 2016, Boston Omaha employed no debt (absent some operating leases). Their asset base was 95% funded by equity (closer to 90% if we capitalize their operating leases). Here's a quick snapshot…

Source: 2016 annual letter.The minority and other investments reflect Boston Omaha's real estate segment. The primary asset there is a minority investment in Logic Commercial Real Estate, a full-service brokerage, property management and real estate services company located in Las Vegas, Nevada. Logic is run by Brendan Keating, who also serves on Boston Omaha's board and owns 72,400 BOMN shares as of June 2017. It seems like a nice business, but emphasis in this write-up will be placed on the materially larger Outdoor Billboard and Surety Insurance segments.
Outdoor Billboards (Link Media)

As of June 2017, Boston Omaha (via its Link Media subsidiary) owns and operates 532 billboards containing a total of 907 faces, 30 of which are digital. The billboards are located across four states (Alabama, Florida, Georgia and Wisconsin).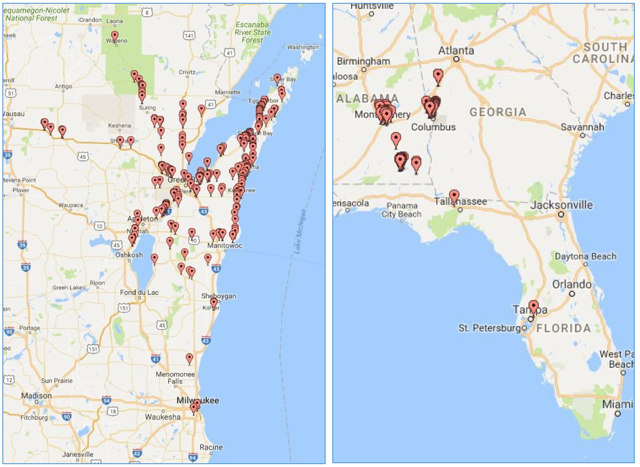 Source: Boston Omaha investor presentation (September 2016).Management chose to expand into the billboard space not because assets were fabulously cheap (not much is these days) but because they thought it was a good business worthy of "fair value" (~ high single digit EBITDA multiples). They justify this as follows in their 2015 annual letter…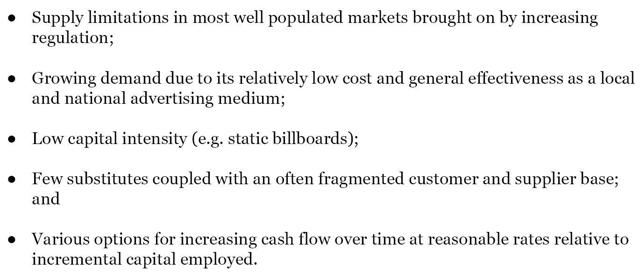 And apparently billboards are not going out of style in the modern digital economy...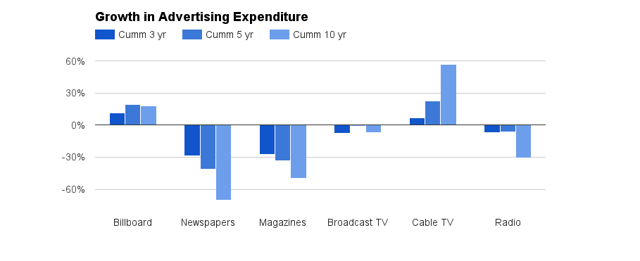 Source: Boston Omaha investor presentation (September 2016).
I generally agree with their five bullet points above, although I think bullet # 5 could conflict with # 1 over time. Upgrading billboards from static to digital would seem to be the most obvious way to generate a favorable return on incremental capital employed. Whereas static billboards may have anywhere from one to three faces, digital billboards may have up to sixteen "faces". However, we should expect the average price per "face" sold to drop as the supply of "faces" increases. Ideally, the increased volume in "faces" sold offsets the declining average price, generating enough additional profit to justify the incremental capital employed. But clearly, there is a risk the trend goes too far industry-wide and there is simply too much supply.
As static to digital could increase the supply of "faces", the shift to driverless cars could simultaneously decrease advertiser demand. "Driver" attention would likely redirect from outside to inside the car. Who needs an external digital billboard when each car has its own internal digital billboard (TV, mobile, iPad, etc)? Instead of using the billboard scattershot approach, advertisers could individually target ads based on the car's origin, current location and destination, as well as occupants' demographics, all without needing to throw up a bunch of steel, wood and digital screen eye sores.
Another risk to consider – most of Boston Omaha's billboard structures are located on leased, rather than owned, land. It's a significant expense, approximately 25% of advertising revenue. On one hand, it would seem the land owner has a decent negotiating position once the lease comes up for renewal since your structure is already built and permitted there. On the other hand, if driverless cars create a long-term headwind for billboards, that land would probably drop significantly in value. It would be easier to phase out of this business (or renegotiate leases lower) after a couple decades without impairing intrinsic book value under the lease model.
I am not overly concerned by these risks. The good news is billboards remain a relatively low cost form of advertising relative to eyeballs reached. Even under the worst case scenario, I believe they have a decent multi-decade run in front of them with returns in the adequate to good range.
Surety Insurance (General Indemnity Group)

In October 2015, Boston Omaha began operations at its insurance subsidiary, General Indemnity Group ("GIG"), however no premiums were written until 2016. The co-CEO's summarized their approach to insurance in their 2015 annual letter (highlights my own)…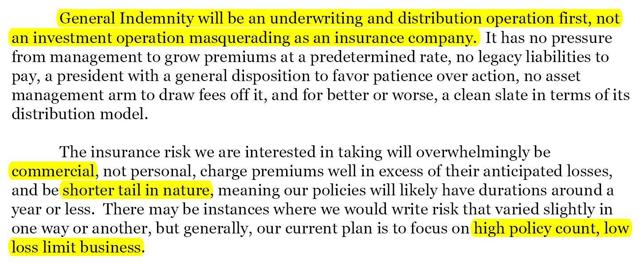 In 2016, GIG made two acquisitions through which it now conducts its operations…
The Warnock Agency – A leading innovator in online underwriting, issuance and brokerage license and permit surety bonds, operating US nationwide. Warnock Agency currently offers 6,500 commercial surety, contract surety and fidelity bonds. (For reference, license and permit bonds are a type of commercial bonding which government agencies can require business owners in certain industries to purchase before they can be legally licensed to operate. They are designed to protect consumers in cases businesses violate laws or other regulations.)
United Casualty and Surety Insurance Company (UC&S) – A Quincy, Massachusetts-based surety insurance company, rated AM Best A– ("Excellent") and holding a Certificate of Authority from the United States Department of the Treasury (Circular 570) allowing it to act as Surety on Federal projects. The company has a 28-year underwriting record writing premium with a pure loss ratio of only 1%. Boston Omaha is currently seeking approval to issue surety insurance in all 50 states and has contributed meaningful amounts of capital to UC&S in conjunction with this goal. (As of June 2017, UC&S is authorized to issue surety insurance in 33 states and the District of Columbia.)
(Note: Boston Omaha acquired a third surety-related business in mid-July after this draft was written.  See their filing here for more info.)
Boston Omaha's co-CEO's made a very persuasive argument why surety insurance is a good place to do business in their 2016 annual letter (start from page 11). I believe readers would be well served to go right to that source, but I'll summarize here…
As can be seen from the below, surety insurance is very profitable. The insured party quite literally can't stay in business without it and is greatly incentivized to minimize claims.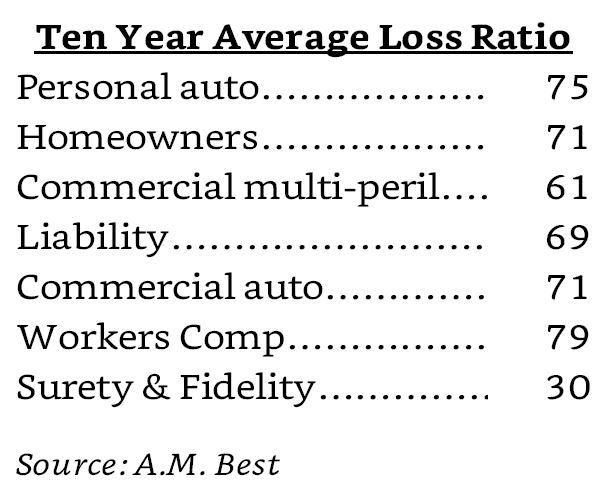 Note: Ten Year Average Loss Ratio as of 12/31/2015.
Meanwhile, the overall premium written is small relative to other insurance categories, keeping surety off-the-radar for the big players – it simply doesn't move the needle.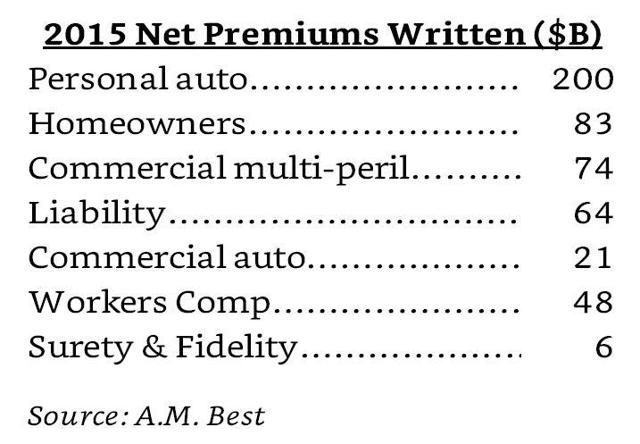 Often in investing, the two biggest advantages an investor can have are a long time horizon and small asset size. This advantage can be extended into Boston Omaha's insurance operations. The long time horizon (afforded by the co-CEO's firm control) allows underwriting discipline and patience to be exercised, while the company's relatively small size allows it to attack a long growth runway in a profitable niche of the insurance industry (surety). And, what a growth runway it could be considering GIG was just 0.1% of the surety market as of the end of 2016.
How will GIG take market share from fellow surety insurer competitors? The same way any relatively young management team disrupts an industry characterized generally older competition – technology, specifically using technology to become the low cost producer. I'll let the co-CEO's elaborate (from their 2016 annual letter)…
If losses on average are low, then astute readers will naturally wonder why prices haven't declined over time accordingly? That highlights the second attribute of the surety business we find attractive, namely, high distribution costs.

Surety agents command a high commission for sending insurance companies valuable premium. That commission can be more than double the cost of other lines of insurance.

The low dollar premium and the traditionally manual work required to produce many types of commercial surety bonds act as another disincentive for many producers. In some classes of bonds, believe it or not, typewriters are still required. These types of surety bonds generally have much lower losses than surety as a whole, but they are often neglected due to the simple math that an agent would rather get paid 35% on a $10,000 bond than 35% on a $100 bond.

We are more than happy to relieve agents of their low dollar bond burden.

There are over ten thousand different surety bonds in our online library, and we see tremendous opportunity to invest in making a former analog process increasingly digital. General Indemnity is focused on being the low-cost producer in this high-cost distribution business.
The downside of a relatively young management team in an industry like insurance is often a lack of appreciation for risk. For reasons discussed throughout this write-up, I am not concerned about the co-CEO's taking wild risk.
Why This Opportunity Exists
Given its newness (at least in its current post-2015 form) and small market cap, Boston Omaha is under the radar. It appears to have no analysts following it.
Boston Omaha has posted over $5M of losses between the start of 2015 and the end of 2017 Q1, and I assume these losses may continue into 2018 perhaps eating up another 5%-10% of book value before we see growth. This is to be expected given it takes time and patience to properly allocate the company's capital into productive businesses, but in the meantime corporate overhead bills need to be paid (including a good chunk of funding and acquisition related expense). Many investors will be turned off by these near-term losses (hence an opportunity in my opinion to a long-term investor). Others may await a better entry point nearer to the business's inflection to profitability – personally, I doubt my ability to time the stock price.
Boston Omaha is by no means priced "cheaply". This is a Charlie Munger "sit-on-your-ass" stock, a stock type I am happy to fill the majority of my portfolio with. In other words, if all goes according to plan, the benefits of steady compounding will be harvested decades from now.
If you buy a business just because it's undervalued then you have to worry about selling it when it reaches its intrinsic value. That's hard. But if you can buy a few great companies then you can sit on your ass … that's a good thing. – Charlie Munger
Conclusion
I like Boston Omaha's odds to provide an adequate to very good long-term return and made an investment around its current price of $13.30 / share last month. This puts me a little over the co-CEO's most recent purchases at $13 / share and at a price-to-book of around 1.25x (I adjusted book for amortization and the most recent share offering).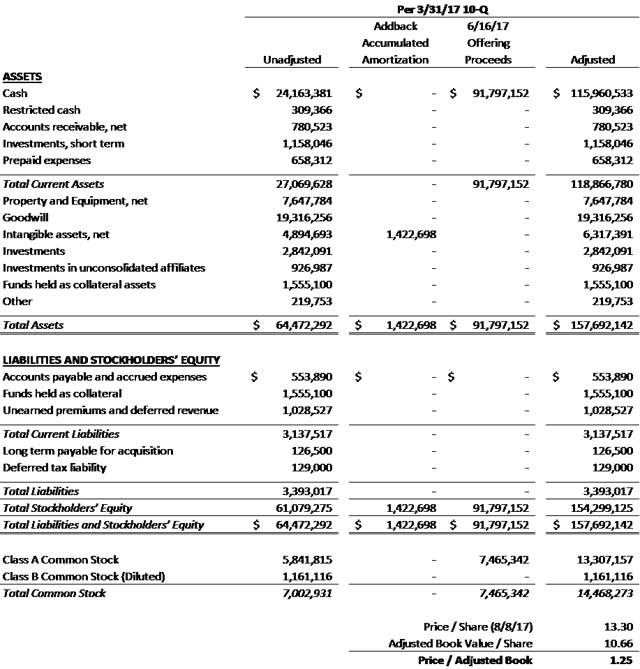 Source: Personal analysis, mostly from June 16, 2017 offering prospectus filed pursuant to Rule 424B4.
I believe Boston Omaha should be looked at as an insurer first and foremost, which happen to be the operations I am most excited about. An investment in a well operated insurer rarely disappoints over the long-term. The co-CEO's will need to A) prudently manage risk in the core insurance operations and remain cognizant of where their advantages are (and aren't) in this space, and B) intelligently re-invest capital into other satisfactory to good businesses, e.g. billboards. I think the odds are favorable they can accomplish these twin goals. As float grows, a modest leverage tailwind may even juice returns from good to great. Meanwhile, the downside is guarded by book value comprised of safe assets and minimal (currently no) debt.
Disclosure: I am/we are long BOMN.