Microsoft beat on the top and bottom line last week, and although price action was strong, investors were unwilling to bid up prices above weekly resistance levels, which will likely be watch carefully this week by many market technicians.
The company reported robust earnings last week and was able to generate $18.5 billion in revenues and $5.2 billion in net income. The numbers the company produced not only beat on the top and bottom line (analyst estimates of $17.8 billion for revenues and $4.5 billion in net income), but they also produce strong year over year comparisons, revenue is up 16% and its net income is up 17%.
Microsoft is anything but a momentum stock, and has long been viewed as dead cash. The stock has remained relatively depressed over the past 10-years, trading in a range between $13 and $36 despite being a cash cow and generating solid dividend. The recent price action has pushed the stock price to resistance levels and a close above $36.20 would lead to additional upside momentum.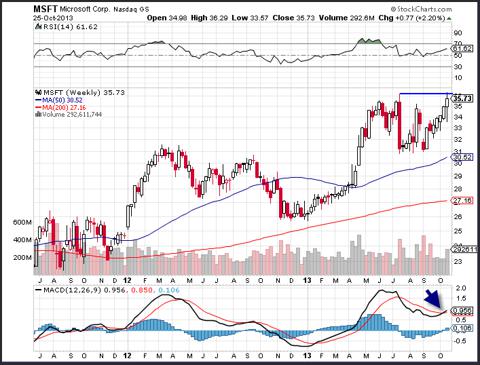 The technical momentum for the stock can be viewed as solid as the MACD (moving average convergence divergence) on a weekly basis has generated a buy signal. This occurs when the spread (the 12-week moving average minus the 26-week moving average) crosses above the 9-week moving average of the spread. The weekly index has moved from negative to positive territory confirming the buy signal. The proprietary trading trajectory of the MACD is positive which should lead to positive price action. The RSI (relative strength index) which is an oscillator that measures overbought and oversold levels is printing near 61 on a weekly basis which is in the upper end of the neutral range, but well below the overbought trigger level of 70.