With the Twitter IPO on the docket and Facebook (NASDAQ:FB) and LinkedIn (LNKD) earnings in the rearview mirror, investors and proprietary traders should considered their exposure to social media and if these stocks have the growth potential to make their large price to earnings ratio's attractive. Momentum stocks have somewhat lost their luster, and could be in for a roller coaster ride during the last two months of 2013.
Last week LinkedIn reported earnings that beat expectations. The company's earnings per share rose 77% and topped views by 7 cents. Sales also beat. But forth quarter revenue guidance was weak, which was the impetus investors used to punish the share price.
The stock price is trading in a 52-week range between 94.75, and 257. The price to earnings ratio is a staggering 140, which works for a growth stock. The company has no debt and a profit margin that is close to 16%. The quarterly earnings per share growth as mentioned before climbed 77%, and the 3-year growth rate is 111%. The quarter revenue increase is 56% which the 3-year growth rate of sales is closer to 92%.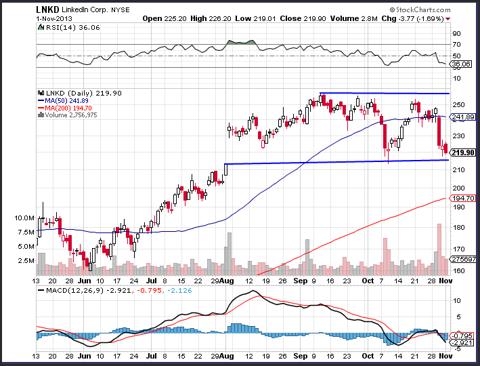 The technical outlook for the stock price is neutral and the current pattern makes it difficult for long term traders to enter a position. Those who are looking for short term trades could consider purchasing the stock near support at 218 with a quick stop below the 200-day moving average at 194.
Momentum on the share price is negative with the MACD (moving average convergence divergence) index printing in negative territory with a negative trajectory. The MACD generated a sell signal last week as the spread (the 12-day moving average minus the 26-day moving average) crossed below the 9-day moving average of the spread. The RSI (relative strength index) is printing near 36, which is on the lower end of the neutral range.