The beginning of gasoline season has commenced as energy traders switch their focus from distillates to gasoline as the leader of the complex. Generally demand picks up after Labor Day and production declines beginning in April as refinery maintenance season begins. Historically, gasoline outperforms crude oil during the spring season, but declines relative to crude oil once the driving season begins.
The seasonal analysis show that gasoline prices generally outperforms crude oil in both April and May. Over the past 10 years, gasoline outperformed crude oil in April 67% of the time by 1.2% and 75% in May by 1.3%. Additionally, crude oil outperformed gasoline in June 87% of the time by 3%.
Just as gasoline demand is ready to move higher, Ethanol spot prices have increased since early February. By late March, New York Harbor spot ethanol prices exceeded prices for RBOB gasoline by more than $1 per gallon. The surge in grain inputs has generated strong demand for Ethanol. Logistical constraints in and around ethanol production centers in the Midwest, mainly involving railroads on which approximately 70% of ethanol is shipped, appear to be a key factor driving recent prices. The question is whether the increase in ethanol will hamper the growth in gasoline.
Both gasoline stocks and Ethanol stocks have moved to the lower end of the 5-year range for this time of year. Gasoline stocks were above the upper end of the range since December of 2012, but solid demand has generated gasoline draws from stocks, which could now create price spikes moving into the driving season.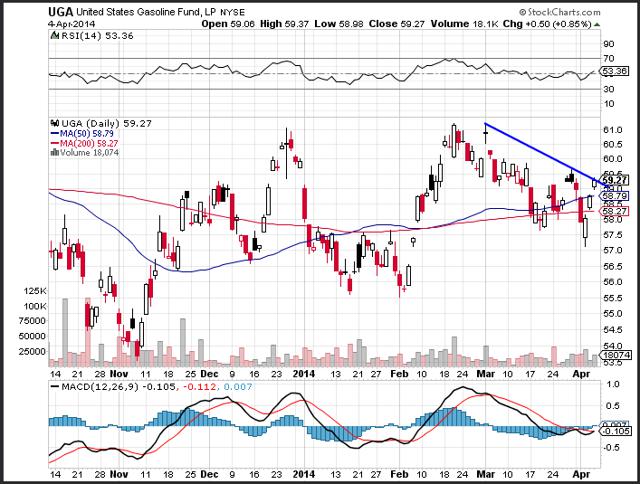 Despite a decline in riskier assets on Friday after the release of the US governments employment report, propriertary trading prices of gasoline remained robust. The United States Gasoline fund (NYSEARCA:UGA) moved higher testing resistance created from a downward sloping trend line that comes in near 59.30. Momentum on the UGA has turned positive as the MACD (moving average convergence divergence) index generated a buy signal. This occurs as the spread (the 12-day moving average minus the 26-day moving average) crosses above the 9-day moving average of the spread. Look for a close above 59.30 to confirm a breakout in gasoline prices.