On Friday, June 6, 2014, after the market closed, we learned that activist investor Carl Icahn took a 9 percent stake in the floundering dollar store chain Family Dollar (NYSE:FDO). The stock soared 13 percent on the news. Icahn is known for his active engagement in his investments. He will take a stake in a company such as Family Dollar, try to win seats on the board of directors, and push the company in a direction that he believes to be shareholder friendly. Judging by his proprietary trading record, this is a successful strategy.
The stock price was subdued prior to Icahn stepped in, which means it's going to be tougher for Family Dollar to rebuff a deal this time around. The challenge is still finding a suitor. While Dollar General Corp., company's closest competitor, has not shown an interest in merging, it is seen as a possibility that would result in about $1 billion of synergies.
Family Dollar's 13 percent gain June 9 was the biggest one-day increase since February 16, 2011, the day Peltz offered to buy the company for up to $60 a share. It rejected the bid and then agreed to let Edward Garden, chief investment officer of Trian, join the board. Garden is the only director who voted against the poison pill that Family Dollar adopted this week, which limits an investor from accumulating more than a 10 percent stake.
The question for investors that remains is who might buy the company? Private-equity firms usually target retailers that need help slashing costs rather than boosting revenue, so they may not be interested in Family Dollar.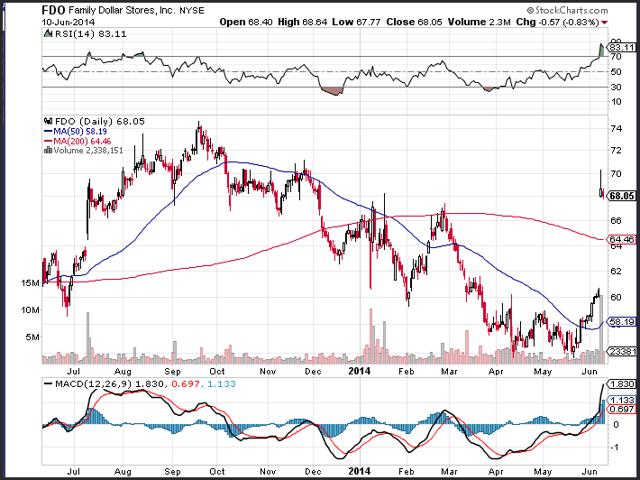 The stock price has surged and investors could consider a purchase when it settles back to earth near the 200-day moving average at $64.50. Momentum on the stock is soaring as the MACD (moving average convergence divergence) index hits its highest levels in more than a year. The RSI is also flying high. The currency print of 83, is well above the overbought trigger level.