Proprietary trading volume on oil has been hammered over the past two weeks, pushing the United States Oil Fund (NYSEARCA:USO) to support level near the 200-day moving average. Prices of WTI crude oil have tumbled 7% and pushed through $100 dollars a barrel on Tuesday for the first time since May. Although demand is retracting, and supply ample, crude prices are now oversold and could be poised to rebound.
Supply from Iraq has been plentiful, but escalating tension has led the Department of Energy to reduce its long-term supply forecast. The escalation of violence in northern Iraq that started in June has introduced significant uncertainty into the Iraq oil production outlook. In the July Short-Term Energy Outlook, EIA forecasts Iraqi crude production to average near 3.1 million barrels per day throughout the forecast period, which runs through 2015. Compared to the June's forecast, EIA has reduced Iraqi production growth in both 2014 and 2015 to take into account recent events, lowering total production by 0.6 million barrels per day by December 2015. In the updated forecast, monthly Iraqi crude production is not expected to exceed its recent level of 3.3 million barrel per day estimate through the end of 2015.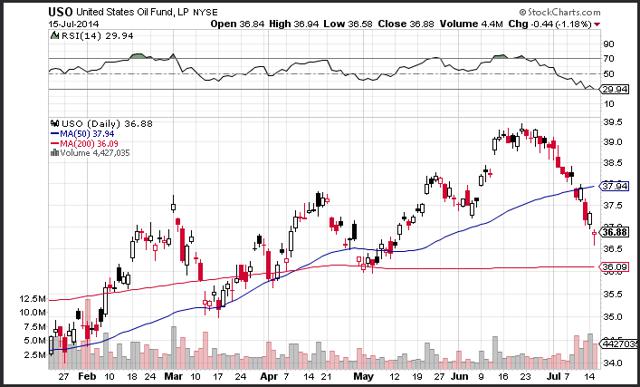 The reduction in Iraqi crude (which is now the second largest producer behind Saudi Arabia), could generate prop trading volatility and any additional supply disruptions could push crude oil right back up to the $107 per barrel level.
The USO has tumbled from $39.5 and is trading slightly above support near the 200-day moving average at $36.09. Resistance on the USO is seen near the 50-day moving average near $38. The RSI (relative strength index) which is a momentum oscillator that measures overbought and oversold levels, is printing a reading of 29.9, below the oversold trigger level of 30 and could foreshadow a correction in price action.