A couple of years ago, we analyzed the most popular Exchange Traded Funds (ETF) by average daily trading volume. Here is the link to the original article from 2011.
One important factor to our list is we've stripped out all of the Inverse, Ultra, Bear, etc ETFs to find only the "pure" sector and index plays.
Here is an update to that list for August 2013:
Most Actively Traded ETFs Table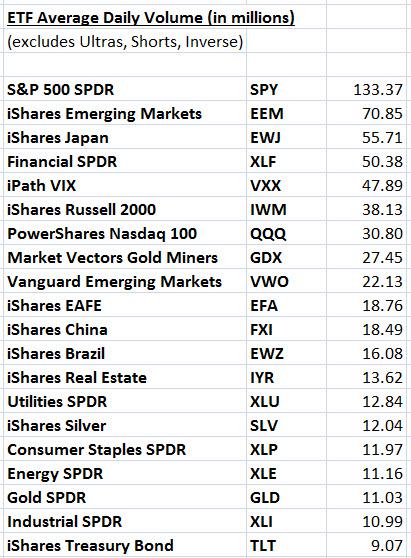 *Note the dominance of iShares and SPDRs in the above list.
*Most of the names of the list are the same as 2 years ago, but the order has shuffled around quite a bit.
*One notable ETF that has dropped off the popular list is US Natural Gas (NYSEARCA:UNG). Another one that failed to make the new list is iShares Taiwan (NYSEARCA:EWT).
*New notable additions to the list include MarketVectors Gold Miners (NYSEARCA:GDX), iShares Real Estate (NYSEARCA:IYR), Utilities SPDR (NYSEARCA:XLU), and Consumer Staples SPDR (NYSEARCA:XLP).
*Big Movers up on the list include Japan ETF (NYSEARCA:EWJ) and VIX Volatility ETF (BATS:VXX).
Note that the main DJIA ETF (SPDR Dow Jones Industrial Average DIA) once again didn't even make the Top 20 here.
Always be sure to check the holdings and expense fees (as well as bid/ask spreads and option liquidity) of an ETF you are considering investing in or trading. Yahoo Finance is a good easy source for Top 10 Holdings information, for example.
We track and trade all of these very liquid ETFs and more in our ETFTRADR trade recommendation program.
By Moby Waller,
BigTrends.com
1-800-244-8736