Many market technicians have been looking at the big picture retracement rally we have been in from the October 2007 market highs to the March 2009 market lows.

On the S&P 500 Index (SPX) (NYSEARCA:SPY) we recently rallied back to a 38.2% retracement of the highs.  This is a key Fibonacci number (for more info on Fibonacci numbers, see this Wiki entry).  Fibonacci sequences have been around since the 1200s, for more information on Fibonacci retracements see this article. 

Some Fibonacci followers thought we were stalling around the 1000 area as part of this retracement resistance (see the following chart).  But the rally over the past 2 weeks has broken above this potential resistance, in my analysis.

The next obvious upside target would be a 50% retracement from the 1576 SPX highs to the 666 SPX lows ... right around 1121.  50% retracements, in addition to being a Fibonacci number, are also a logical area for retracement rallies to stall out.  In my years of experience trading, I have seen 50% retracements occur many, many times ...  of course, we certainly could overshoot this to the upside, crossing up the technicians.

Bottom line to me is that we look likely to head to the 1100/1120 area, but in the big picture, we certainly are having a major rally within a bigger bear market.  Continue to ride the market up while the uptrend is in place, but keep in mind that it won't last forever.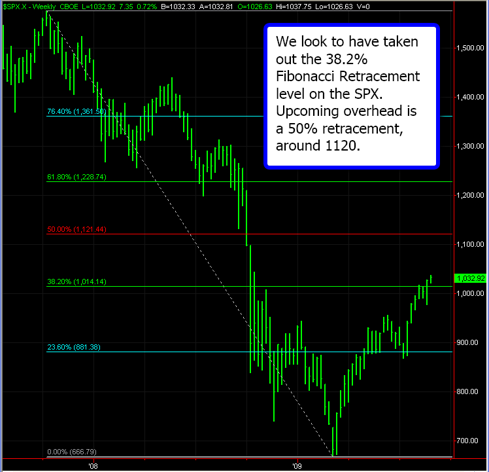 1-800-244-8736
Disclosure -- Moby Waller recommended an SPY Bullish Call position on Thursday, August 20th, and currently has part of that position still open for his Index Options Timer subscribers.