Much focus and attention these days among investors, traders, politicians, and the media is on China.  With good reason.  Demographics and a growing economy may make this the "Century of China".

However, there is another Asian economy and market that you shouldn't forget about:  India.  This is a country with a massive population and growing education and business base.  Incremental increases in the growth of lower and middle classes in countries like India and China can have earthquake-like fiscal effects.

Take a look below at the relative performance of the Powershares India ETF (NYSEARCA:PIN) versus the iShares Xinhua China Index (NYSEARCA:FXI).  You might be surprised to see that the India ETF PIN has outperformed the China ETF FXI since the March 9th, 2009 market bottom.

FXI vs PIN Price Performance Chart


Here are the top holdings of the PIN ETF (as of 9/30/09):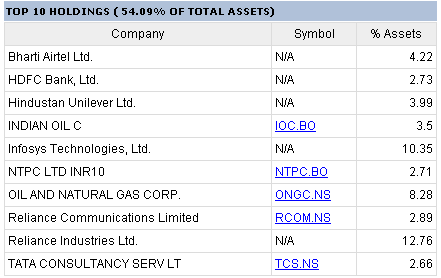 Moby Waller
BigTrends.com
1-800-244-8736



Disclosure: No open position or recommendation in the securities mentioned currently. For very long-term, strongly bullish on China and India economies.